On a peninsula sticking out into the Baltic and constellated by 315 islands, the capital of Finland is a laid-back and youthful seaside city.
You may already know that this is one of the most liveable places in the world, where you can sample the Finnish way of life by venturing out into the forest, catching a ferry to a tranquil island or baking in a public sauna.
But you'll discover an edgy and bohemian side to Helsinki in the rough-hewn and ever-evolving Kallio district.
Much of the city centre was laid out in one ambitious redesign by German architect Carl Ludvig Engel (1778-1840), giving it a formidable sense of scale on plazas like Senate Square and Market Square.
And to back up the city's reputation for cutting-edge technology and design, there's a big helping of modern architecture to turn your head.
1. Suomenlinna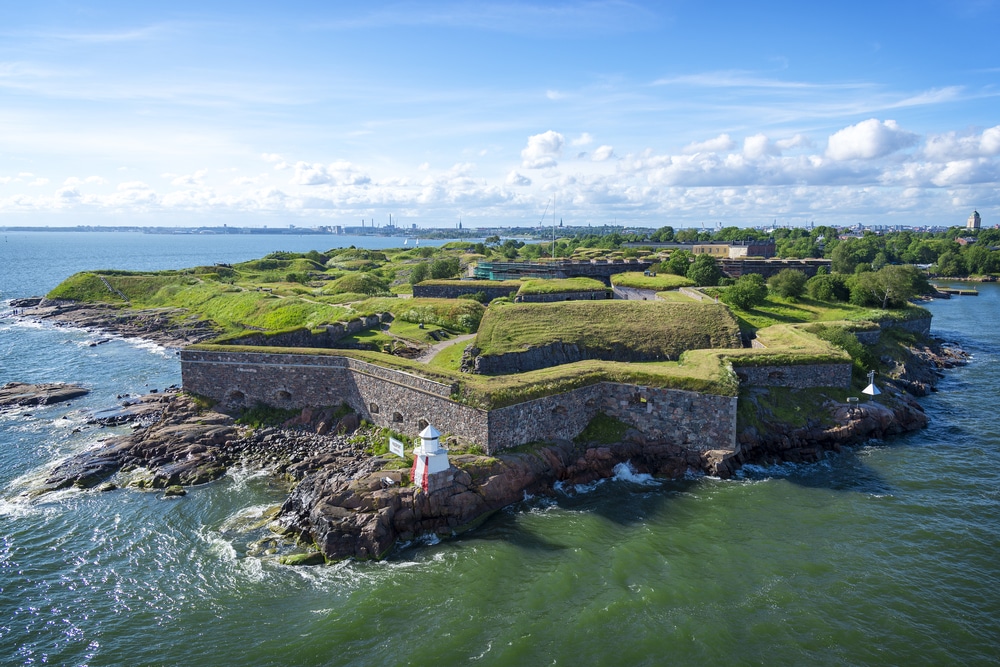 Out in the Baltic a few kilometres south-east of Helsinki's peninsula is a Swedish-built fortress occupying an archipelago.
Today a UNESCO World Heritage Site, Suomenlinna was begun in 1748 to ward off attacks from the Russian Empire and was built to a template laid down by the French military architect Vauban.
What makes the fortress so rare and innovative is that it is built on eight separate islands, adding to its beauty centuries later.
In 1809, at the dawn of Finland's century-long period under Russian yoke, the fortress was surrendered without a shot being fired, preserving it for future generations.
Suomenlinna also has defensive architecture from the Crimean War and the First World War when it became an outpost in the defence of St Petersburg.
You can catch a ferry out to the fortress from Market Square throughout the year, and you might be surprised to learn that there's a permanent population of 900 on the islands.
Nowadays the bastions and their grass-topped ramparts set a picturesque scene for walks and picnics.
You can also dig deeper into the history of Suomenlinna at no fewer than six museums.
Website: https://www.suomenlinna.fi/en/
2. Temppeliaukio Church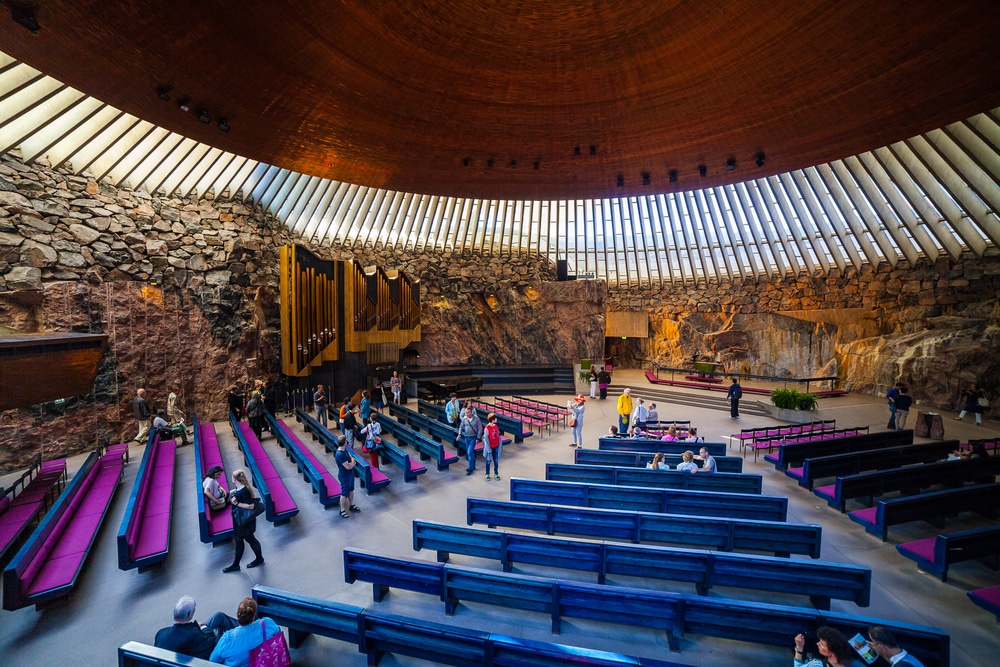 If you had to choose an outstanding work of modern architecture in Helsinki it might be this extraordinary church in the Etu-Töölö district, literally excavated from the granite bedrock.
Consecrated in 1969 and seven years of construction, Temppeliaukio Church was the crowning achievement in architect Tuomo Suomalainen's career, even if the final product was a mere quarter the size of his original design.
Despite being underground the church is illuminated in the daytime by a skylight encircling the rim of the copper dome, with windows in between the concrete beams that support it.
Concrete has also been used for the pulpit, while the floor is polished concrete, and the fittings have a colour scheme designed to complement the craggy granite walls in tones of red, purple and grey.
There's space for 940 worshippers inside, and the church often doubles as a performance space for its exceptional acoustics.
Website: https://www.temppeliaukionkirkko.fi/en/
3. Visit a Sauna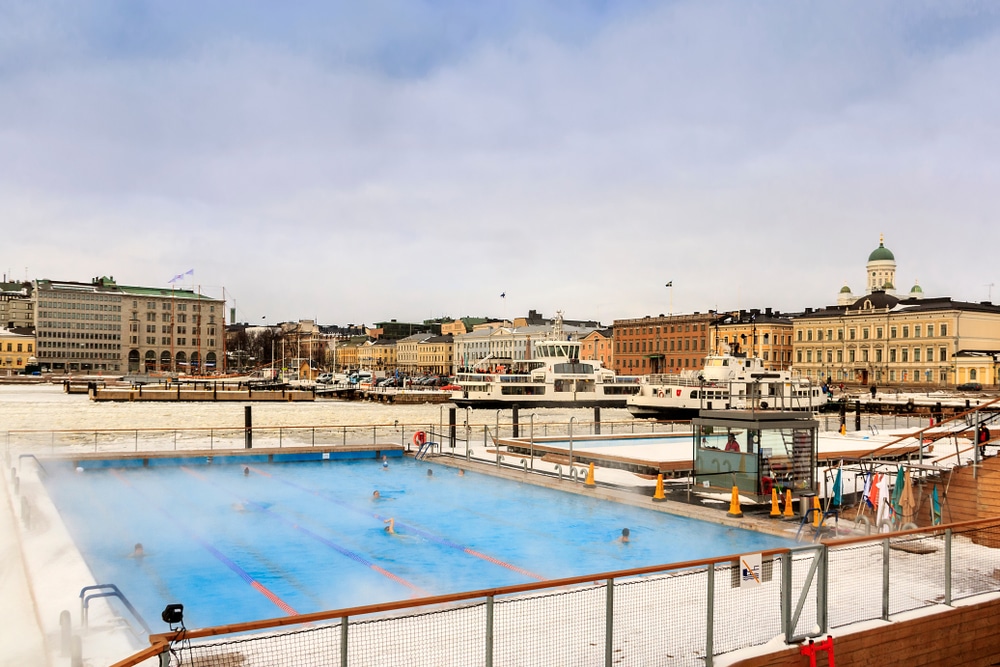 Call it a cliché, but can you really say you've experienced Helsinki if you haven't taken a sauna? For the uninitiated, saunas are fundamental in Finland.
You can even find one in the Parliament of Finland building, or 1.4 kilometres beneath the Earth's surface at the Pyhäsalmi Mine, the deepest metal mine in Europe.
The etiquette for visiting a sauna is rather sophisticated (no clothes in the hot room), but a bit of reading beforehand will bring you up to speed.
There's a handful of public saunas around the capital, a couple of which await you in the traditionally working-class Kallio neighbourhood, close to the centre.
These are Sauna Arla, dating to 1929 and now powered with natural bio gas, and Kotiharju, from 1928 and the last public sauna in the capital to continue using wood fuel.
Another option close to the central Market Square is Allas Sea Pool, a marine spa open all year, with a seawater pool, three saunas and two warm water pools, paired with an outdoor gym, restaurant and cafe.
4. Helsinki Cathedral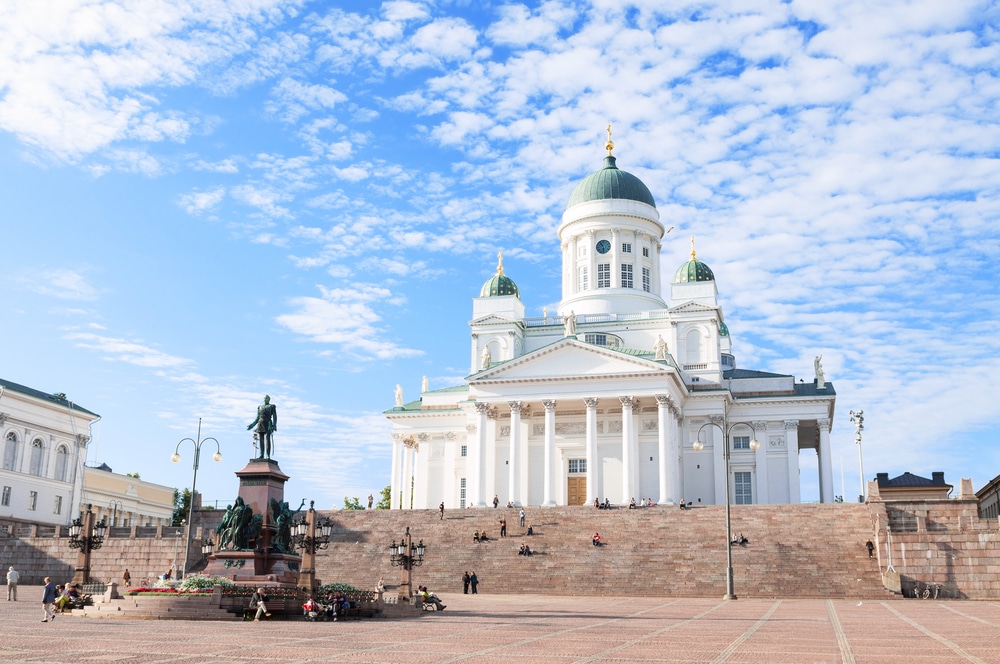 A noble emblem for Helsinki, the whitewashed Lutheran Cathedral breaks the skyline atop a grand stairway on the north side of Senate Square.
Like the rest of this harmonious ensemble, Helsinki Cathedral is in the Neoclassical style and was designed by Carl Ludvig Engel.
Construction began in 1830 would continue up to 1852, 12 years after Engel died.
The footprint is completely symmetrical, in keeping with Lutheran principles, and making up the facade are four majestic porticoes, each with six Corinthian columns.
Capping the pediments are statues for the Twelve Apostles, in groups of three on each side.
There are constantly updated exhibitions in the atmospheric crypt, also home to Café Krypta for hot drinks and tasty treats, open June to August.
Website: https://www.helsinginseurakunnat.fi/en/helsingintuomiokirkko/artikkelit/touristinformation_17
5. Senate Square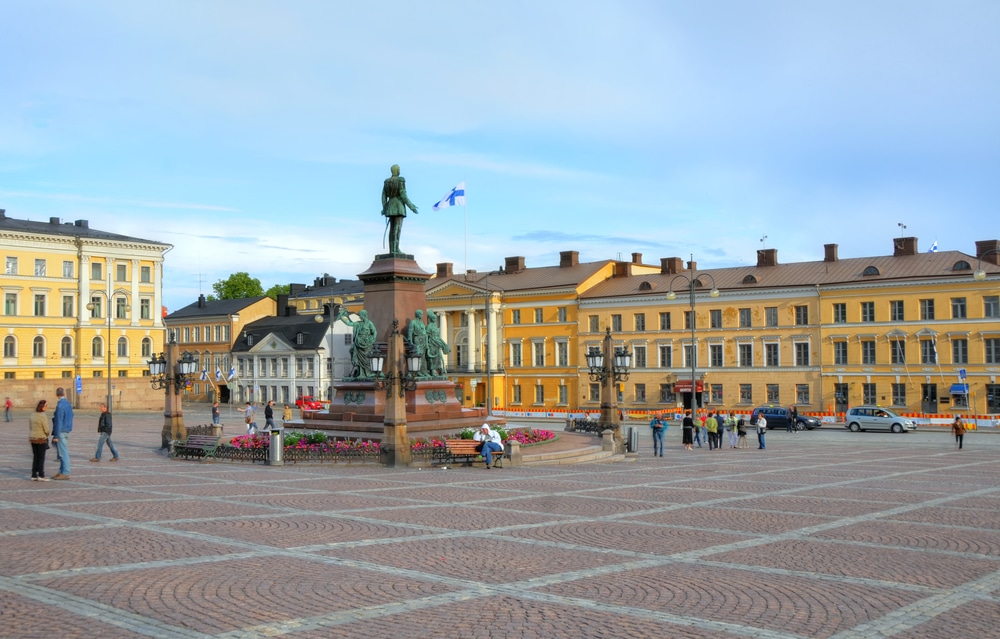 The plaza down the steps from the cathedral is Helsinki at its most dramatic and monumental.
Senate Square is the linchpin for Carl Ludvig Engel and Johan Albrecht Ehrenström's redesign of Helsinki, built on the site of a much more modest square in the city's old core.
As well as the unifying Neoclassical architecture, mostly from the 19th century, what makes the square so satisfying is the way it rolls together political, religious, commercial and educational institutions at the very nucleus of the city.
As well as the cathedral, these are the central buildings for the University of Helsinki, the National Library of Finland and the Government Palace.
Tying it all together atop a plinth is a solemn statue of Emperor Alexander II of Russia, erected in 1894. In the south-east corner you'll find the oldest building in the centre of Helsinki, at the Sederholm House (1757).
6. Market Square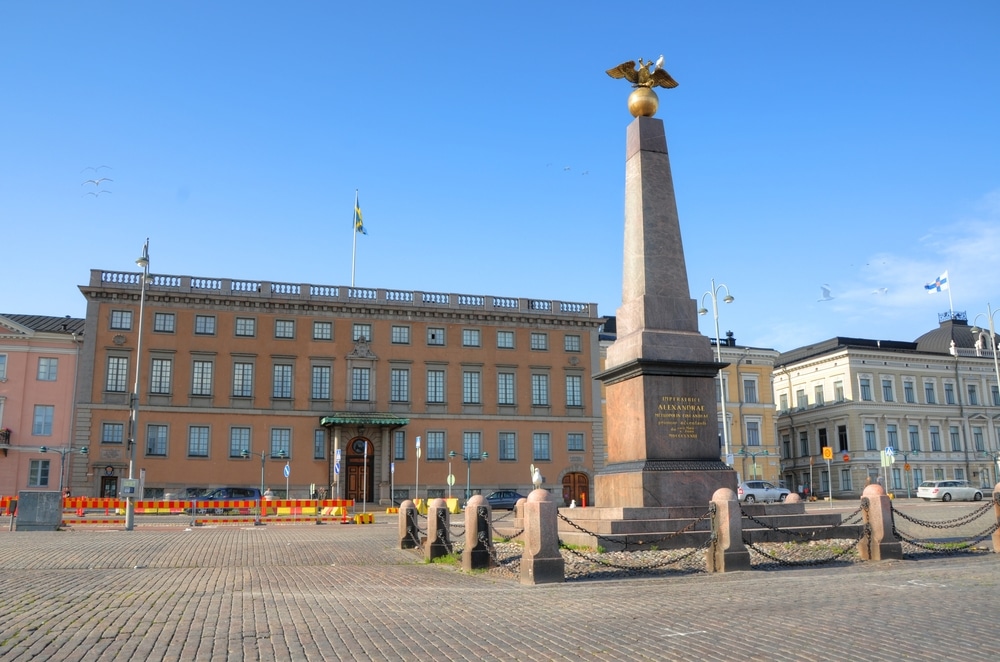 Like its grand neighbour, Market Square dates to the town plan of 1812, when a line of fishing piers on the muddy bay was transformed into a place of waterfront trade.
Market Square is hemmed by striking Neoclassical buildings like the Presidential Palace, Supreme Court, City Hall and Swedish Embassy, but has a more sociable feel than Senate Square.
This is down to the sea of food stalls in the summer months, accompanied by cafes where you can grab a pasty or hot cup of coffee, even in the depths of winter.
The plaza is a major gathering place to celebrate sporting or cultural milestones, like when heavy metal band Lordi won the Eurovision Song Contest in 2006. This is also the main departure point for sightseeing cruises and ferries to places like Korkeasaari island.
7. Ateneum
The country's most prestigious art museum is the place to get to grips with the big movements in Finnish art from the beginning of the 19th century to the 1960s.
Many of the pieces by the likes of Realist Albert Edelfelt (1854-1905), Symbolist Akseli Gallen-Kallela (1865-1931), landscape painter Eero Järnefelt (1863-1937) and Symbolist Hug Simberg (1873-1917) are etched in the Finnish national consciousness.
The Ateneum also keeps rich collections of international art, with works by Modigliani, van Gogh, Edvard Munch and Paul Cézanne.
The museum's home is a dominant Neoclassical building from 1887, with a facade loaded with allegorical sculpture.
See if you can make out the 16 medallions in the spandrels between the first and second floor windows.
These were carved by Ville Vallgren(1855-1940) and depict the leading figures in the creative world in his day.
Website: https://ateneum.fi/
8. Seurasaari Open-Air Museum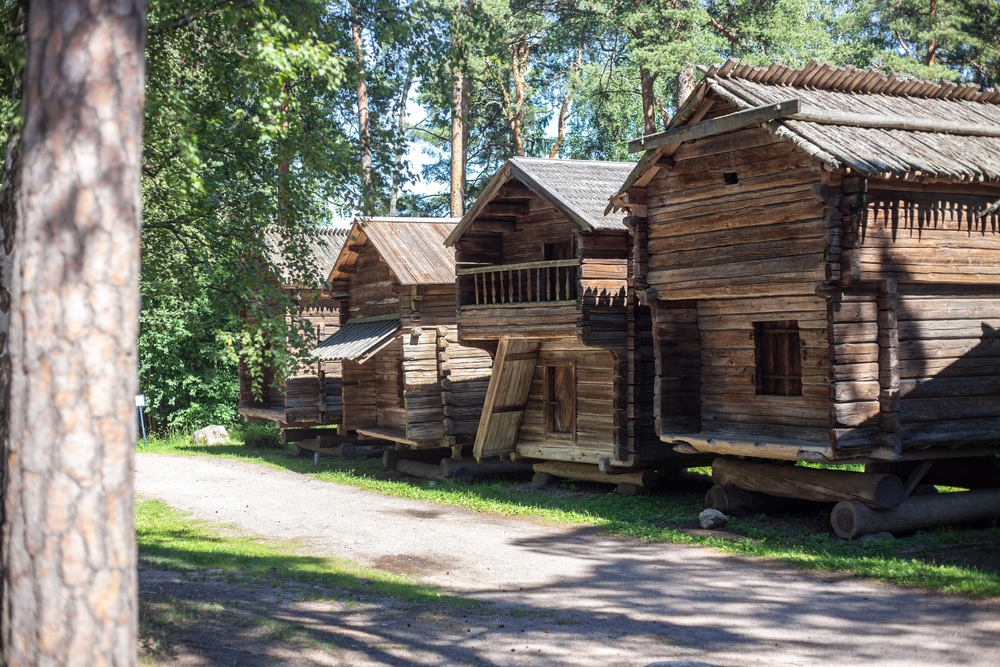 West of the Helsinki peninsula, the island Seurasaari has been a quiet escape for city dwellers since the end of the 19th century.
In 1909 this green idyll became home to an open-air museum preserving the architecture and ways of life of rural Finland.
The museum was modelled on Stockholm's Skansen and was a big undertaking, transferring buildings from every Finnish province and reconstructing them on the island.
Standing here are some 90 buildings, including manor houses, crofts and smoke cabins.
Most of these are from the 17th and 18th centuries and the oldest is a wooden church from Karuna, dating to 1686. The Seurasaari Open-Air Museum is open in summer, and is a calming antidote to city life.
Throughout the season there will be something going on, from family-friendly workshops, to fun activities for kids or arts and crafts markets.
Website: https://www.kansallismuseo.fi/en/seurasaarenulkomuseo
9. Kiasma – Museum of Contemporary Art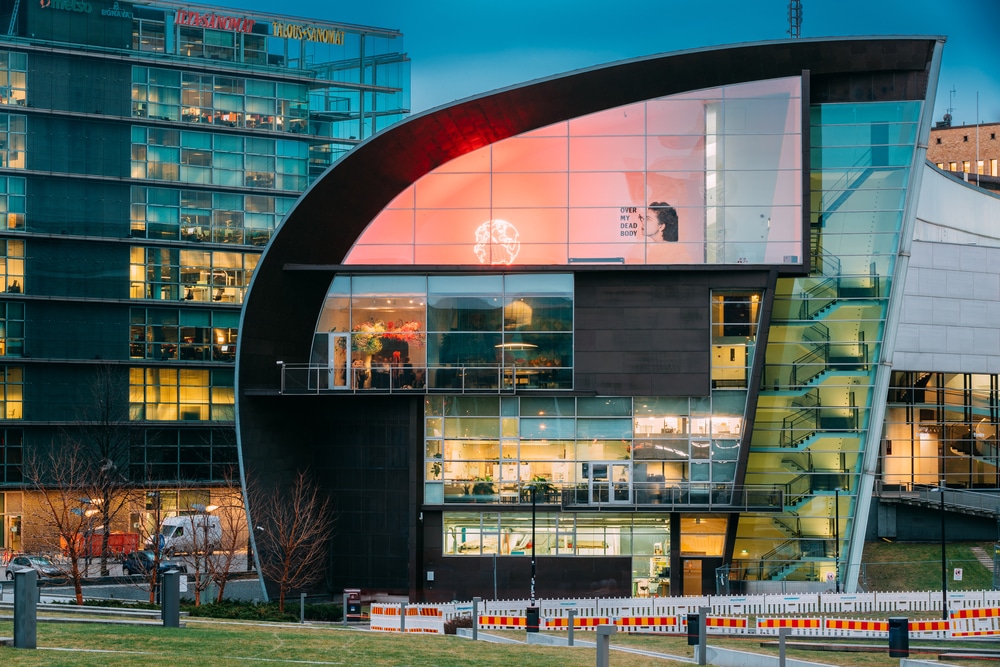 Architect Steve Holl's curving metal-clad building for the National Gallery's Museum of Contemporary Art still looks fresh more than two decades after it opened.
Kiasma is a modern landmark for Helsinki, with five overlapping levels, all designed with Finland's natural light in mind.
Inside, the gallery deals mainly in Finnish and Nordic art since the 1970s, with works by some 8,000 artists in its holdings.
Kiasma acquires around 100 new pieces each year, and has an exciting program of up to six concurrent temporary exhibitions for international contemporary art.
These are complemented by guided tours, workshops, talks and genre-bending performance art events.
Website: https://kiasma.fi/
10. Esplanadi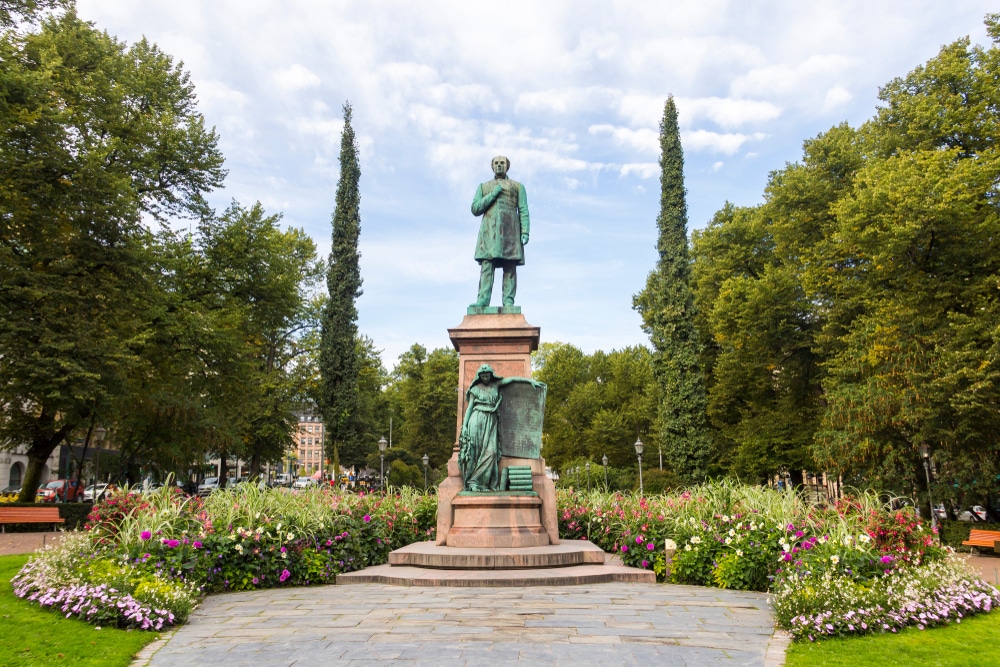 Shortened to "Espa" by locals, this lovely strip of greenery first appeared in the town plan in 1812 and is bordered by some of Helsinki's grandest architecture.
It begins in the west at the Swedish Theatre and continues arrow-straight to the Market Square.
Esplanadi, like much of the city centre, owes its design to Carl Ludvig Engel and has a formal layout with flowerbeds, low hedges, a broad central walkway and geometric lawns all contained by two rows of linden trees.
It's a place to wander, take picnics and check out some of the talented street performers.
There are tons of monuments to check out in the park and on its margins.
One that draws your gaze is the statue for Johan Ludvig Runeberg (1804-1877), the poet who wrote the Finnish national anthem.
This monument was actually sculpted by Runeberg's son and placed here in the 1880s.
11. National Museum of Finland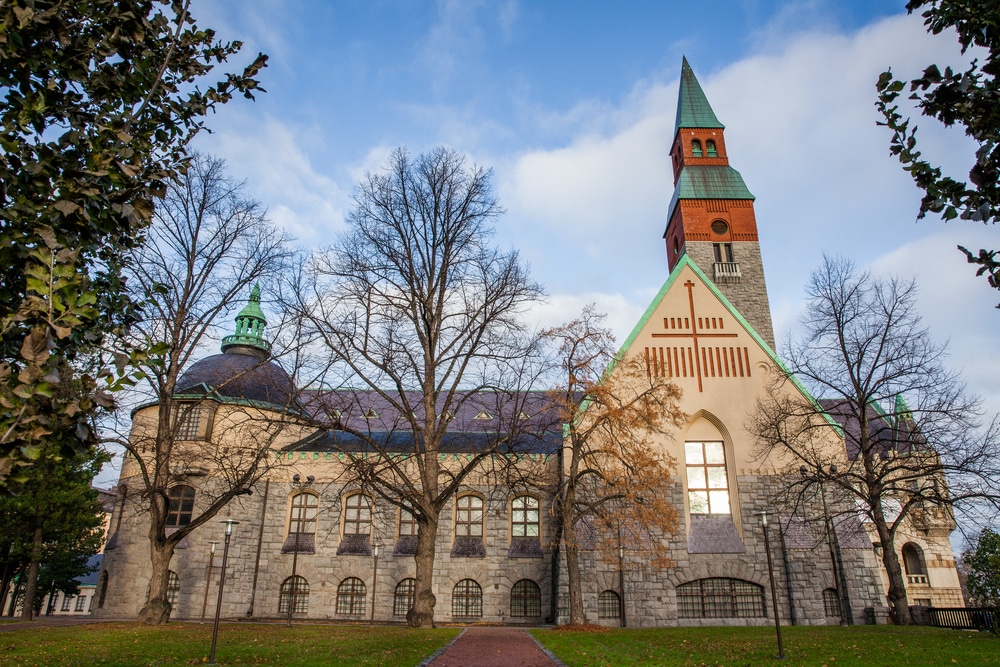 A well-presented tour through Finnish history, this museum was purpose-built at the start of the 20th century.
The granite building was designed in the National Romantic style to resemble Finnish churches and castles from the Middle Ages.
As soon as you step into the entrance hall, make sure to look up at the sublime ceiling frescoes in the vaults, painted in 1928 and inspired by the national epic Kalevala.
Every facet of Finnish history, from prehistory to the 20th century, is laid out in the galleries, displaying rich collections of weapons, armour, jewellery, silver, costume, furniture, portraits, glass, coins, medals, ceramics and more.
Also fascinating, though contentious, is an array of Mesa Verde artefacts from cliff dwellings in Colorado.
These were donated to the museum by explorer Gustaf Nordenskiöld (1868-1895), and a portion was returned to indigenous communities in the United States in 2019.
Website: https://www.kansallismuseo.fi/
12. Uspenski Cathedral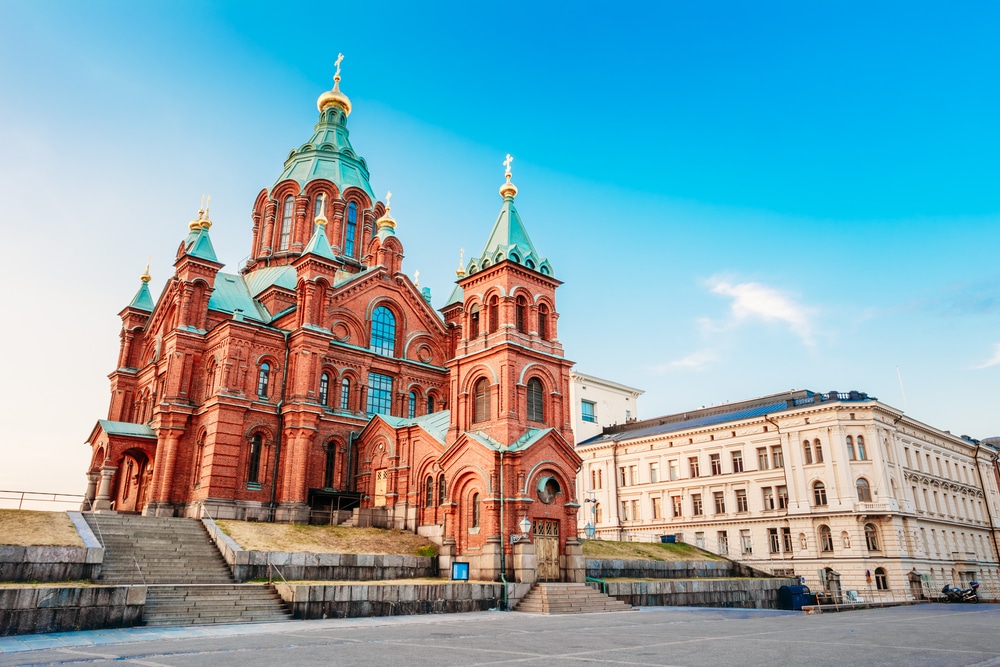 If you need evidence for Russia's role in Finnish history then look no further than this Eastern Orthodox cathedral in the Katajanokka district.
Constructed in a Byzantine Revival style in the 1860s to serve a growing Orthodox congregation, Uspenski Cathedral and its gilded domes are a constant presence over the Market Square and the harbour.
There are 13 domes in all, one large and 12 smaller to represent Christ and the Twelve Apostles.
The cathedral's bricks were actually fired in the 1830s to build the Bomarsund Fortress on the Åland Islands and were transported here after the fortress was destroyed in the Crimean War.
What grabs your attention inside is the multistorey iconostasis, painted by artist-academician Pavel S. Šiltsov.
Website: https://www.hos.fi/
13. Kallio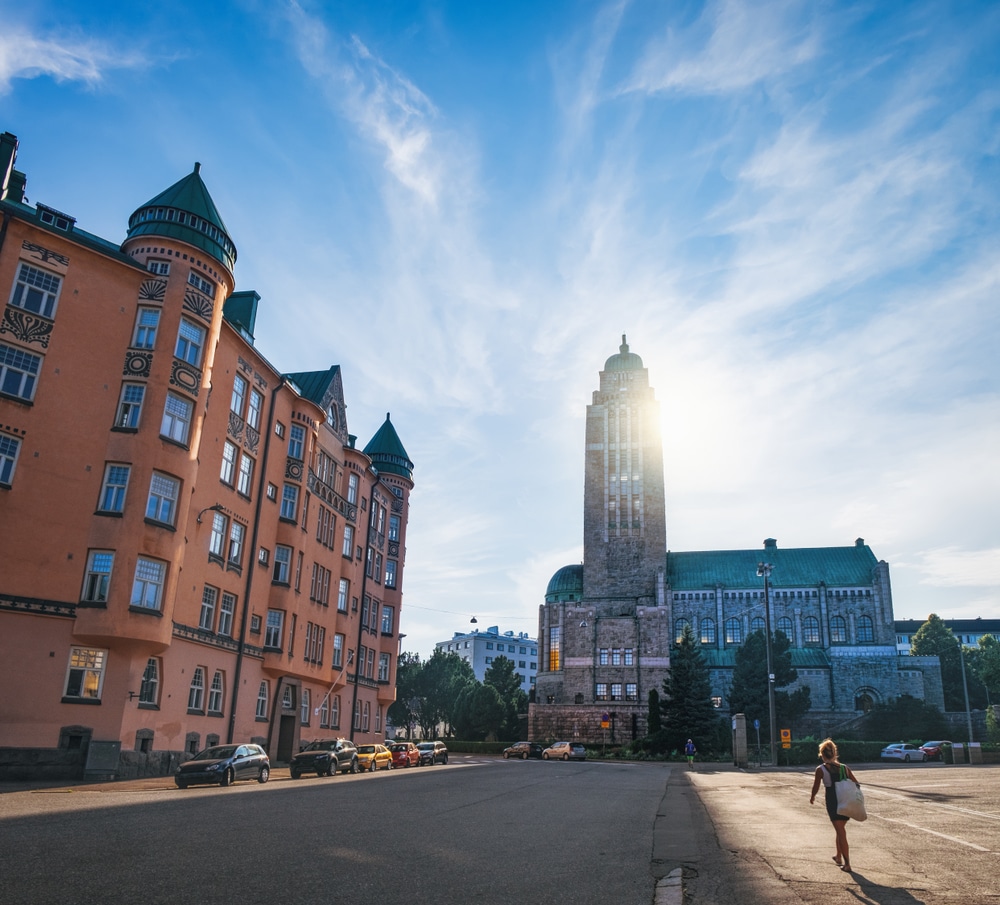 Cycle or walk across the Pitkäsilta (Long Bridge) from the city centre and you'll find yourself in the densely populated Kallio, which was first developed in the second half of the 19th century as a neighbourhood for industrial workers.
That earthy atmosphere survives, even as Kallio has become a trendy hangout, with some of the capital's best dining, live music, shopping and nightspots.
A lot of Kallio's charm comes from its slightly weathered architecture and gritty urban ambience, so it stands comparisons to somewhere like Kreuzberg in Berlin or Brixton in London.
It's a diverse, young and bohemian place, with concept bars and international restaurants.
And to remind you that you're still in Helsinki two of the city's top traditional saunas, Arla and Kotiharju, can be found in Kallio.
14. Linnanmäki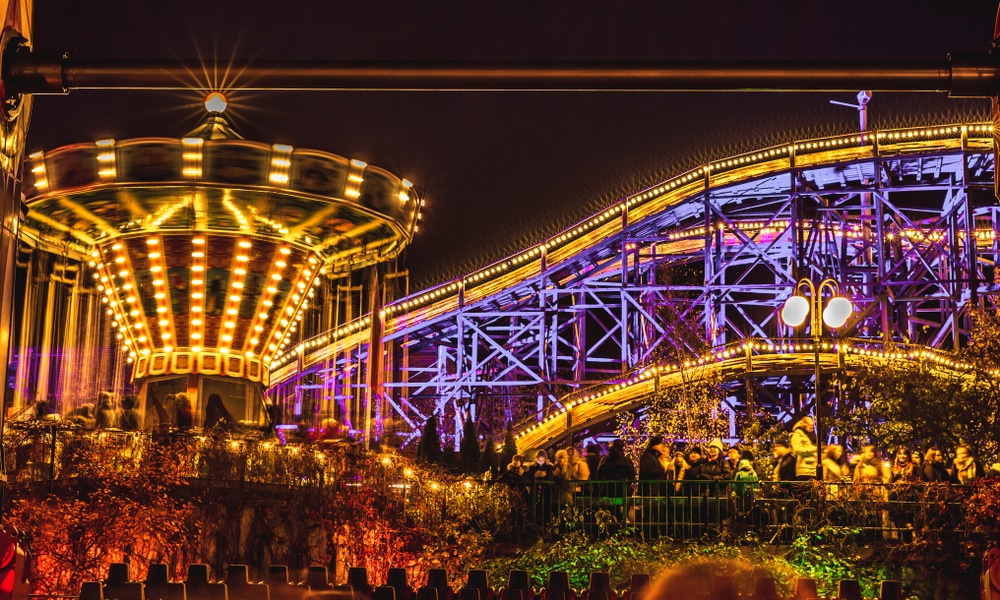 Finland's favourite amusement park is in the north of the city and opens seasonally from April to October.
First opening in 1950, Linnanmäki has upwards of 42 attractions, along with a theatre, amusement arcades, an aquarium, and a big choice of food and drink.
Something that will endear the park to your right away is that it is owned by a non-profit raising money for Finnish child welfare work.
The headline ride is the classic wooden roller coaster Vuoristorata, which opened with the park and reaches speeds of almost 40 mph.
There's also a panorama tower, a carousel that has been turning since 1896 and a line-up of cutting-edge rides like the steel roller coaster Taiga (2019), the fastest and longest roller coaster in Finland.
Admission to the park is free and you pay by the attraction.
Website: https://www.linnanmaki.fi/
15. Amos Rex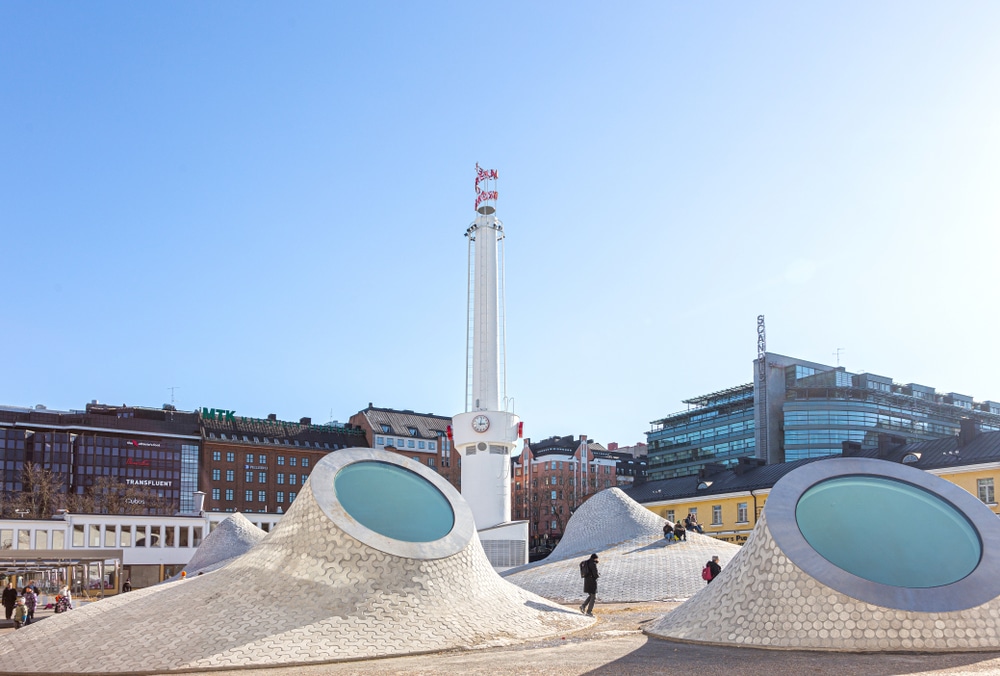 The largest private art museum in Finland has been open since 1967 and is named for publishing magnate and art patron Amos Anderson (1878-1961). Works from his personal collection are in the museum's inventory.
For the first 50 or so years the Amos Anderson Art Museum was set in Anderson's home, before switching to an exciting new location both on and under Lasipalatsi Square in 2018. Amos Rex, as it's now known, would even be worthwhile just for its architecture, mixing the Functionalist Lasipalatsi from 1936 with a 19th-century commercial building for the Turku Barracks and the spectacular new structures by JKMM Architects.
The building literally bursts through the plaza in giant bubbles.
Specialising in modern and contemporary art, the museum features around 12 exhibitions a year and has pieces by Paul Signac, Eero Nelimarkka, Tove Jansson, Magnus Enckell and Roger Fry in its collection.
On permanent display is art critic Sigurd Frosterus' (1876-1956) collection of post-impressionism.
Website: https://amosrex.fi/
16. Old Market Hall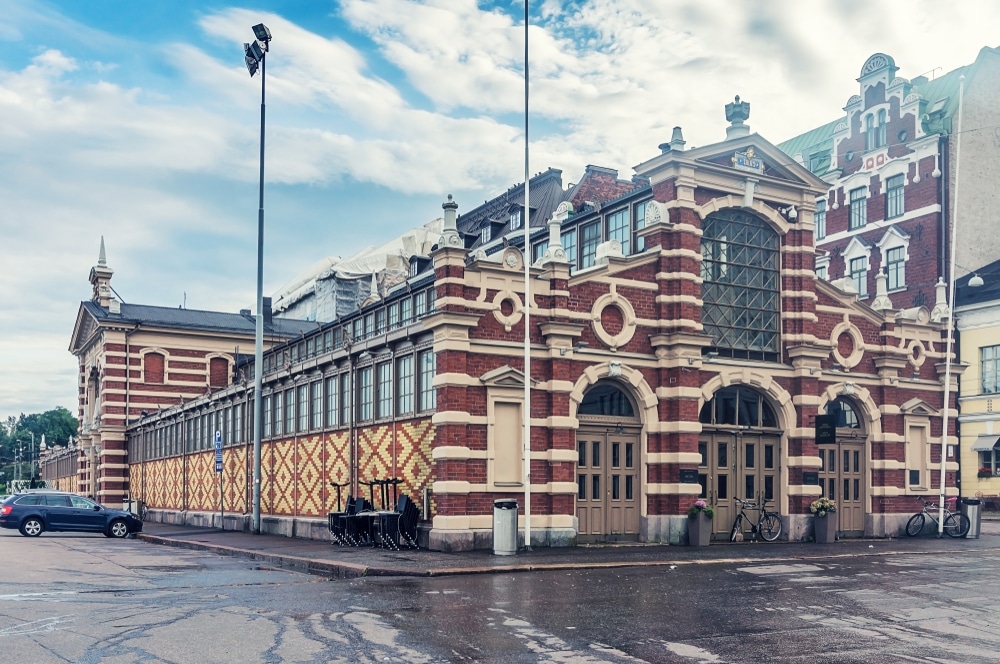 The country's oldest indoor market hall has been trading by the harbour since 1889. On a long and narrow plan, it's a handsome building in a neo-Renaissance style with alternating bands of stone and brick on its facades.
The Old Market Hall grew up at a time when the concept of indoor trading was still novel, arriving with new awareness for hygiene.
Now, in the decades since Finland entered the EU the variety of products on sale is enormous, running from ultra-fresh fish and shellfish and seasonal produce to cheese, cured meat, reindeer, Finnish beef, spices, tea, coffee, handmade bread, pastries, wines and smoothies.
Food stalls for Vietnamese, Middle Eastern, Polish cuisine lend the market an international flavour to complement the Scandinavia Cafe, and its warming porridge, meat pasties and munkkipossu (Finnish donuts).
Website: https://vanhakauppahalli.fi/
17. Kaivopuisto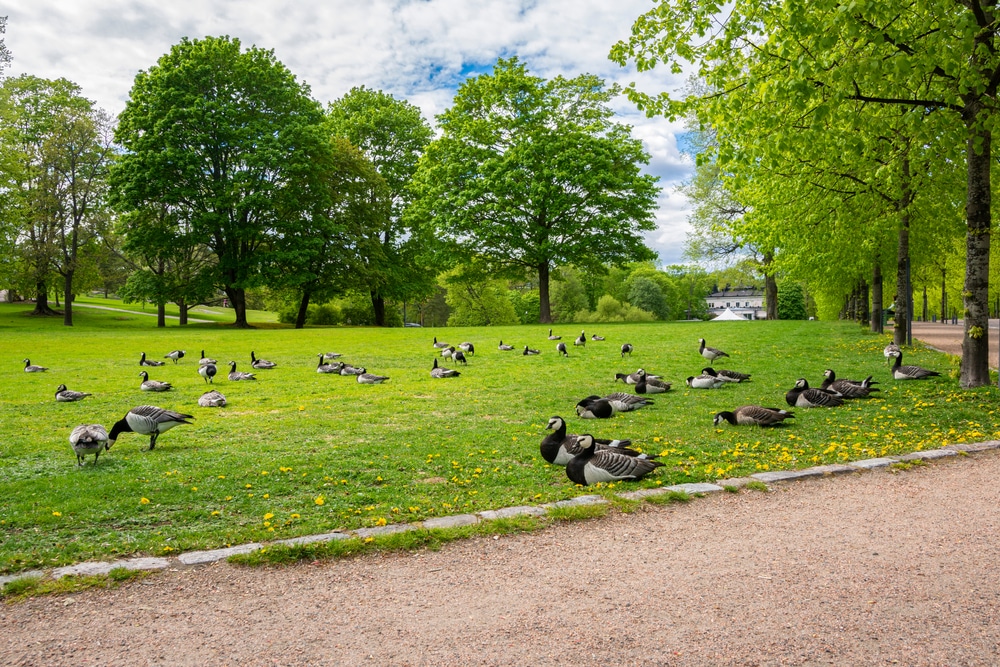 At the rocky southern tip of the Helsinki peninsula is a park that can trace its story back to a spa for the upper class that opened here in the 1830s.
Kaivopuisto has an upmarket atmosphere that lingers in the villas and embassies that border the park.
Within the boundaries, the park combines exhilarating sea views with rambling paths, mature trees and big grassy patches attracting outdoor events, picnicking families and sunbathers in summer.
The highlight of the calendar is the May Day Picnic when the city comes out in force to usher in the coming summer, even if the weather on the day isn't always agreeable.
Just to the north, Tähtitorninmäki (Observatory Hill) has one of the finest views in the city.
18. Sibelius Monument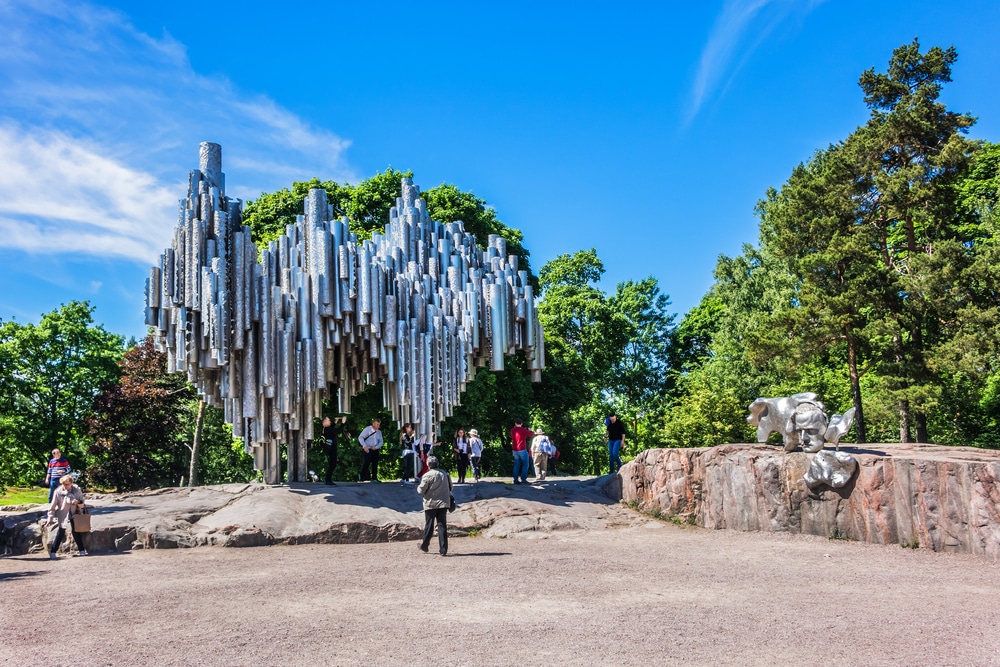 The centrepiece of Sibelius Park in the Töölö district is a sensational monument for Finland's most celebrated composer.
The music of Jean Sibelius (1865-1957) is seen as vital in helping Finland define a national identity distinct from Russia.
A piece of abstract design, radical when it was unveiled, Sibelius Monument was designed by Eila Hiltunen (1922-2003). With its 600 hollow steel pipes suspended in a waveform pattern, the Sibelius Monument has nothing to do with the pipes of an organ (to which Sibelius had no real connection), but is Hiltunen's way of capturing the essence of the composer's music.
Initially controversial, the Sibelius Monument has become one of Finland's best loved and most recognisable monuments.
The face of Sibelius can be seen next to the main sculpture, and this was added by Hiltunen in response to early criticism of her design.
19. Kamppi Chapel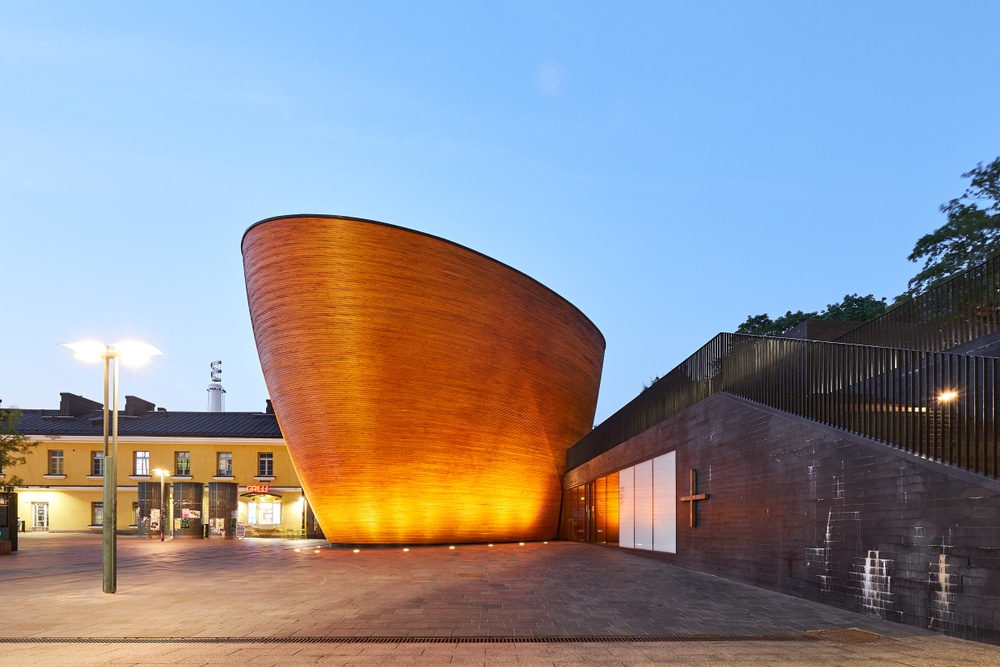 The busy entrance to the Kamppi shopping centre on Narinkkatori square seems an ideal place to burrow away for a moment of peace.
Added to this, the Kamppi Chapel is a warm, restful space designed by Helsinki firm K2S architects and opened in 2012. The curving form of the building is designed to evoke an embrace, with an exterior made from spruce and the interior walls lined with alder, matched with ash fittings.
The Kamppi Chapel is managed by the city and Helsinki's Lutheran congregations, but is ecumenical and open to people of all faiths.
Website: https://www.kampinkappeli.fi/index/visit_1.html
20. Design Museum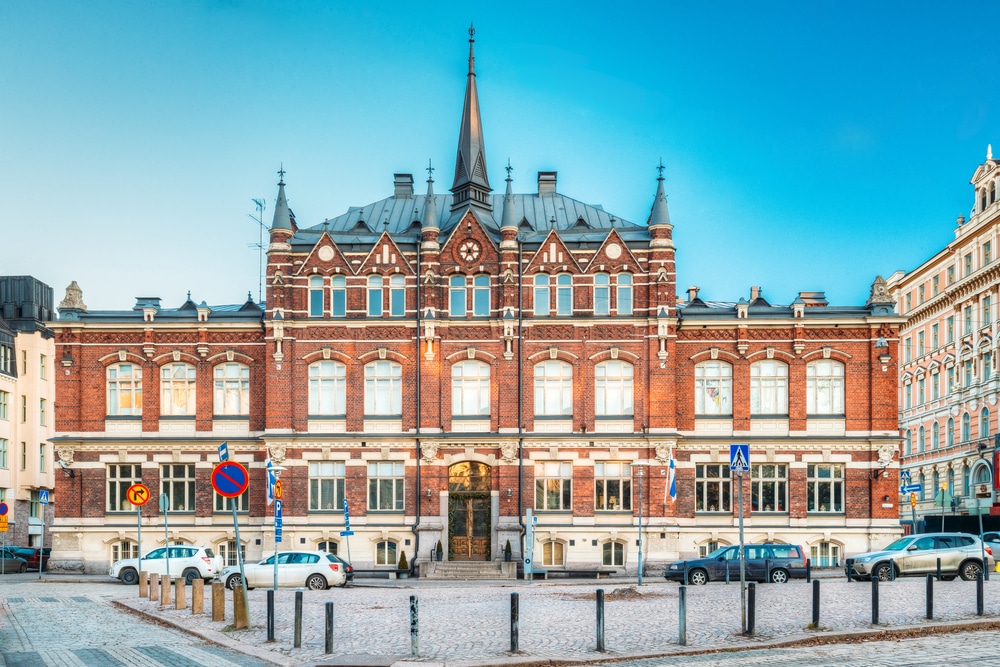 Embracing all disciplines of Finnish and international design, this museum in the Kaarti section has a history going right back to 1873. Since 1978 the Design Museum has been based in a neo-Gothic former school building and over time has built up a collection of more than 75,000 objects, as well as tens of thousands of drawings and other images.
Utopia Now, the permanent exhibition, uses that extensive collection to recount the evolution of Finnish graphic design, industrial and design and fashion.
This is combined with two temporary shows, investigating designers, periods and concepts in more detail.
Also here are the stylish Taito Cafe and a Design Shop with a selection that changes with temporary exhibitions.
Website: https://www.designmuseum.fi/
21. Mannerheim Museum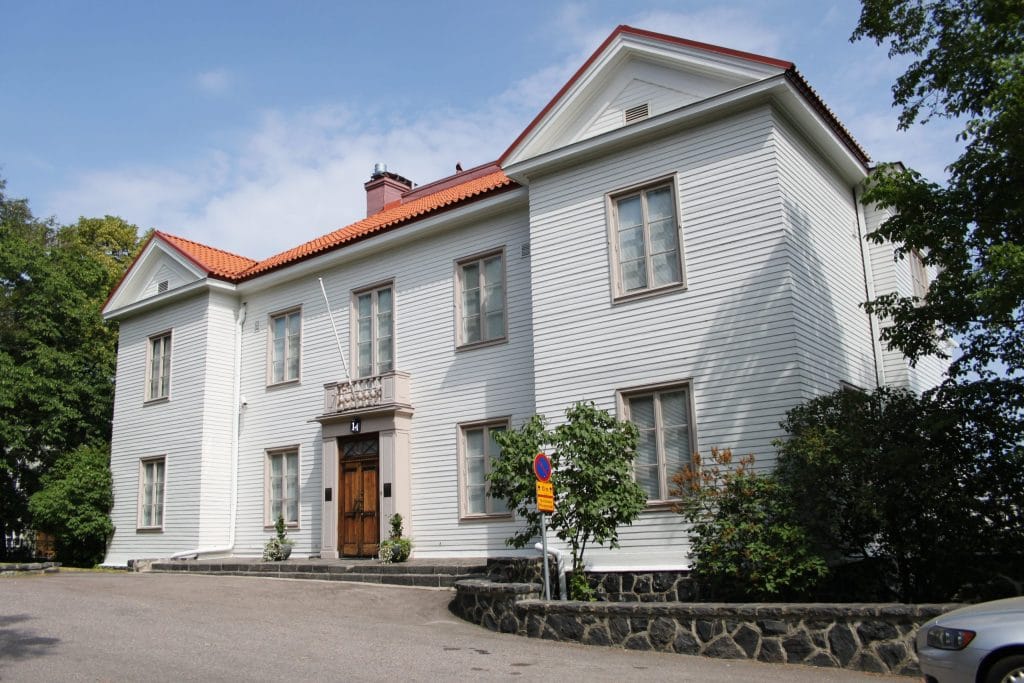 The statesman Carl Gustaf Emil Mannerheim (1867-1951) is an unavoidable figure in 20th-century Finnish history . He was key to the victory of Whites militia in the Finnish Civil War of 1918, served briefly as Regent, oversaw the nation's defence in WWII and became president in the immediate post-war.
Mannherheim's home by Kaivopuisto has been kept exactly as it was when in the early-1940s, complete with original furnishings in all but a couple of exhibition rooms.
With the help of preserved documents, medals and uniforms you'll come away with a clearer picture of Mannheim's career and Finland's complex role in the Second World War.
A tour with a knowledgeable guide is included in every visit.
Website: https://www.mannerheim-museo.fi/
22. Oodi Central Library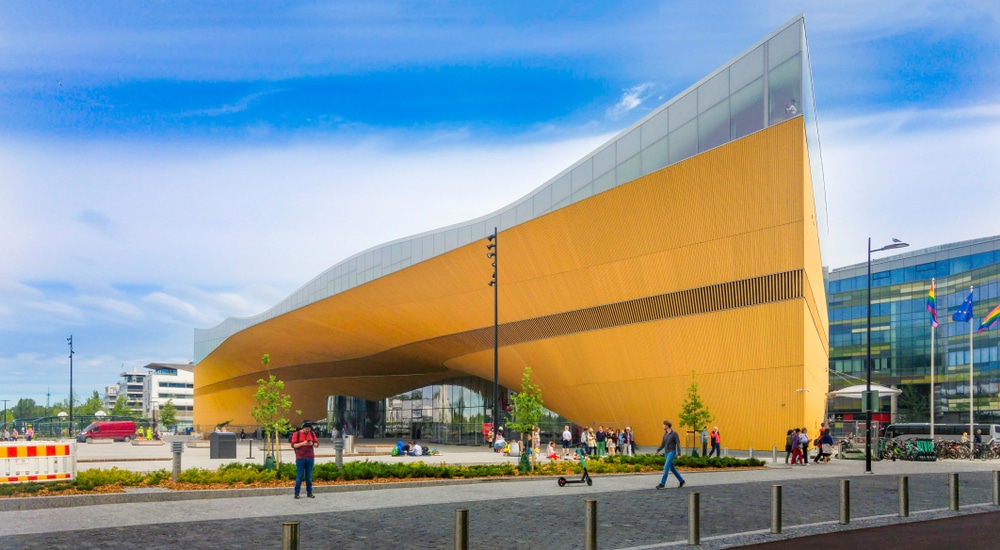 Right beside the Kiasma Museum of Contemporary Art and the Helsinki Music Centre on Kansalaistori square is another impressive modern architectural statement, easy to spot for its undulating glass ceiling.
This is a high-tech public library that opened in December 2018 and has been conceived as a multifaceted space for learning, the arts and more.
Designed by Finnish firm AKA Architects, the Oodi Central Library uses a team of robots to transport its 100,000 books.
About a third of the building is used as a traditional library, while there's also a scenic terrace, cafe, restaurant, movie theatre, recording studios, 3D printing studio, urban workshop, space for pop-up stalls and much more.
For bookworms hoping to get away from it all there are seven hushed "reading oases".
Website: https://www.oodihelsinki.fi/
23. Korkeasaari Zoo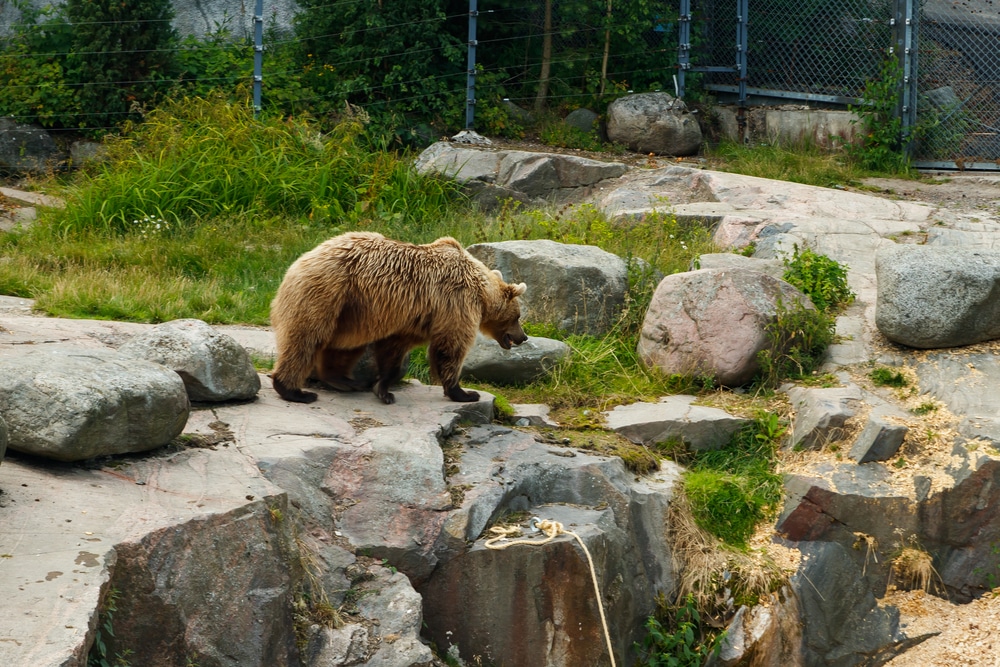 In summer one of the classic family days out involves catching the ferry or water bus from Hakaniemi or Market Square to the island of Korkeasaari, which has had a zoo since 1889. Korkeasaari Zoo is engaged in lots of conservation projects, including the European Endangered Species Programme.
Across indoor and outdoor enclosures are more than 150 animal species.
Another reassuring thing about this attraction is that it only keeps outdoor animals that are happy with Finland's brisk climate, so it's an opportunity to see cold climate big cat species like the Eurasian lynx, Amur tiger and snow leopard.
And without striking out into Finland's wilds, you can see native animals like wolverines, brown bears, elk and reindeer.
A word on the setting, which is 22 hectares of beautiful parkland, itself home to more than 1,000 plant species.
Website: https://www.korkeasaari.fi/
24. Finnish National Opera and Ballet (FNOB)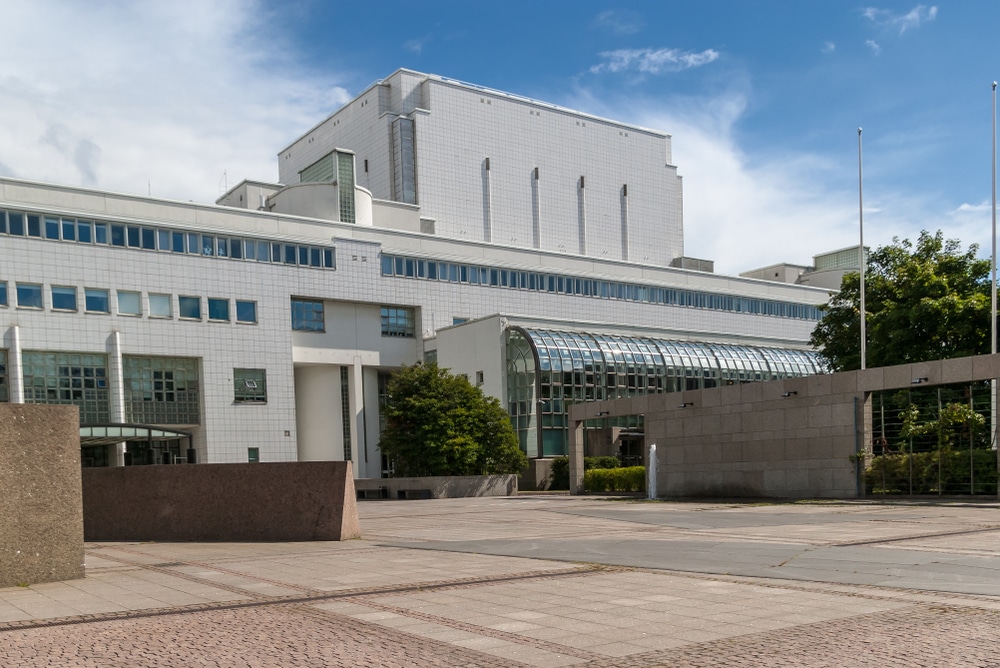 As an institution the Finnish National Opera and Ballet dates back to 1911, but it wasn't until 1993 that it had a truly fitting venue when this complex opened by the water on Töölönlahti Bay.
The main auditorium seats 1,300, all in an impressive landmark building echoing Helsinki's Functionalist architecture and clad with granite and white tiles.
Some 140 opera performances are staged at this building during the August-June season, including up to six premieres, one of which has to be a world premiere for a Finnish opera.
On the ballet side, there are 110 performances, of which three are new productions.
The company has around 530 permanent employees, and hires artisans in trades as obscure as metalwork and shoemaking.
Website: https://oopperabaletti.fi/
25. Nuuksio National Park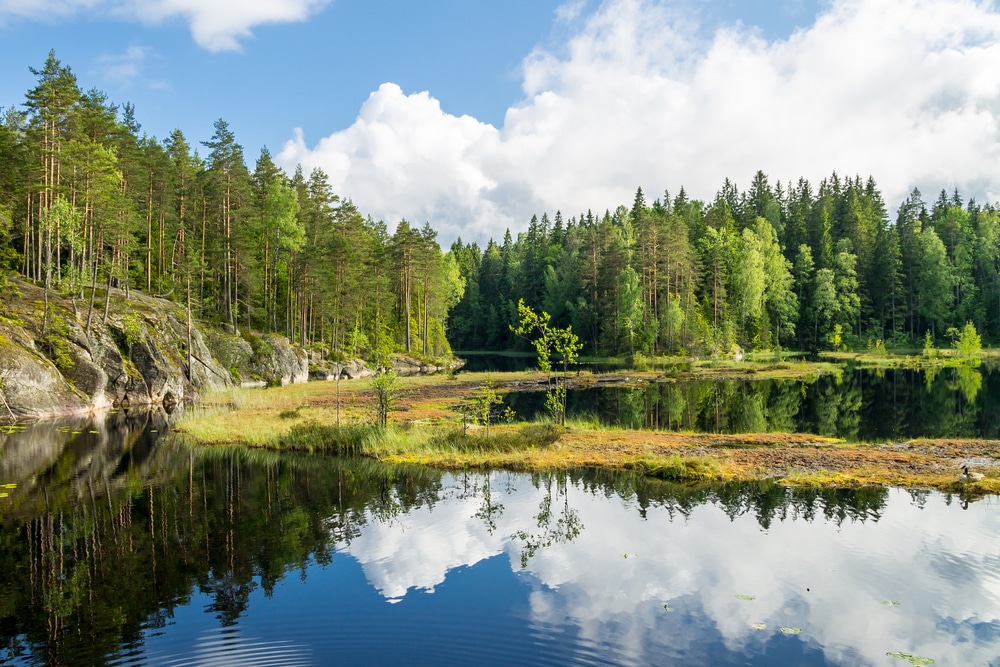 Finland is a country that prizes the forests, lakes and craggy formations that make up its boundless wilderness.
You won't even have to stray far from the capital for a taste of typical Finnish scenery at this national park in the Nuuksio lake highlands, around 45 minutes to the north-west by road.
If you plan ahead and bring the right gear, the park is a hiking paradise with eight marked trails ranging from 1.5 to 17 kilometres long, together with another 30 kilometres of marked routes for cyclists.
The park's emblem is the Siberian flying squirrel, one of many species that thrives in these large parcels of old growth forest.
There are more than 80 bodies of water, varying from impenetrable bogs to sparkling clear lakes that look irresistible on a summer's day.
If you're curious about the park's ecosystem then the Finnish Nature Centre Haltia has educational displays, inside the first public building in Finland to be constructed entirely from wood.