Set high in the very centre of the Iberian Peninsula, Madrid has been Spain's capital since 1561 and is one of the EU's largest, most prosperous and most liveable cities.
Culturally, it's hard to exaggerate Madrid's importance, as the former nerve centre of an Empire, and still a bridge between Europe and Latin America when it comes to media, finance and immigration.
For tourists, Madrid's royal heritage kindles real fascination, and the priceless collections assembled by the Habsburg and Bourbon monarchs are on display at world-class museums like the astounding Museo del Prado.
And to go with a stellar line-up of museums, Madrid has the kind of entertainment, sightseeing, dining and shopping that any capital would be proud of.
1. Museo Nacional del Prado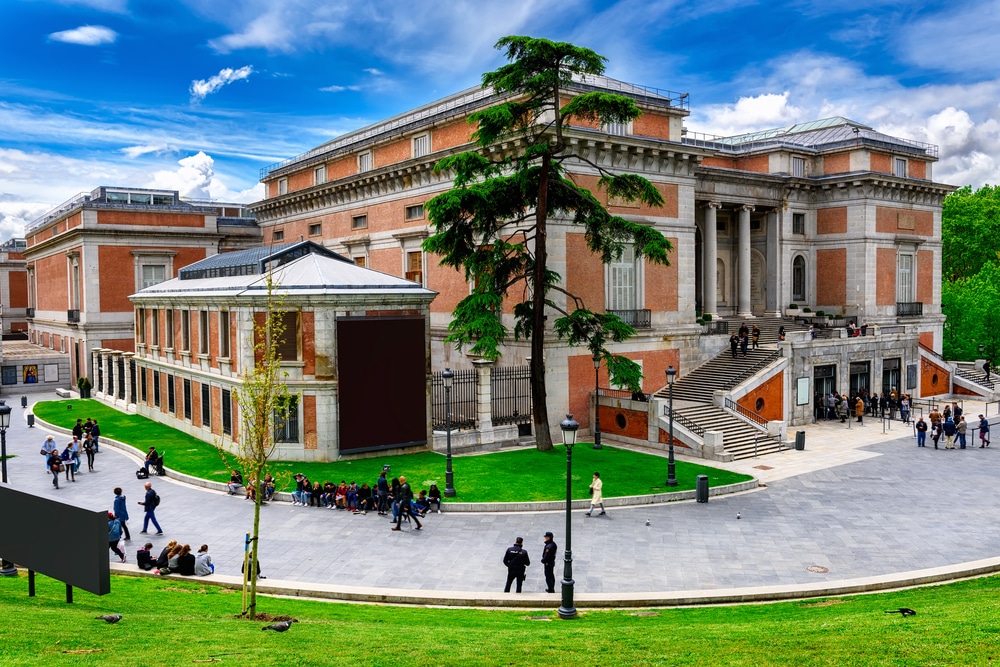 Without question one of the greatest art museums in the world, the Museo Nacional del Prado has an incredible catalogue of painting founded on the former Spanish Royal Collection.
In a Neoclassical edifice, built in 1785 on the orders of Charles VIII to house the Natural History Cabinet, you'll be treated to gallery after gallery teeming with European masterpieces from the 12th to the 20th century.
This is where you can behold Goya's fabled Black Paintings, like Saturn Devouring His Son and The Dog (c. 1819-1823).
Something unusual about the Museo del Prado is that rather than presenting a comprehensive history of art, the museum features scores of works by a select group of artists.
This tells you plenty about the tastes of its collectors, who were determined to amass as many pieces as possible by their favourite artists.
A few masters represented by numerous works are Hieronymus Bosch, Titian, Rubens, El Greco and Diego Velázquez, whose most famous painting, Las Meninas (1656), may keep you under its spell for hours.
Website: https://www.museodelprado.es/en
2. Royal Palace of Madrid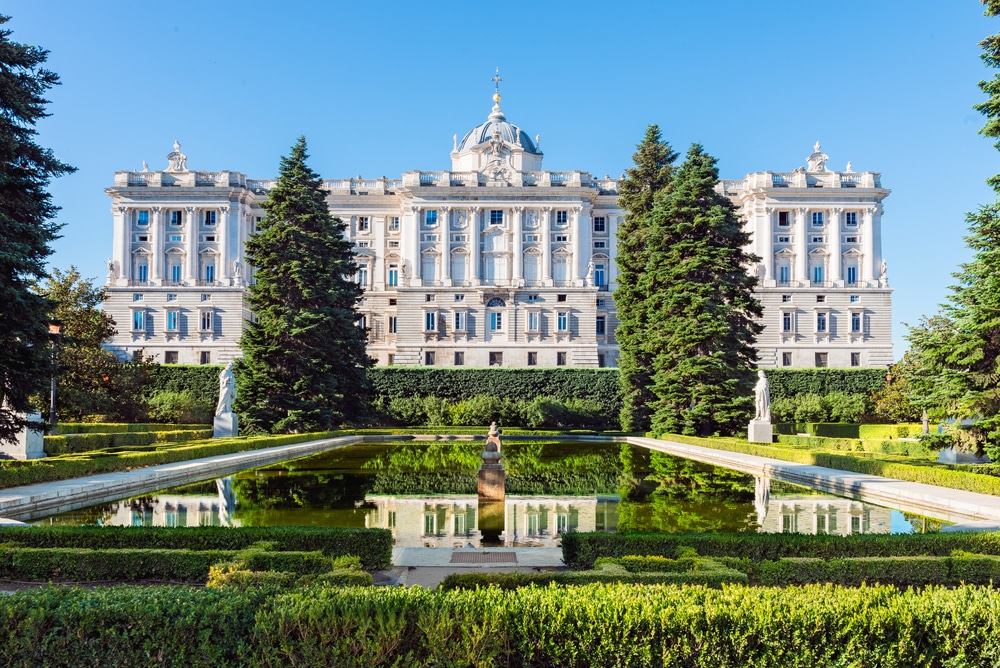 Madrid lays claim to what is officially the largest operating royal palace in Western Europe.
There are over 3,400 rooms here, so it's no wonder that King Felipe VI uses the complex purely for functions, and resides at the less conspicuous Palace of Zarzuela on the northern outskirts.
By the 18th century the previous palace at this location was rather plain for a royal property, and a fire in 1734 gave Philip V the opportunity for a lavish Baroque redevelopment, continued in a Neoclassical style by his successors.
On Wednesday and Saturday head for the Puerta del Principe to catch the Changing of the Guard, taking place from 11:00 to 14:00.
You can also go in to tour a selection of the palace's finest rooms, loaded with art and treasures. The most cherished is the extraordinary Royal Armoury, where you can marvel at the ornate 16th-century armour crafted for Charles V and Philip II.
Also obligatory are the Grand Staircase, sumptuous Hall of Columns, Throne Room for Charles III and the lavish Gasparini Room, in which Charles III would get dressed.
In the Painting Gallery you can view magnificent works of art by Goya, Velázquez, Sorolla and Caravaggio.
Meanwhile the Throne Hall shined for its Baroque frescoes by Tiepolo, the Royal Pharmacy has towering cabinets and antique jars, and the newly restored Royal Kitchen looks exactly as it did in the mid-19th century.
Website: https://entradas.patrimonionacional.es/en-GB/informacion-recinto/6/palacio-real-de-madrid
3. El Retiro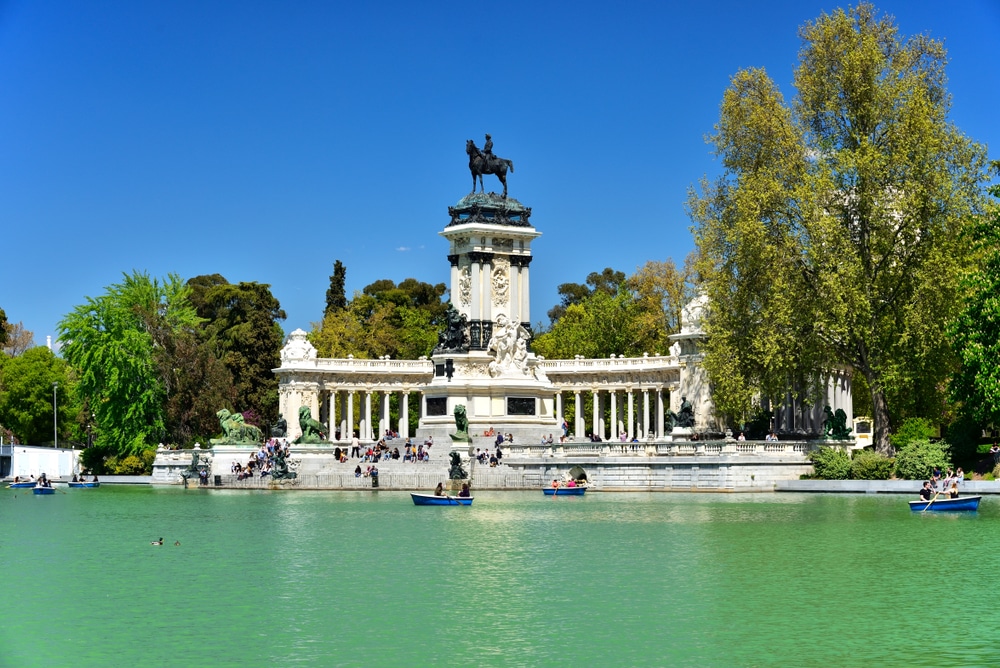 Madrid's favourite park also has royal heritage, as the site of a sprawling palace built on the orders of Philip IV in the 17th century.
El Retiro was a second residence, set on what was then the city's outskirts, and destroyed in the Peninsular War in the early 19th century.
The grounds have been state-owned since 1868 but Montezuma cypress trees still growing in the park can be traced to Philip IV's time.
El Retiro is in 350 acres and gives you the splendour and culture you'd expect of a former royal property but also endless opportunities for recreation.
You can go boating on the Retiro Pond, hire a bike, use the extensive sports facilities and amble or jog along the grand walkways.
As for monuments, it's hard to ignore the Monument to Alfonso XII (1922) by the pond, and composed of a stately promenade and an equestrian statue of the 19th-century king, high atop an elevated plinth.
There's a wealth of beautiful gardens, like the Rosaleda (rose garden), set next to the Fuente del Ángel Caído (Fountain of the Fallen Angel), inaugurated in 1885 and one of the world's few public monuments depicting Satan.
Also not to be missed is the Palacio de Cristal (1887), a palatial glasshouse used as an exhibition space by the Reina Sofía Museum.
4. Thyssen-Bornemisza National Museum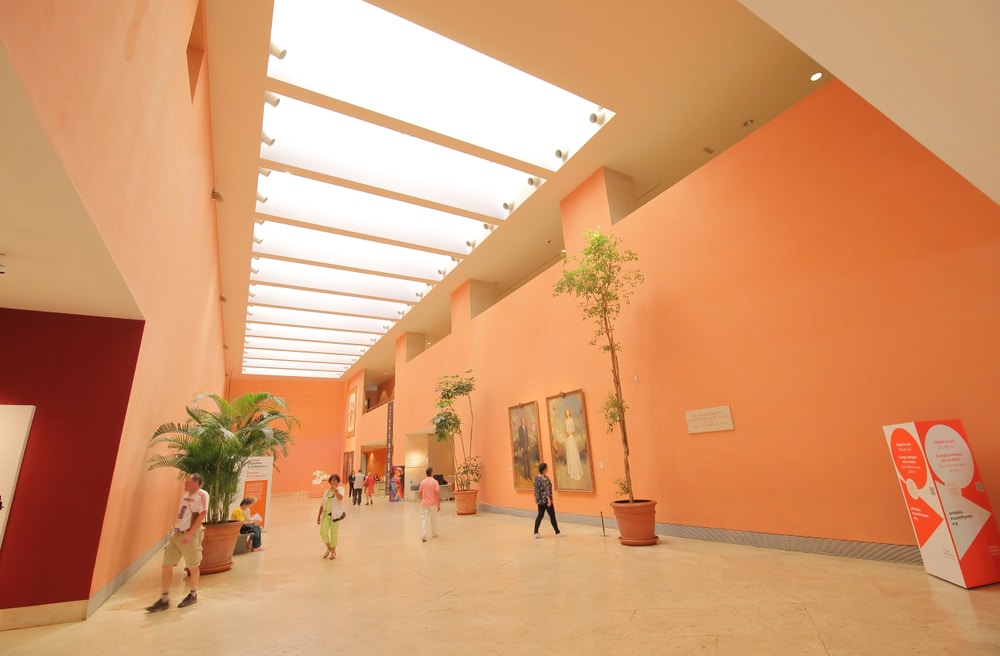 The second in a trio of sensational art museums on Paseo del Prado has its origins in the bountiful art collection of entrepreneur Heinrich Thyssen (1875-1947).
This was amplified by during the Great Depression by purchasing invaluable Old Masters paintings from distressed American millionaires.
Later, his son Hans enhanced the inventory even further, acquiring 19th and 20th-century art, while Heinrich's daughter-in-law, Carmen Cervera helped shift the bulk of the collection from Switzerland to Spain.
The Thyssen-Bornemisza National Museum opened in 1992 and presents a staggering wealth of painting, encompassing hundreds of years of European art from the 1300s to the 1970s.
No list could do the museum justice, but a small selection of names featured here are Duccio, Bellini, Veronese, Tintoretto, Titian, Dürer, Caravaggio, Goya, Delacroix, Monet, van Gogh, Cézanne, Picasso, Hopper, Schiele, Mondrian and Kirchner.
If you only have an hour or two to spare, there are some masterpieces that need to be seen. Among them are Ghirlandaio's Portrait of Giovanna Tornabuoni (1489-90), Hans Holbein the Younger's Portrait of Henry VIII (1537), The Annunciation by El Greco (1576), Rubens' Venus and Cupid (c. 1606-11), Cézanne's Seated Man (c. 1905-06) and Hotel Room by Edward Hopper (1931).
Website: https://www.museothyssen.org/en
5. Plaza Mayor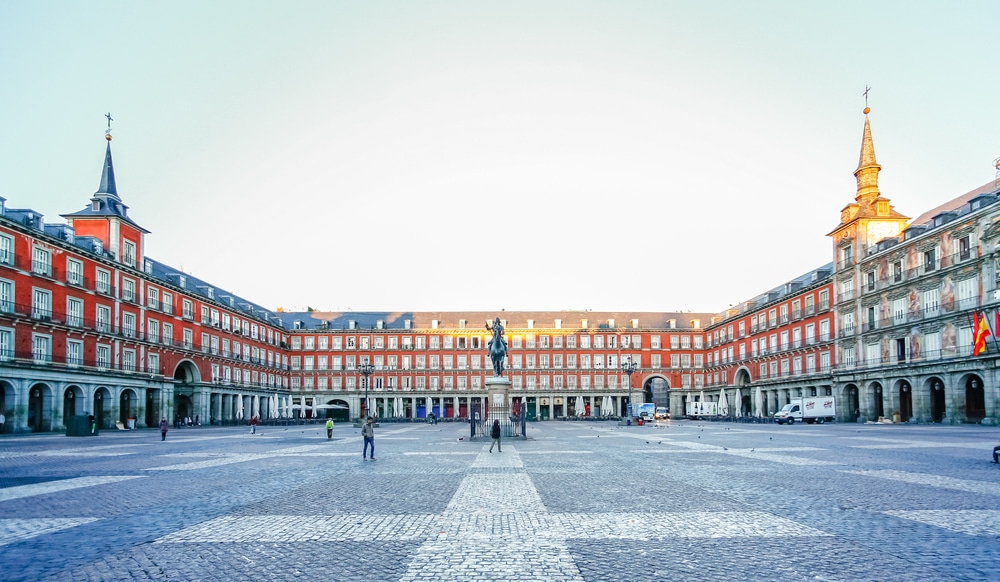 The old heart of Madrid converges at this emblematic Baroque square, first completed in 1619 in the reign of Philip III.
Satisfying for its uniformity, Plaza Mayor is framed by arcades and entered via theatrical portals. The has come through a few fires since it was built, the last of which, in 1790, took out a third of the buildings.
The rebuild was led by the Neoclassical architect Juan de Villanueva, who constructed the surrounding buildings to three rather than the previous five storeys.
On the margins are bars and restaurants, but also old-time shops specialising in collectibles, coins, stamps and hats.
Standing proudly in the centre is a horseback statue of Philip III, dating to 1618 but first placed here in 1848. Amongst many other events, Plaza Mayor is the setting for Madrid's annual Christmas market, and hosts a stamp and coin market on Sundays.
6. Museo Nacional Centro de Arte Reina Sofía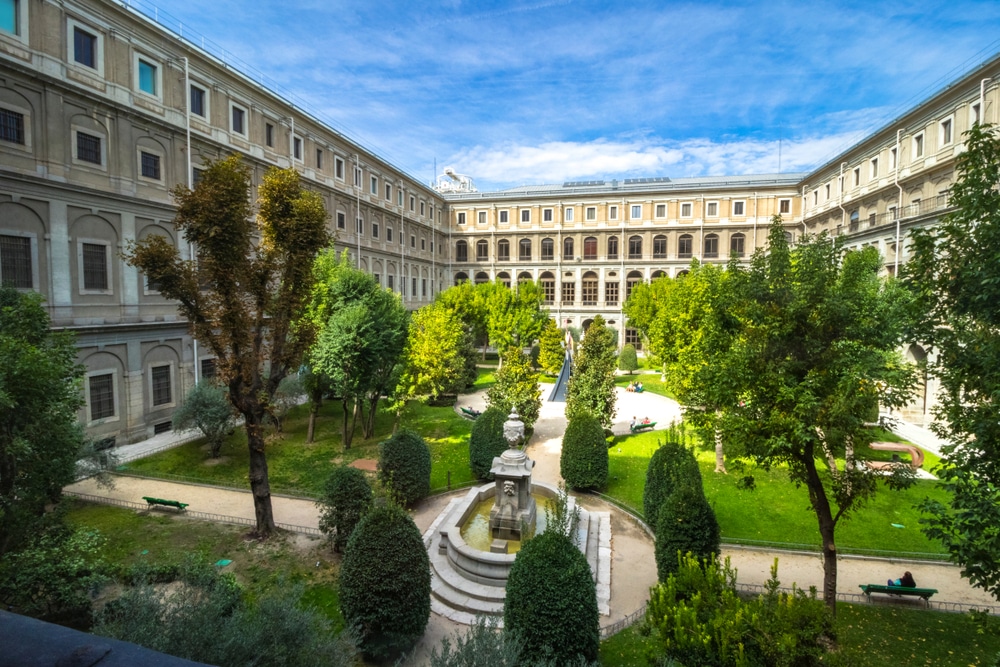 Spain's world-class museum for modern and contemporary art belongs to that Golden Triangle of Art on the Paseo del Prado.
Opened in 1990, this museum puts an emphasis on Spanish art from the 20th century, and has big collections for Picasso and Dalí, as well as the likes of Miró, Juan Gris, Eduardo Chillida and Antoni Tàpies.
These are combined with a wide assortment of works by celebrated international artists, including Kandinsky, Francis Bacon, Alexander Calder, Paul Klee, Henry Moore, Georges Braque and Robert Delaunay, to name just a few.
The showpiece, and one of the world's most recognisable paintings, is Picasso's Guernica (1937).
The permanent exhibition is set up in such a way as to create intersections of spaces, periods and themes, on a sort of multi-narrative journey, so you'll always be rewarded by going with the flow rather than hunting down a specific work.
Website: https://www.museoreinasofia.es/en
7. National Archaeological Museum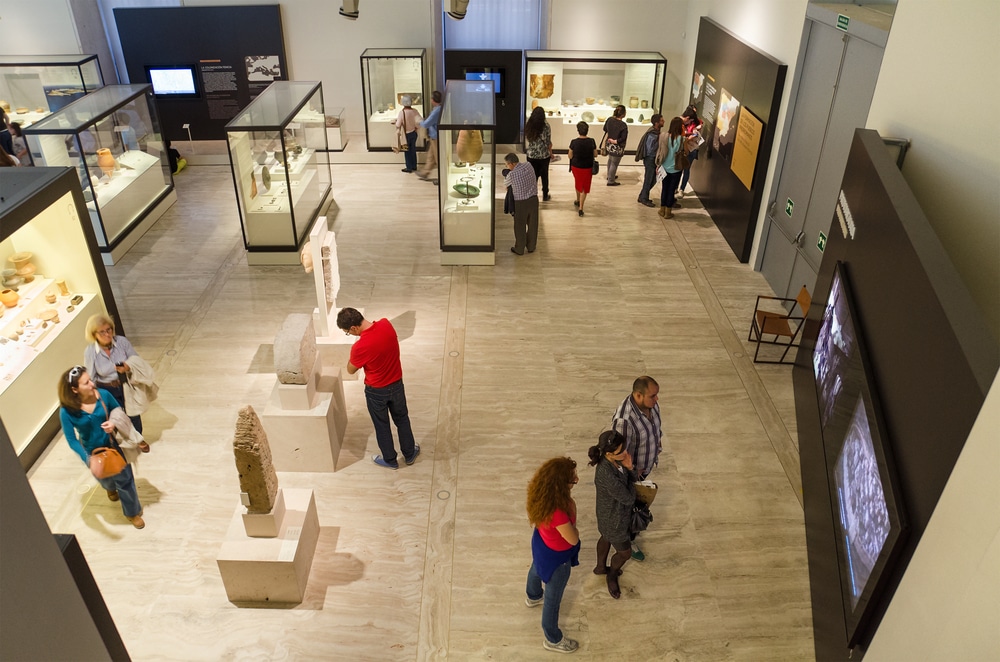 Spain has witnessed a long line of cultures and civilisations come and go over the last 2,500 years, leaving some astonishing artefacts in their wake.
This makes the National Archaeological Museum unmissable, brimming with objects from the pre-Roman Iberians, Phoenicians, Romans, Visigoths, Islamic Period and Medieval times.
Just to sum up you'll be wowed by treasures like Iberian sculpture, marvellous Roman mosaics, the jewel-encrusted Recceswinth Visigothic votive grown (7th-century CE) and pieces that underline the technical and scientific sophistication of Al-Andalus in the Middle Ages.
If there's a single must-see it's the astoundingly naturalistic Iberian Lady of Elche, a now famous bust carved in the 4th century BCE and discovered in 1897.
Also worth going out of your way to see is the 10th-century Pyxis of Zamora, a highly intricate carved ivory casket from the Caliphate of Córdoba.
Website: http://www.man.es/man/en/home
8. Museo Sorolla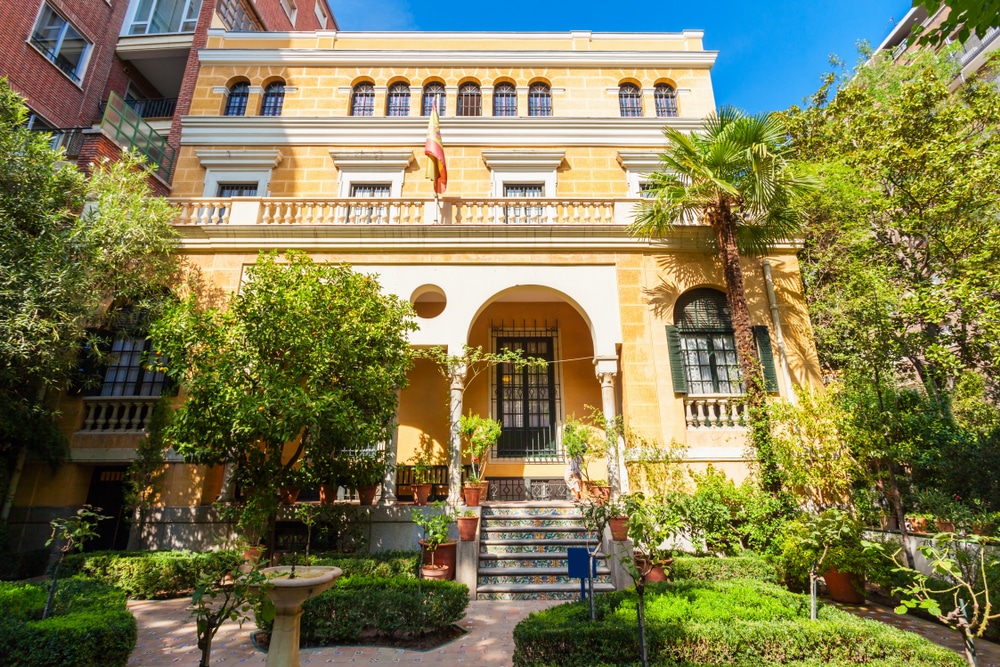 One of the world's great artist house museums can be found in Madrid at the home and studio of Joaquín Sorolla (1863-1923).
The property was constructed in 1911 under the artist's directions, merging his work and living space, and providing a garden as well as an Andalusian-style patio.
Museo Sorolla, inaugurated in 1932, has the world's largest collection of his works, enlarged over time with donations by Sorolla's family.
There are over 1,200 paintings in the museum's holdings, including the famous "notas de color" little preparatory oil paintings that he composed quickly on tablets or small pieces of cardboard when he was outside.
Among the many world-renowned works on show are the dynamic seaside scenes like Walk on the Beach and The Horse's Bath, both from 1909.
There's also a trove of paintings by contemporaries like Aureliano de Beruete, as well as thousands of Sorolla's drawings, together with important collections of sculpture, ceramics, jewellery, photography, furniture and other memorabilia.
9. Puerta del Sol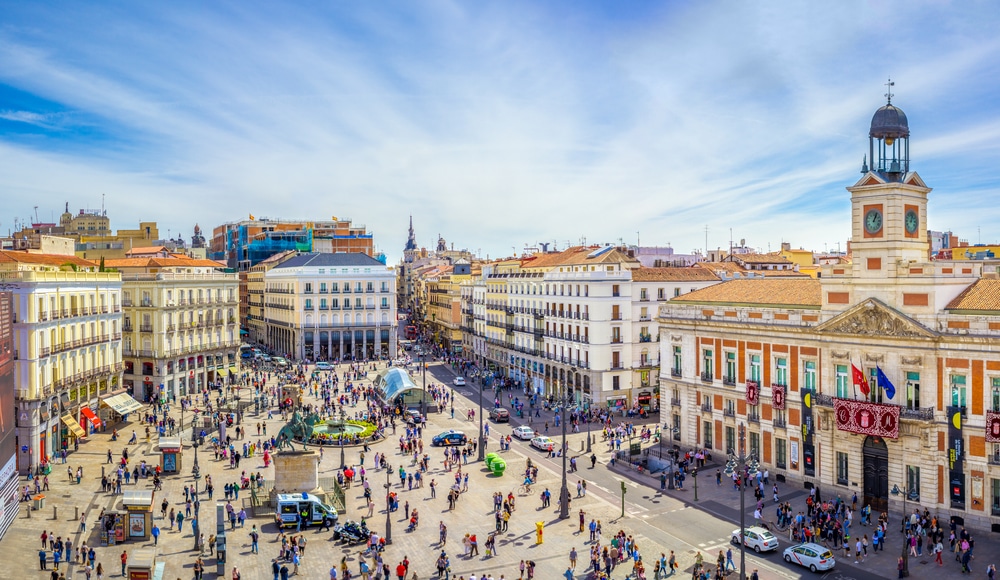 At the site of an east-facing Medieval gate that caught the rising sun in the morning, Puerta del Sol is a semicircular square with radiating streets and is etched in Spanish culture.
An idiosyncratic ritual takes place here in the countdown to the New Year and is broadcast around the country.
The challenge is to eat 12 grapes in 12 seconds before the stroke of New Year, each second marked by a chime from the Reloj de Gobernación.
This clock tower rises from the 18th-century Royal House of the Post Office, now the office of the President of the Community of Madrid.
A plaque on the ground in front of this building signifies "kilómetro cero" for Spain's radial highway network, and, as such, the symbolic centre of the country.
Another icon, set on the square's east side, is the Statue of the Bear and Strawberry Tree (1967), an image taken from the Madrid coat of arms.
10. Tapas Crawl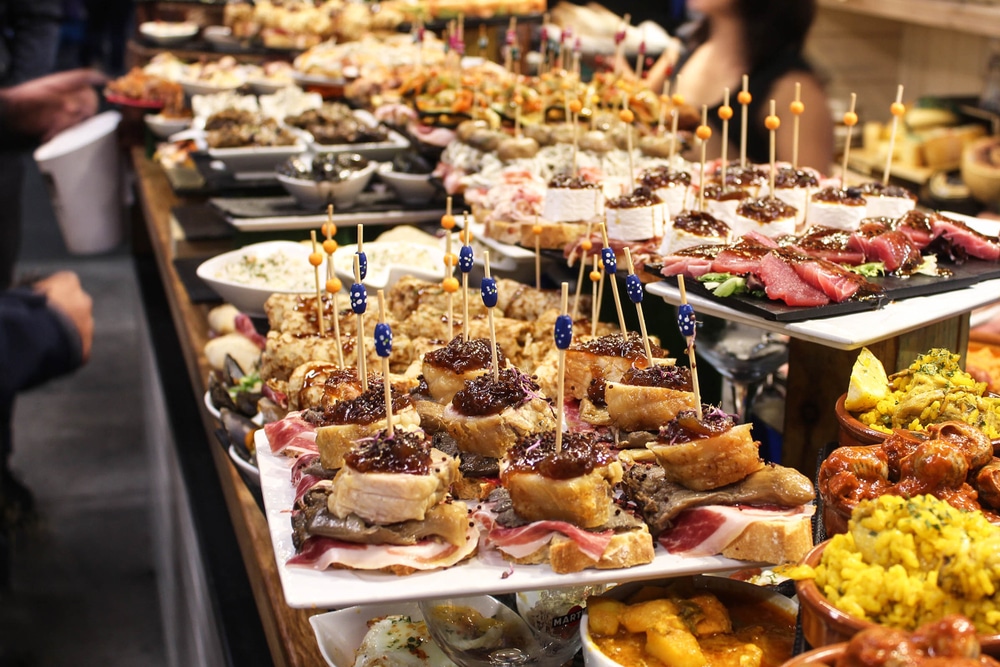 Tapas is at the soul of Madrid's dining culture, and two ideal starting points are La Latina (Cava Alta and Cava Baja) and Barrio de las Letras (Calle Huertas), both heaving with bars and their street-side terraces.
Many of the dishes that the world associates with this quick, casual cuisine, like tortilla de patatas, croquetas, jamón ibérico and calamares a la romana, are typical for Madrid.
A lot of local favourites are fried, which of course makes them go even better with beer. It's also no secret that many of the most beloved bars will have a menu just a few items long.
So the best way to experience them is by hopping from place to place to taste a certain speciality that a certain bar has perfected.
This might be caracoles (snails), callos a la Madrileña (slow-stewed tripe), ensaladilla rusa (potato and tuna salad) or patatas bravas (fried potatoes with a spicy sauce).
11. Puerta de Alcalá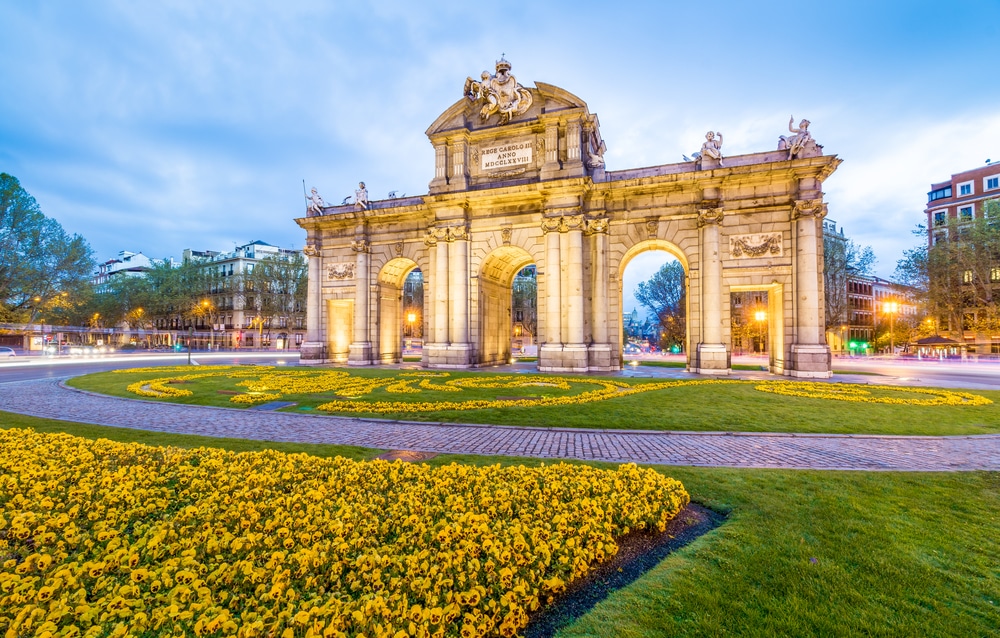 People entering Madrid on their way from France or Aragón would have arrived via the east-facing Puerta de Alcalá on the north-west of the Retiro.
The gate was essentially Madrid's main entrance, and in the 1770s under Charles III it was given a monumental redesign.
Evoking a Roman Triumphal Arch, this Neoclassical landmark today sits at the roundabout of the Plaza de Independencia.
The Puerta de Alcalá is carved from granite, with limestone sculptural elements and has one central arch and two lateral ones.
On the outward facade, Greeting approaching travellers, is the royal coat of arms, supported by Pheme.
The gate's inward side is festooned with war trophies, mixing classical weapons with those from the period. The lateral arches on this side are decorated with statues of children embodying the Cardinal Virtues of Prudence, Justice, Temperance and Strength.
12. Monasterio de las Descalzas Reales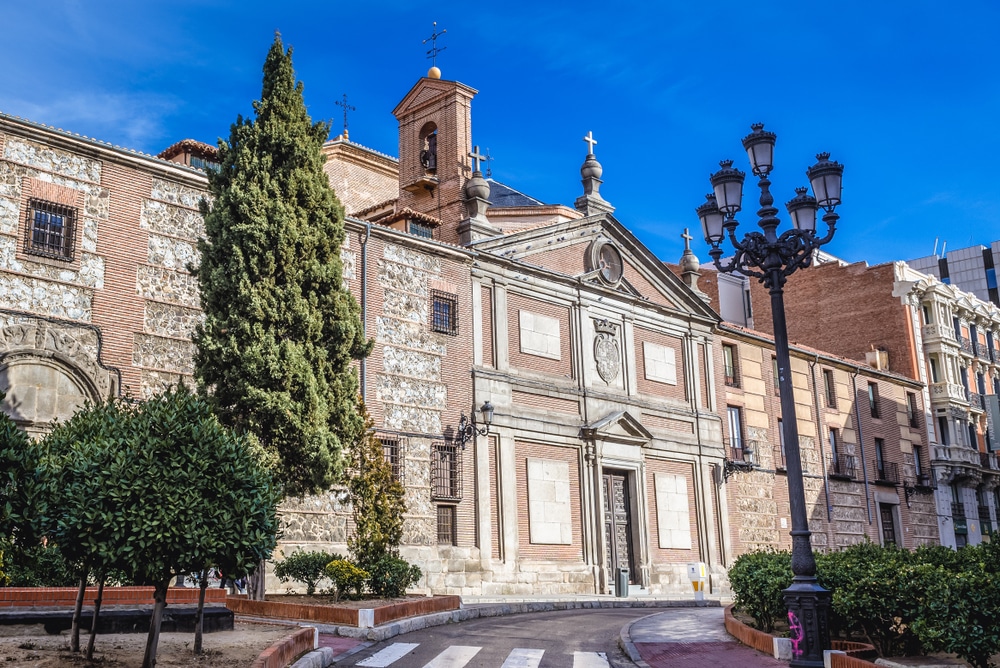 Converted from the palace in which she was born, this convent for the Poor Clares was founded in 1559 by Joanna of Austria, daughter of Charles V, Holy Roman Emperor.
Now home to only a small community of nuns, it's a beautiful Renaissance complex furnished with a wealth of art and evoking the Spanish Habsburgs of the 1500s and 1600s.
Some remarkable elements include the grand, double-sided main stairway, dating back to the original palace and embellished with murals from the 16th and 17th centuries.
The interiors blend Renaissance design with Mudéjar plasterwork, and the cloisters are hemmed by Genoa marble columns.
A real highlight are the sensational 17th-century Baroque tapestries themed on the Eucharist and based on designs by Rubens. These are on show in the high-ceilinged rooms that used to house the nuns' cells.
Website: https://www.patrimonionacional.es/visita/monasterio-de-las-descalzas-reales?language=en
13. Museo Lázaro Galdiano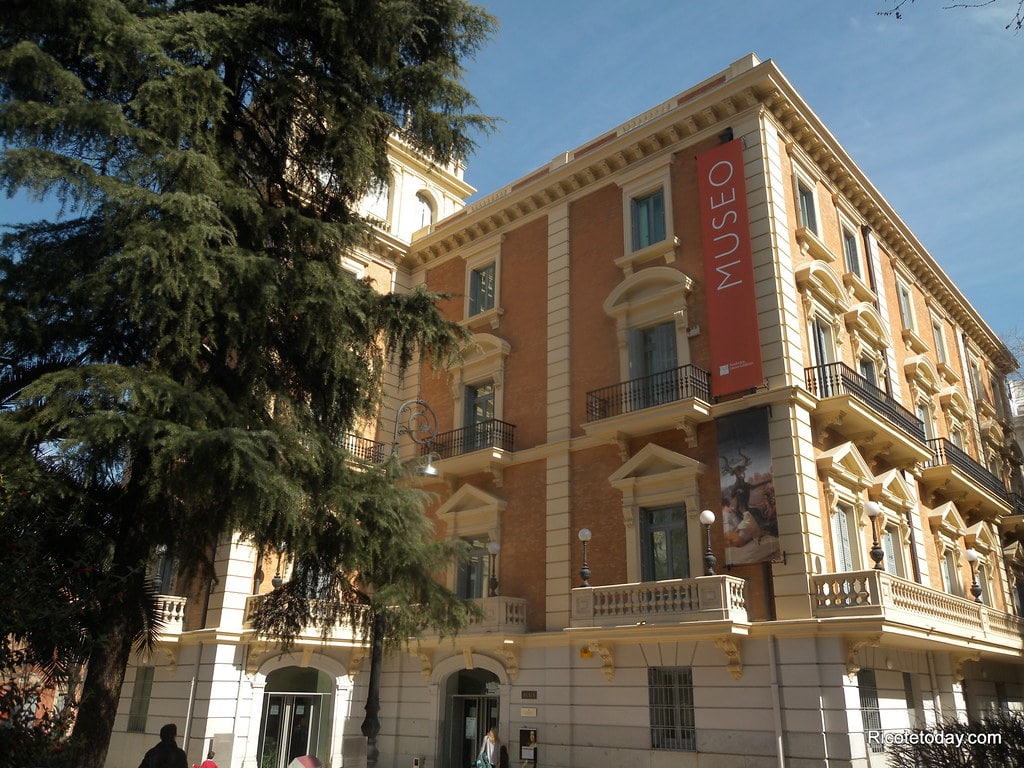 The financier and art patron José Lázaro Galdiano (1862-1947) built up an astonishing art collection, focussed mainly on Old Masters and Romantic painting.
When he died he bequeathed it all to the Spanish State, along with his palatial Renaissance Revival townhouse, raised in 1903 on the desirable Calle Serrano.
The Museo Lázaro Galdiano opened in 1951, and shows off that fabulous haul of art, with pieces by Goya, Hieronymus Bosch, Lucas Cranach the Elder, El Greco, Maes, Murillo, Zurbarán and Velázquez.
This is also one of the few museums in Madrid with paintings from the British school, namely Reynolds, Constable and George Romney.
Galdiano also collected exceptional decorative arts, going back to Spain's Visigothic period and including an invaluable array of Limoges enamel, as well as Italian and Spanish ceramics, Renaissance sculpture, Arab and Byzantine ivory and jewellery from every period, from Ancient Greek through to the 19th century.
Website: http://www.flg.es/your-visit-to-the-museo-lazaro-galdiano
14. El Rastro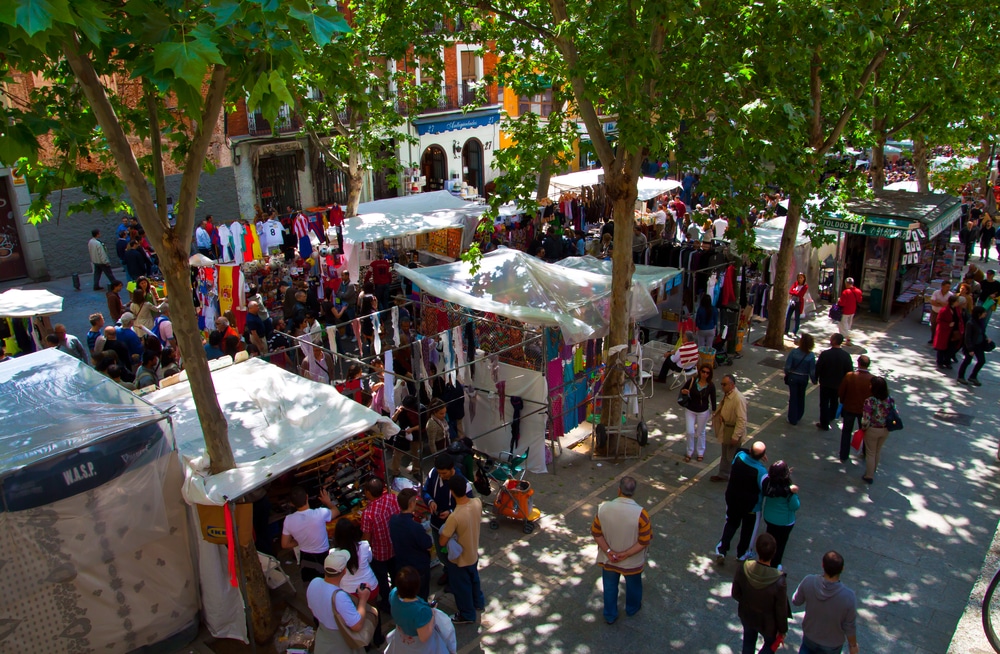 Every Sunday and public holiday there's a flea market of serious dimensions in the heart of Madrid.
Close to La Latina Metro Station, in the district of the same name, El Rastro has a history going back to the middle of the 18th century and fills up Plaza de Cascorro and spills onto neighbouring streets and squares including Plaza Campillo del Mundo Nuevo and Plaza de General Vara del Rey.
Each portion of the market is dedicated to different product, be it vinyl, fashion and accessories (Plaza de Cascorro), homewares, handicrafts, toys, collectibles, second-hand books and magazines (Calle Carnero and Calle Carlos Arniches), art supplies and paintings (Calle San Cayetano)and all manner of bric-a-brac.
The market kicks off first thing, peaking around 11:00 before winding down as the afternoon wears on.
And since you're in La Latina, you can scamper off for some tapas once you've done enough bargain hunting.
15. Santiago Bernabéu Stadium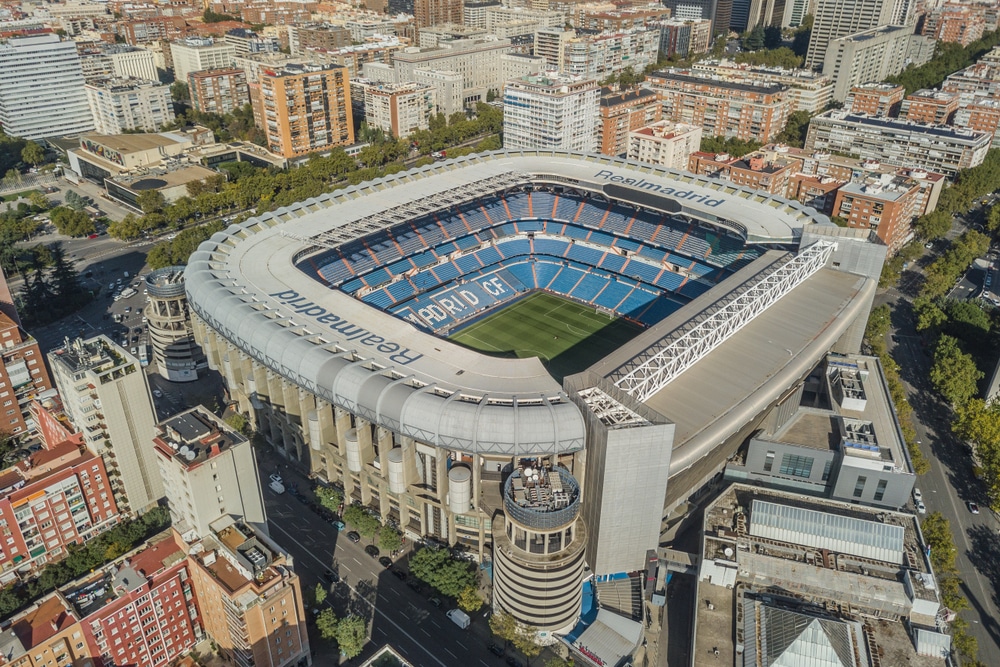 It's a testament to their dominance that in the partisan world of football fandom, Real Madrid enjoy almost universal respect.
Even during the club's difficult spells, there's a permanent sense of prestige around the team that won European Cup/Champions League more times than any other (13 at the time of writing).
The club's list of alumni includes many of the greatest players of all time, among them Alfredo Di Stéfano, Ferenc Puskás, Francisco Gento, Raúl, Zidane, Roberto Carlos, Sergio Ramos, Ronaldo Nazário and Cristiano Ronaldo.
This all makes the Santiago Bernabéu priority for football fans. A "classic" audio-guided tour of the 81,044-capacity Santiago Bernabéu entails a visit to the tunnel, first team dressing room, trophy room loaded with memorabilia, press room, presidential box, as well as the "Best Club in History Room".
The latter is an interactive and audiovisual journey through Real Madrid's glittering past.
16. Gran Vía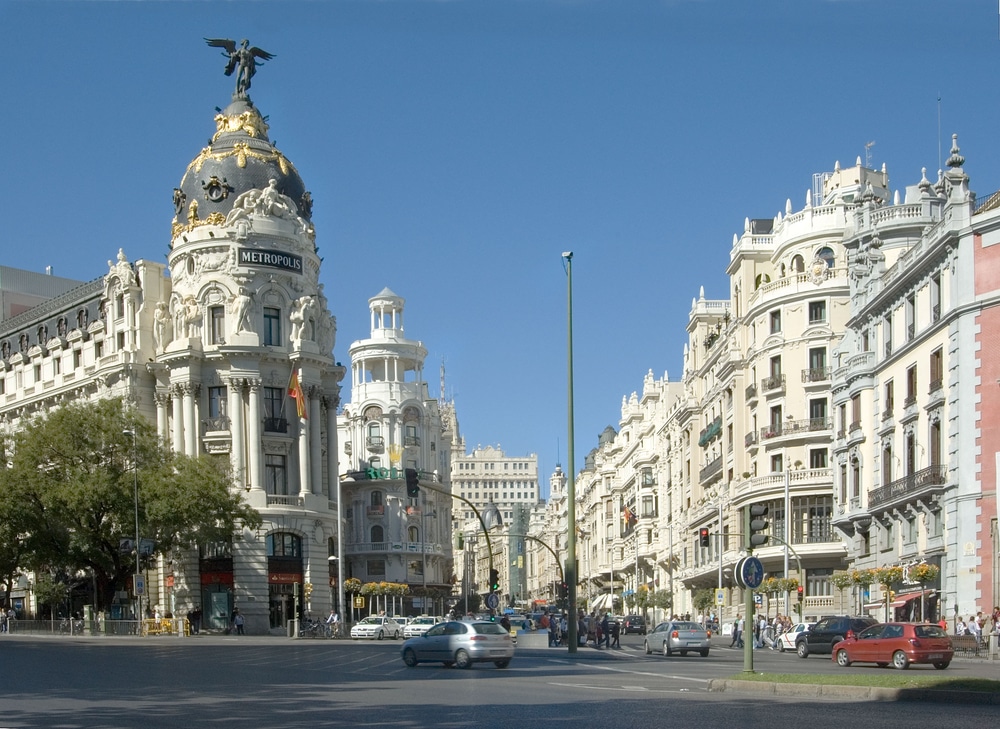 This ceremonious avenue zigzags through the centre of Madrid, from near Plaza de Cibeles and Paseo del Prado in the east to Plaza de España in the west.
Gran Vía was born at the beginning of the 20th century as part of a Paris-style plan to de-clutter the chaotic old centre with a modern thoroughfare lined with high-rise buildings.
Well over a century later Gran Vía still holds the power to impress for its architecture, running the gamut from Beaux-Arts to Art Deco.
Some standouts are the Eclectic Edificio Grassy and Beaux-Arts Edificio Metrópolis at the far east end, as well as the 89-metre Telefónica Building at No. 28, dating to 1929 and hailed as Europe's first skyscraper.
All through the 20th century Gran Vía was an entertainment district, and although it's known mostly for shopping, there's a gaggle of theatres towards the west end at Teatro Lope de Vega, Teatro EDP Gran Vía, La Chocita Del Loro Senator and Teatro Coliseum.
Also on the west side the avenue intersects with Plaza del Callao, enclosed by historic cinemas like the Art Deco Cine Capitol (1933).
17. Mercado San Miguel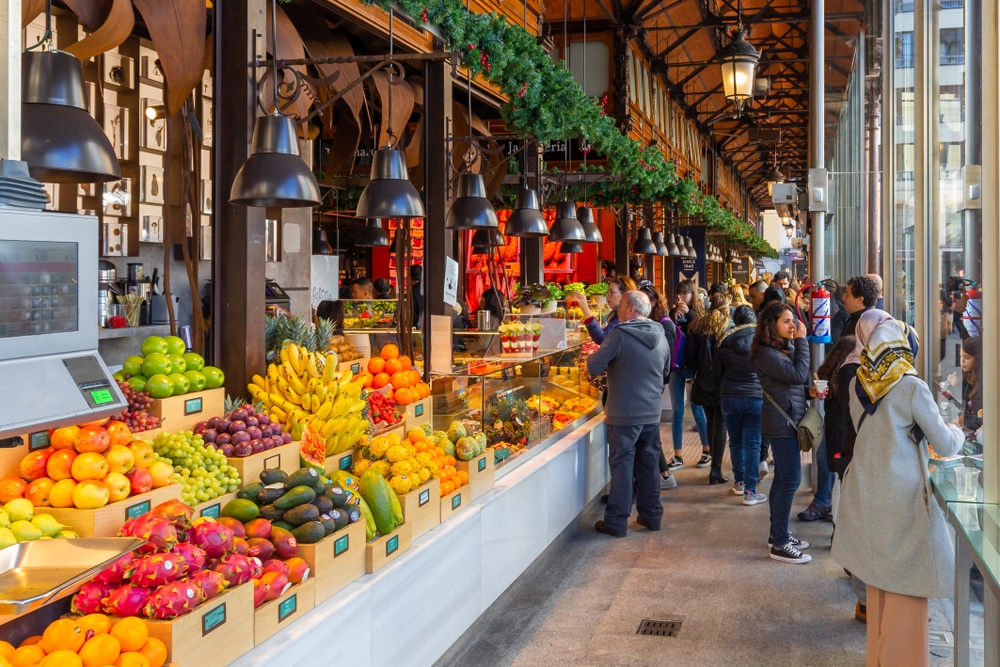 A few steps west of Plaza Mayor is this market enclosed by an ornate iron framework, dating back to 1916 and listed as a Spanish Property of Cultural Interest.
In the 2000s the Mercado San Miguel was sold off and rebranded as a gourmet food destination, designed to showcase the best in Spanish cuisine.
Across 30+ stalls you can pick up first-rate jamón ibérico, wine from Rioja to Rías Baixas, cheese from the Basque Country, Castile and Asturias and seafood shipped in straight from Galicia.
Those ingredients shine through at the market's eateries, going into old-school tapas dishes and snacks like calamari sandwiches, croquetas and patatas bravas.
But since this is a fancy place, you'll come across a lot of contemporary/fusion twists. Tacos Margaritas y Punto for instance is a concept by Michelin-starred chef, Roberto Ruíz, crafting tacos with Iberian pork.
Raza Nostra meanwhile is all about dry-aged meats, making traditional slow-stewed tripe, but also high-end shish kebabs and gourmet burgers.
Website: https://mercadodesanmiguel.es/en/
18. Chocolatería San Ginés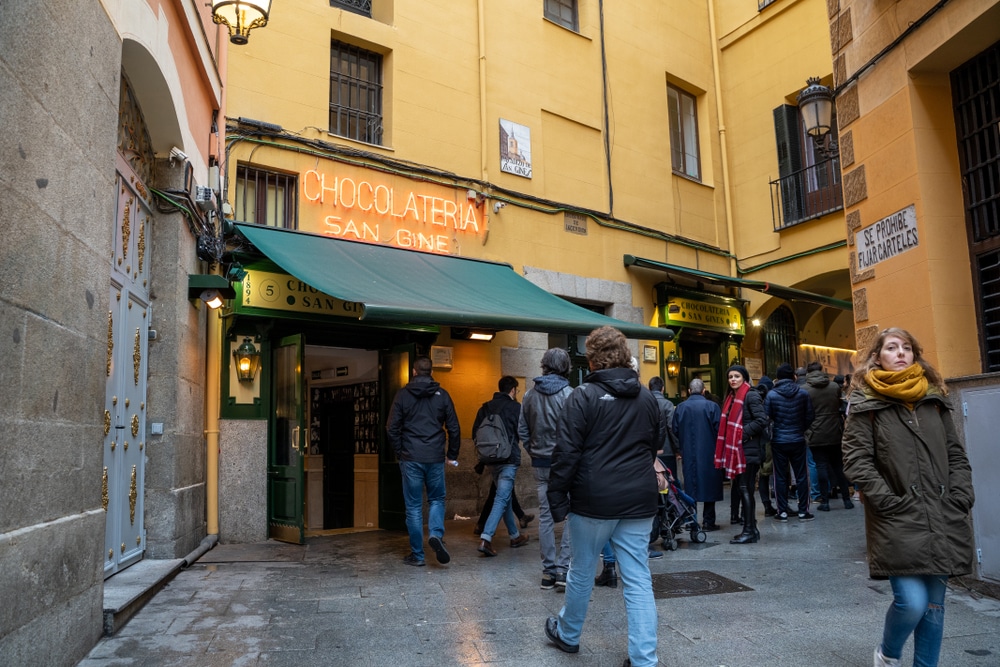 One of the great Spanish treats is a cup of rich and thick hot chocolate with churros, fluted loops of sweet fried batter, for dipping.
You can find chocolate con churros almost anywhere in the capital, and Spain for that matter, but one of the very best, and most celebrated spots is a brief stroll west of Puerta del Sol.
Chocolatería San Ginés has been in business since 1894 and has found a place in Spanish culture, having been mentioned in Los Episodios Nacionales (1872-1912) by Benito Pérez Galdós, and Luces de Bohemia (1924) by Valle Inclán.
You can choose from churros or the local favourite, porras, which come as sticks and are made from largely the same ingredients, except for a little baking soda to make them fluffier.
Inside, Chocolatería San Ginés has photographs of the many famous people to call in down the years, and harks back to its turn-of-the-century origins with marble tables and tiles and Art Nouveau-style sculpture and light fittings.
19. Barrio de Salamanca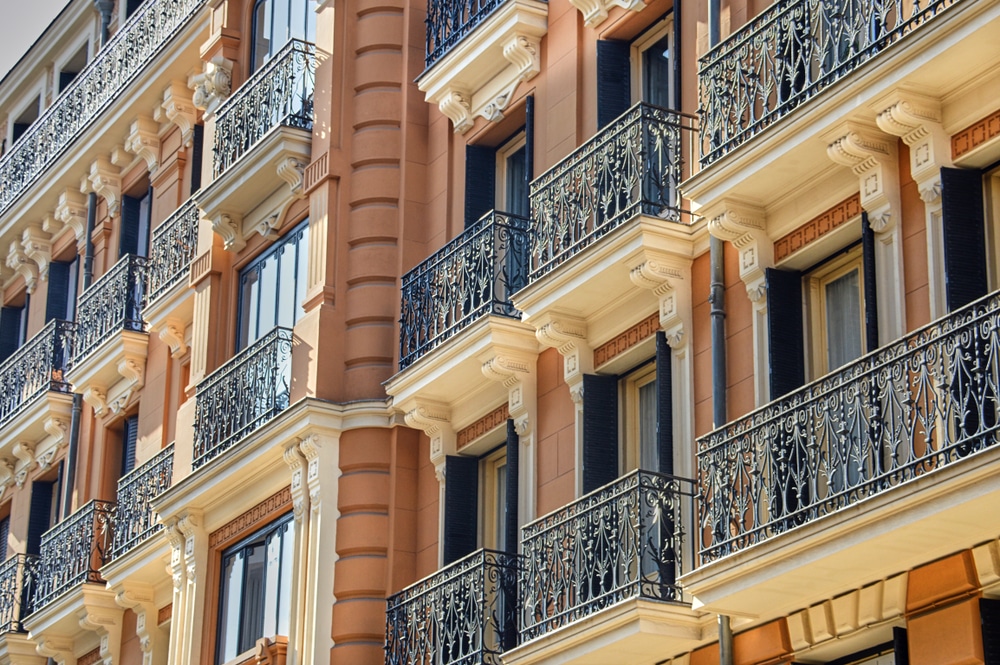 North-east of the old centre of Madrid, the distinguished Barrio de Salamanca has its roots in the Plan Castro of 1860, expanding the city beyond its defensive walls to accommodate a swelling population.
Before that time, what is now Plaza de Independencia by Puerta de Alcalá had been the site of the Madrid bullring.
The Barrio de Salamanca was laid out on a grid system and intended as a neighbourhood for the city's bourgeoisie and aristocracy.
On these rarefied streets you'll be confronted by impressive Historicist apartment buildings now inhabited by wealthy business people and politicians, and footed by Michelin-starred restaurants and emporia for luxury brands.
We're talking Tesla, Gucci, Versace, Loewe and Prada (Serrano), and Dior, Tiffany, Chanel, Valentino and Hermès (Ortega y Gasset).
20. Corral de la Morería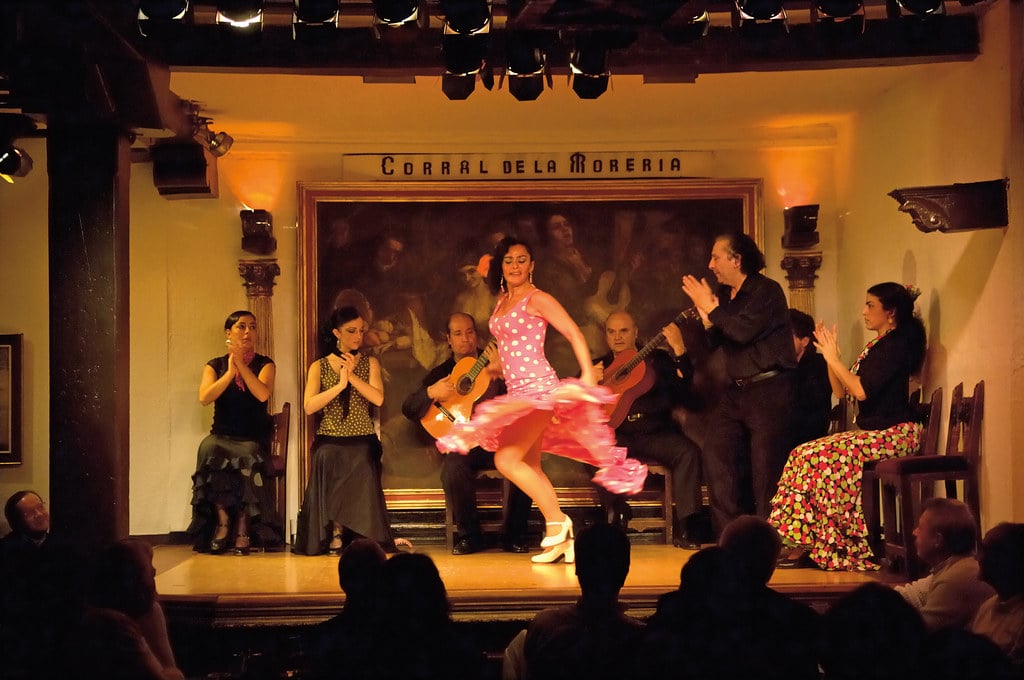 Flamenco is an art-form that can be witnessed at tablaos, traditional venues, all over the city.
For a quick recap, flamenco blends song (Cante), dance (Baile) and musicianship (Toque), and has its heartland in the south, in Andalusia and Murcia, as well as roots in Extremadura in the west.
But one tablao with undeniable cachet is Corral de la Morería, seconds from the Royal Palace and founded in 1956.
The venue has its own company, and Some of the most acclaimed talents of the modern times have performed here, like Pastora Imperio (1887-1979), La Chunga and Isabel Pantoja.
Guests have included JFK, Picasso, Rita Hayworth and Natalie Portman. As with many tablaos, the performance space is combined with a restaurant, but Corral de la Morería also runs a lauded micro restaurant, which has just four tables and picked up a Michelin star in 2019.
Website: https://corraldelamoreria.com/en/index.html
21. Temple of Debod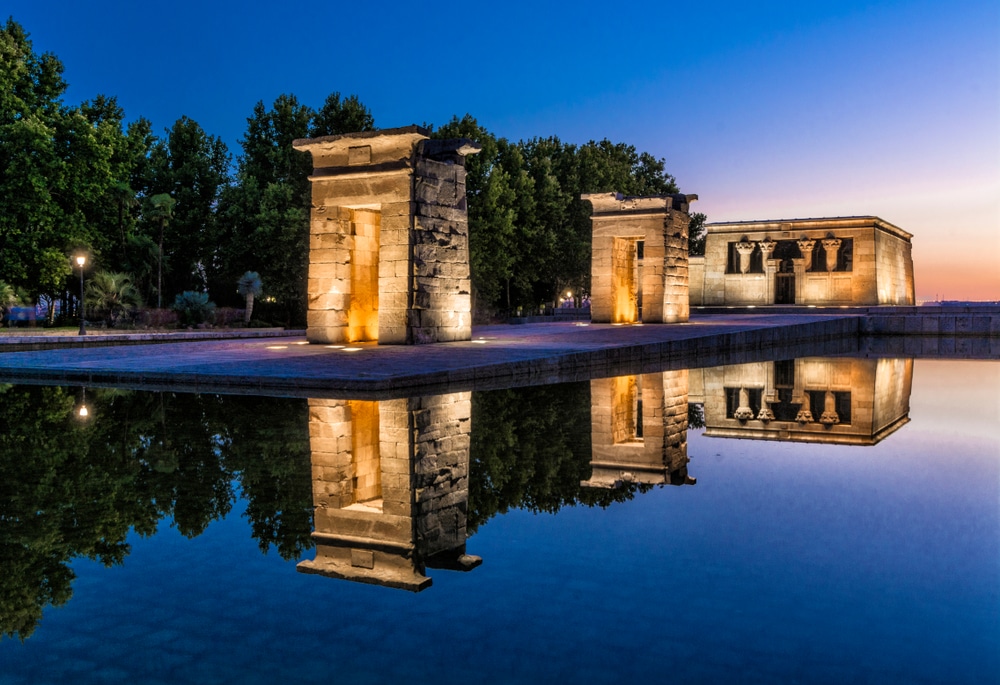 When the Aswan High Dam was built in the 1960s it placed a long list of Ancient Egyptian monuments in jeopardy, several of which were relocated to countries that helped with the project.
One of these was the Temple of Debod, erected at the beginning of the 2nd century BCE at the behest of Adikhalamani (Tabriqo), the Kushite king of Meroë.
The monument, initially a single chapel for the god Amun, was enlarged by the subsequent Ptolemaic kings and then completed under the Roman Emperors Augustus and Tiberius.
The chambers, in Parque del Oeste, are closed to the public but you can take a close look at their decoration, while for interpretation you can check out a variety of multimedia and scale models.
22. Museo Cerralbo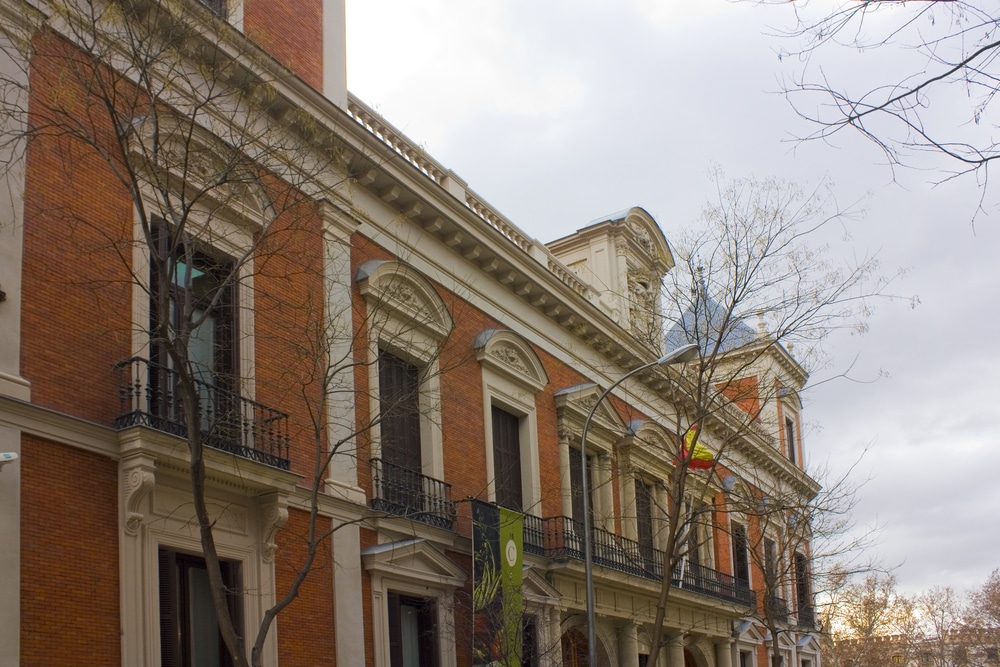 Enrique de Aguilera y Gamboa, the 17th Marquis of Cerralbo (1845-1922) was a Carlist politician and highly regarded archaeologist, but also had an eye for Spanish Golden Age painting.
You can visit his Historicist townhouse, fronting Parque de Oeste and built between 1883 and 1893, and preserved as a museum since 1944.
One of many special things about the Museo Cerralbo is that it's one of the few properties of its kind in Madrid to retain its 19th-century decoration.
Not to mention that the art collection is world-class, enriched with pieces by Zurbarán, El Greco, the workshop of José de Ribera, as well as Tintoretto, Bronzino and van Dyck.
These are complemented by Meissen porcelain, Greek ceramics, Roman sculpture, Greek and Roman coins, an array of European and Oriental weapons, tapestries, opulent furniture, as well as the house's stately period decor.
23. Plaza de Cibeles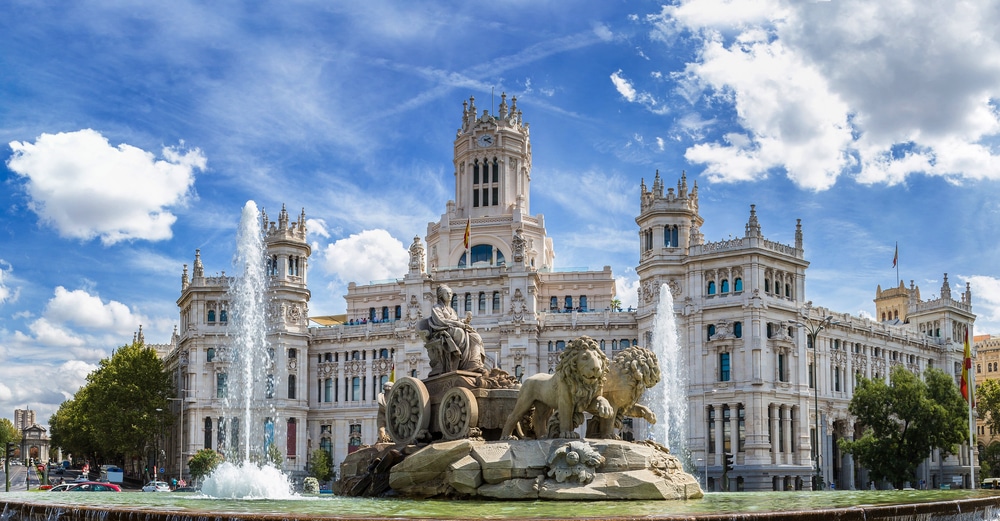 Three important thoroughfares, Paseo de Recoletos (north) Calle de Alcalá (east to west) and Paseo del Prado south) meet at this emblematic square, converging on a regal fountain.
Plaza de Cibeles also marks the boundary between the Salamanca, Retiro and Centro districts.
The Neoclassical Fountain of Cybele, encircled by those busy streets, is from the late-18th century and depicts the Phrygian deity drawn by two lions representing Hippomenes and Atalanta.
If Real Madrid or the Spanish national football team win a title their ecstatic fans will descend on Plaza de Cibeles in their droves to the blare of car horns.
Catching the eye on the east side is the breathtaking Cybele Palace (1919), with its intricate neo-Plateresque facades, now serving as Madrid's City Hall.
24. Teatro Real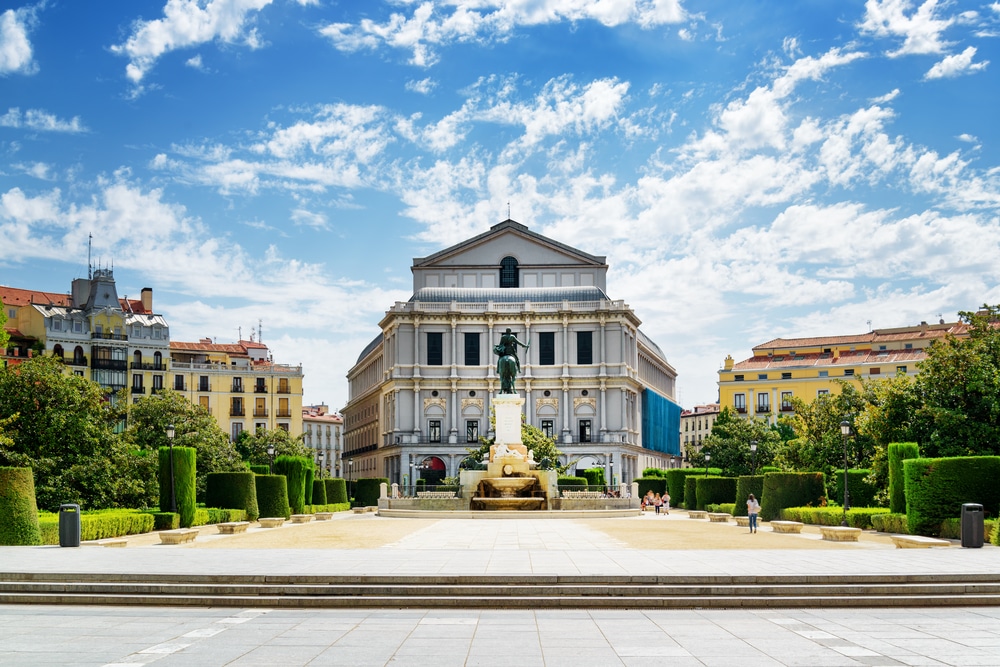 This opera house was founded by Ferdinand VII in 1818 and sits across Plaza de Oriente from the Royal Palace.
The Neoclassical venue would finally open in 1850 and experienced a 40-year hiatus, beginning in 1925, due to structural issues.
After a few decades as a symphonic concert hall, thorough restoration, completed in 1997 returned El Real to its original purpose as an opera house of worldwide repute.
A mainstay of Madrid's cultural scene, there are around 17 opera titles a season at the Teatro Real, as well as a handful of ballets.
If you're intrigued by the architecture and history of the building it's well worth taking a tour, going behind the scenes to visit the workshops and rehearsal rooms, as well as the massive stage and the plush, 1,386-capacity auditorium.
You'll also hear about the incredible line-up of personalities to have visited or performed at the Teatro Real, from Verdi to Stravinsky, Richard Strauss, Marie Sasse and Mattia Battistini.
Website: https://www.teatroreal.es/en
25. Royal Palace of El Pardo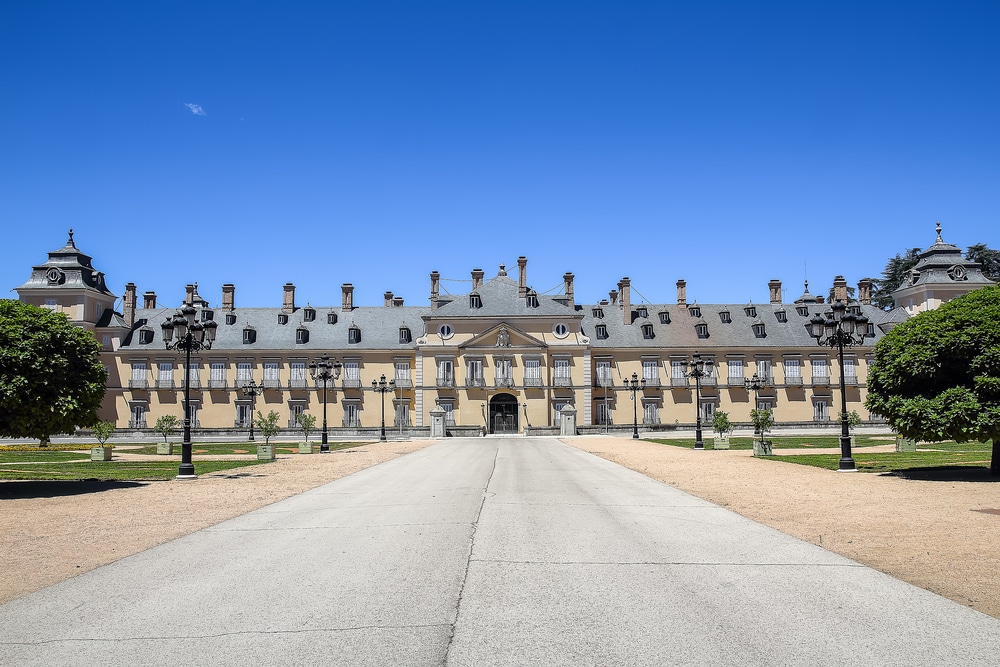 The Monte de El Pardo is a huge region of elevated woodland in the north of Madrid, mostly cloaked in holm oak forest and covering almost 15,300 hectares.
El Pardo has had a royal connection since it was first used as a hunting ground by Afonso XI in the 14th century.
The hunting lodge here was first turned into a palace by Emperor Charles V in the middle of the 16th century, and, after a fire in 1604, was renovated in a late-Baroque style by Charles III in the 18th century.
After the Spanish Civil War this was also the main home for Fascist dictator Francisco Franco. Today this is the official residence for visiting heads of state, and when it's not in use the palace is open to the public.
Awaiting you are the King's Apartment, Queen's Apartment, King's Dining Room, Palace Theatre and the Apartment of the Prince of Asturias.
The palace abounds with important art furnishings, including a wealth of Empire-style furniture, frescoes, paintings and tapestries woven from designs by Goya, among others.
Website: https://www.patrimonionacional.es/en/visita/royal-palace-el-pardo