Historically a part of the Picardy region of northern France, Amiens lies 120 kilometres north of Paris close to the Pas-de-Calais (Strait of Dover) and the border with Belgium.
Its location has seen its streets occupied on multiple occasions over the past 500 years of its history, most notably by Nazi forces during the Second War World. As a result, it was heavily targeted by British bombers and severely damaged.
Carefully rebuilt in the post-war years, the city will instead be forever linked with the First World War. The river that divides Amiens into two is synonymous with the trench warfare of the time. That river is the Somme.
Let's check out the 15 best things to do in Amiens.
1. Amiens Cathedral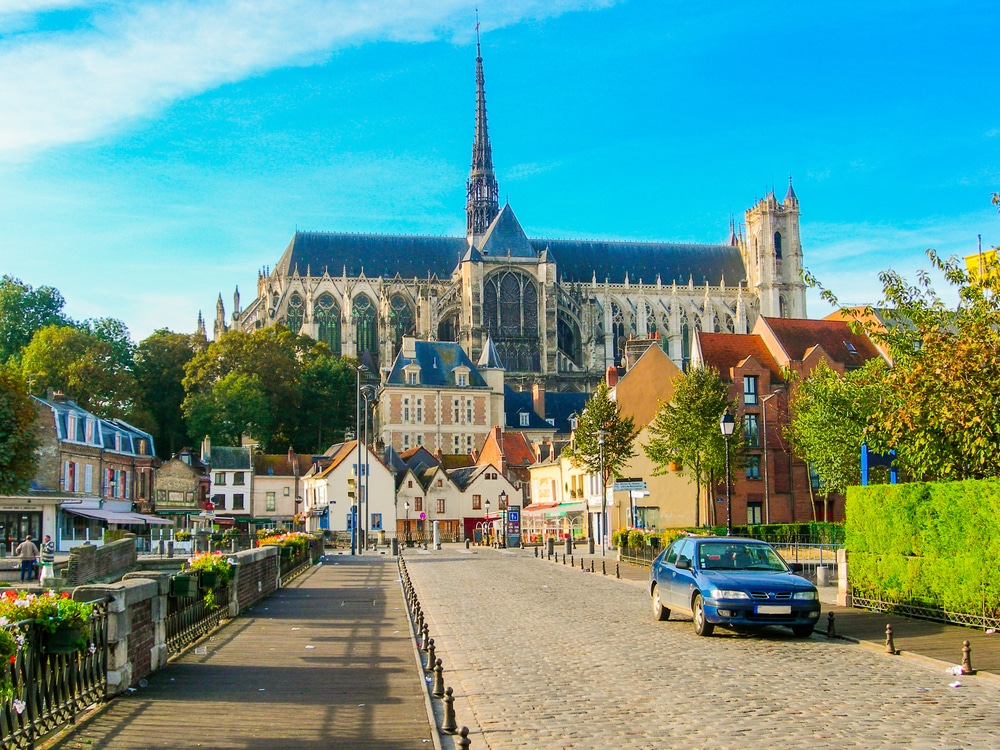 A rare survivor of both world wars, and indeed a total of some 800 years, Amiens Cathedral was first mapped out in the thirteenth century.
Its High Gothic structure, dotted with carvings and figures in stone, is the largest medieval structure in France and the country's largest cathedral too, at roughly twice the size of Notre Dame in Paris.
A World Heritage Site since the early 1980s, the Cathedral of Our Lady of Amiens contains its original labyrinth floor design, which stretches for 240 metres and represents the maze-like struggle of the faithful trying to make it to heaven.
There is also some early stained-glass work, and tombs even older than the present cathedral.
Website: http://www.cathedrale-amiens.fr/
2. Jules Verne House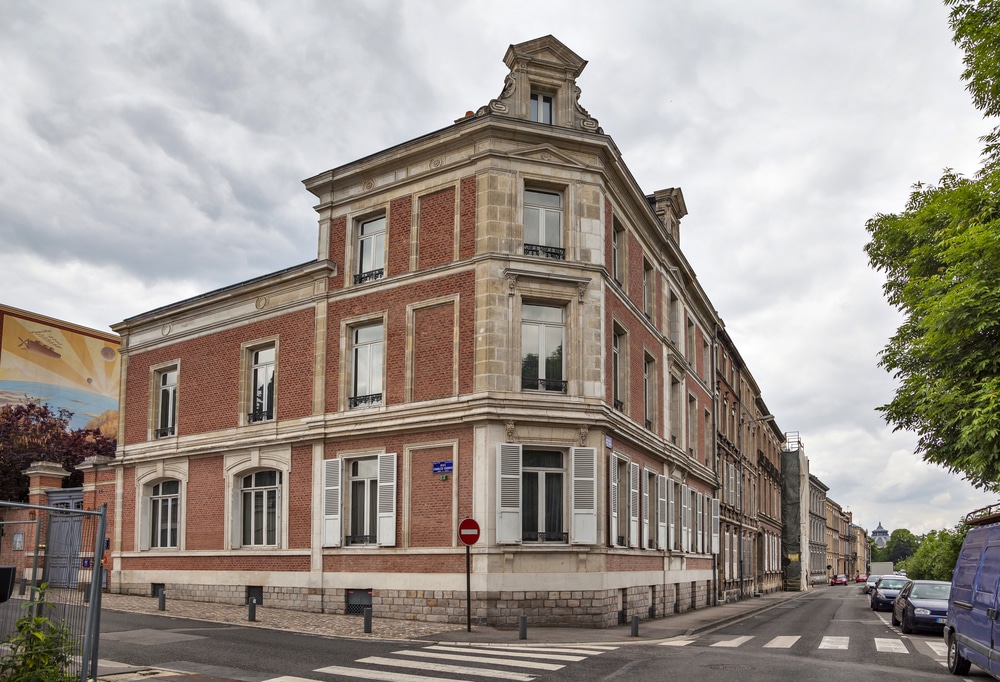 The author of adventure stories including Around the World in 80 Days and 20,000 Leagues Under the Sea lived in Amiens for the last two decades of his life. The city is where he wrote many of his novels.
His red brick home, with its distinctive round tower, is now a museum to one of the nineteenth-century's best-loved authors.
Boasting 700 objects, the museum guides visitors through Verne's personal life and the inspiration for his characters' many adventures.
If you would like to pay homage to Verne in person, he is buried in the city's La Madeleine cemetery, below a sculpture of the author rising out of his plot to immortality.
3. Somme River Cruises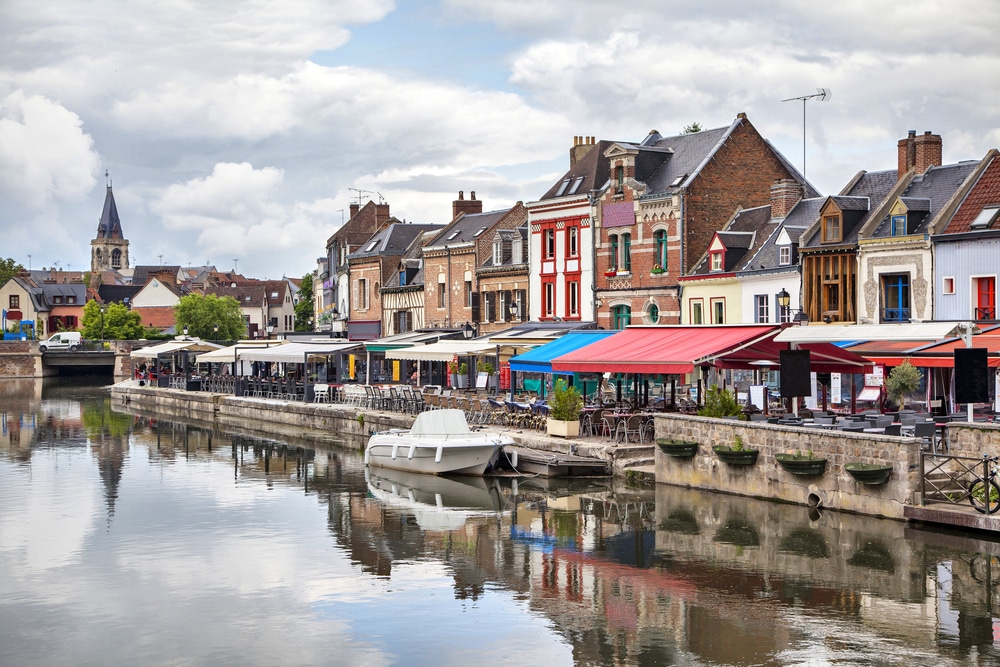 While its name might bring out thoughts of the terrible conditions men faced in the trenches of the First World War, the 245 kilometre-long River Somme is a breath-taking ribbon of beauty that glides through the city.
A cruise even a short distance along this important waterway provides a means of seeing many of the city's landmarks from an alternative viewpoint.
Take in the wood and brick buildings of the Saint-Leu Quarter, with its many bars and restaurants lining the river bank, and the landscapes of Saint Pierre Park in the Saint-Maurice Quarter, before leaving the city for a rich water-world beyond the city limits.
Website: https://www.visit-somme.com/breathe-and-relax/short-river-cruises
4. Tour Perret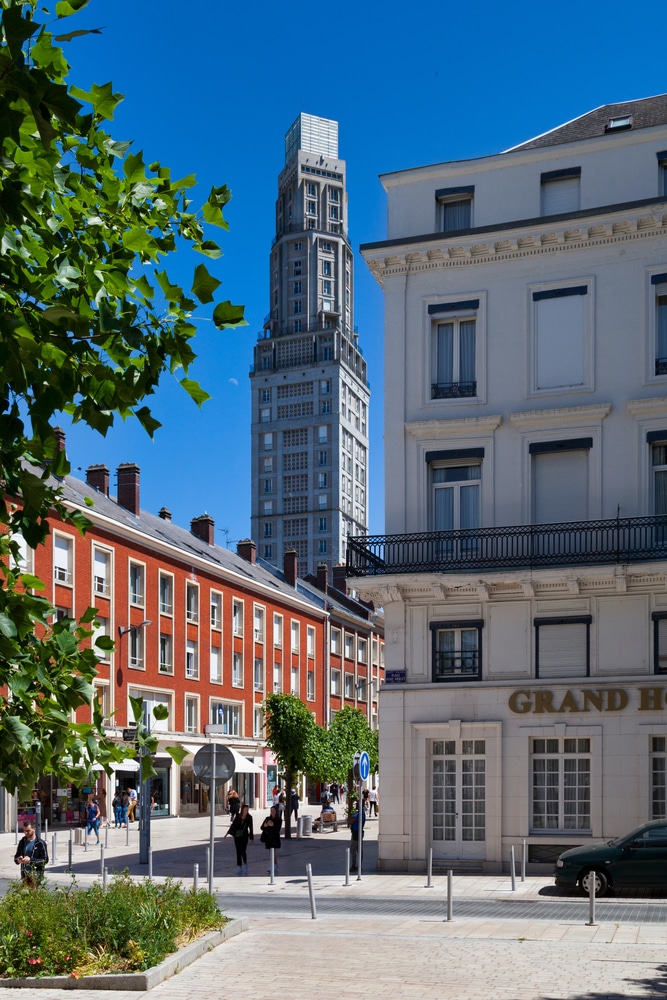 Demonstrating that not all post-war architecture is an unloved eye-sore, the Tour Perret (Perret Tower) was designed by an architect of the same name. It rises 110 metres over the city centre.
A residential tower-block with 25 floors, it manages to blend into the surrounded streets and squares by having a style that combines traditional elements of housing and even churches with the skyscrapers of New York.
Though you can't enter the structure, it's well worth a detour to check out, particularly at night when a glass cube at the top marks the hours with a change of colour.
5. Musée de Picardie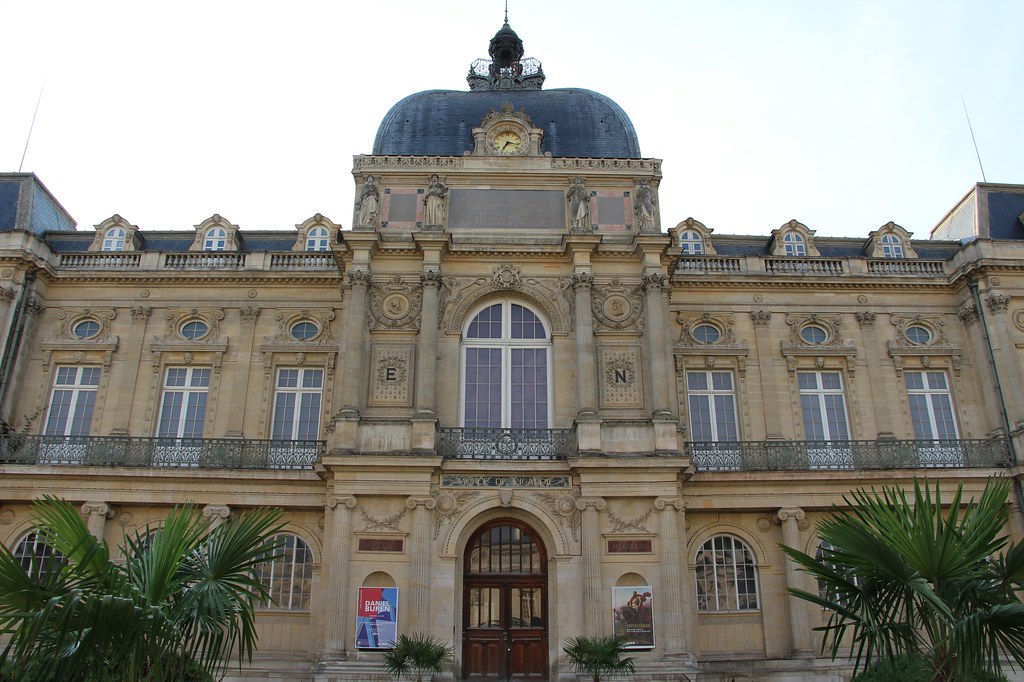 The Picardy region may no longer exist after it was incorporated into Haut-de-France, but its name lives on in this museum.
An exhibition space dedicated to the region, its collections start in prehistoric times and run all the way to the nineteenth century.
One of the largest of France's regional museums, its Second Empire-style building contains important artworks by the likes of El Greco, sculpture, and the Puys d'Amiens religious artworks that once stood in the cathedral.
6. Jardin des plantes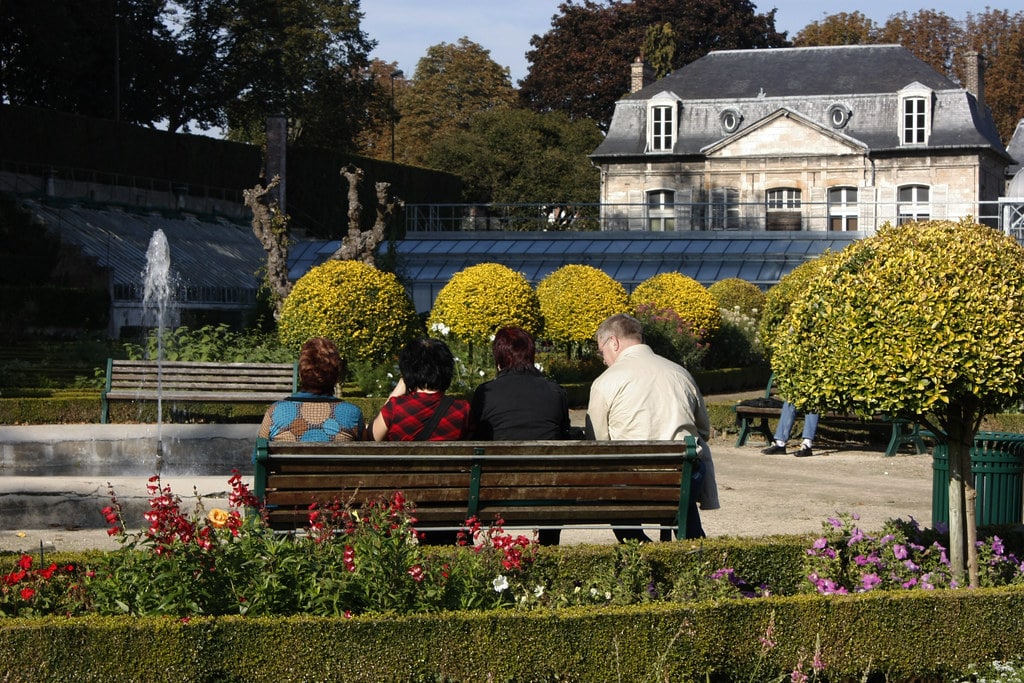 Converted into a public garden in 1751 out of King Louis XV's private property, the Jardin des plants botanical garden may be small at only one hectare in size, but it is no less stunning for that.
Its layout remains largely unchanged from its original conception, meaning visitors will find flower beds bordered with box plant hedging in the traditional French style, with straight paths leading between them.
Plants from warmer climates are kept in a series of greenhouses, including an orangery from 1802, palmarium, and other glass houses built in 1895 in the Napoleon III style.
7. Belfry of Amiens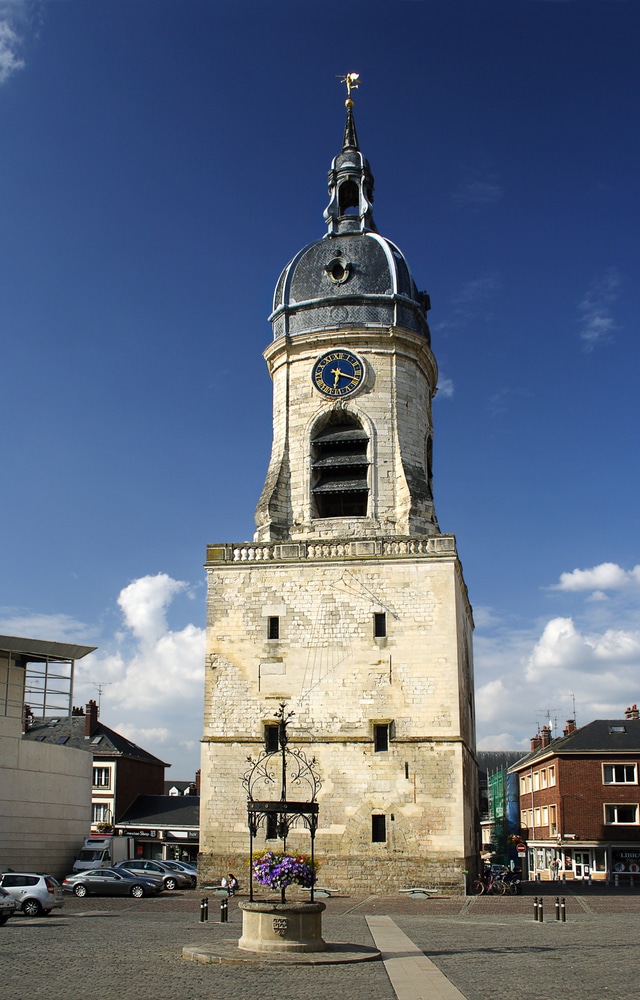 A physical symbol of the city's relative freedom in medieval times, the UNESCO-listed Belfry has been everything from a meeting place for the city's council to a prison.
Soaring over the more modern buildings of Place au Fil, its square base gives way to a round belltower topped with a metal dome.
Within the belltower, a carillon (a sort of piano keyboard made from a series of bells) continues to demark the time, while the Belfry's external terrace provides excellent views over the city towards the cathedral.
8. Battle of the Somme tours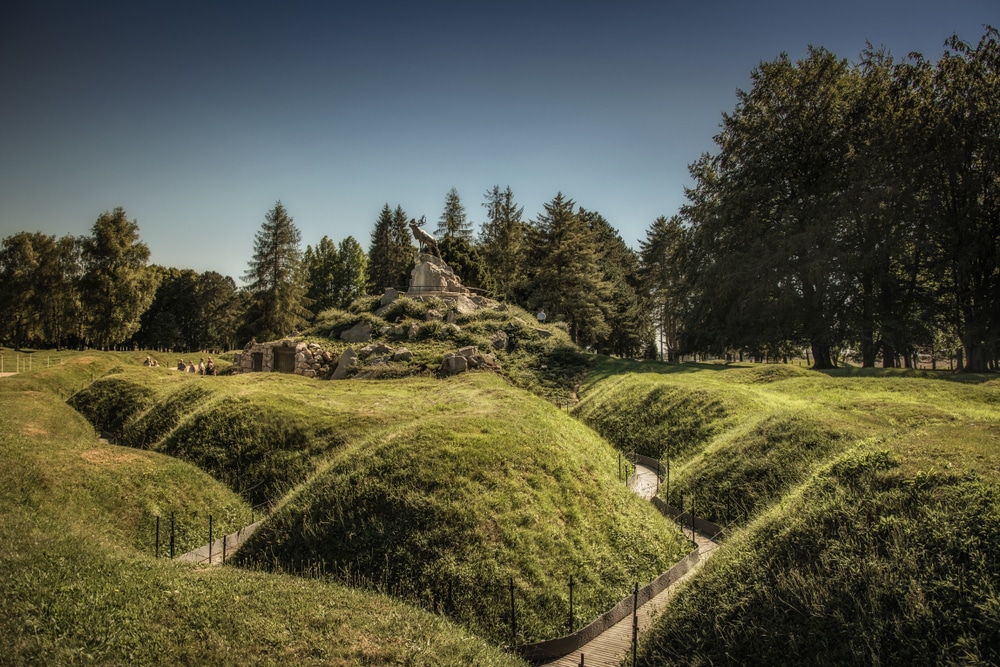 For many, the Battle of the Somme symbolises the First World War like no other. It sucked in an estimated three million soldiers from 20 different nations who fought along a frontline 45 kilometres long.
The landscape around Amiens remains scarred by the events of 1916, with bomb craters still visible among the many memorials.
Tours not only include the sites of the battle itself, but also its cemeteries. These thought-provoking tours include Sir Edwin Lutyens Memorial to the Missing of the Somme at Thiepval, alongside its visitor centre.
The reasons behind the battle are explained in more detail at sites including the historical museum of Péronne.
Website: https://www.visit-somme.com/great-war
9. FRAC Picardie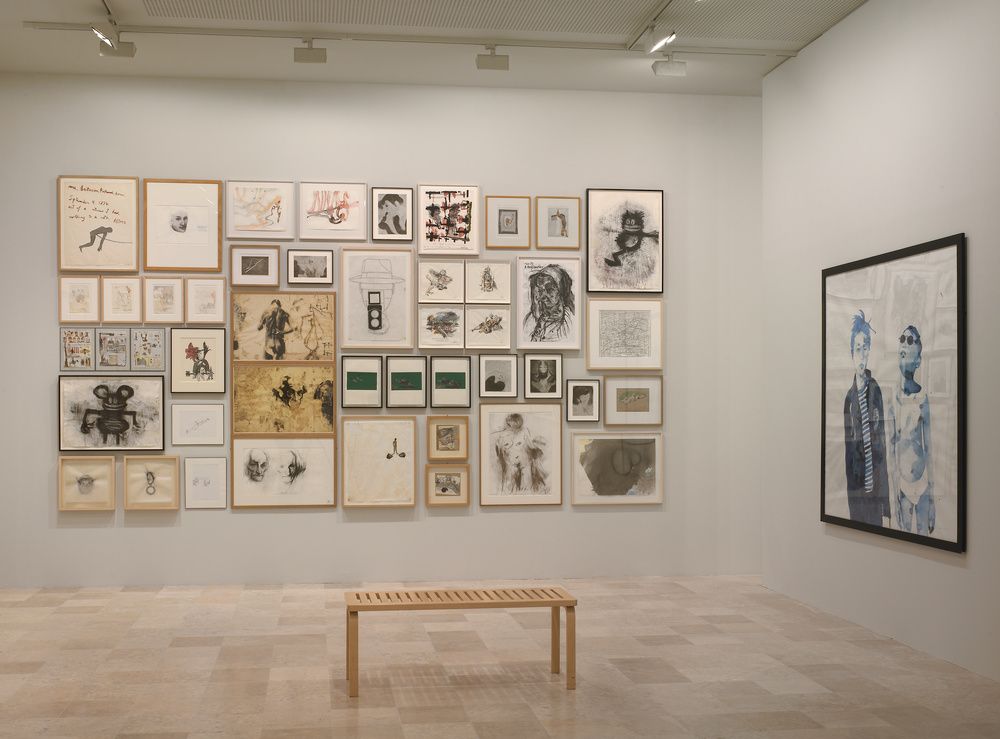 Amiens' premier contemporary art space, FRAC Picardie is one of 23 galleries across France that seeks to place contemporary (i.e. post-war) artworks at the centre of everyday life.
The gallery's collection focusses most of its attention on artists born or working in the area around Amiens. But it also purchases work from international artists, and as a result has works from artists including Francois Burland and Antoine Grand.
In total, FRAC Picardie's collection has expanded to 1,500 works by 220 artists in less than 40 years.
Website: http://www.frac-picardie.org/
10. Zoo Amiens Metropole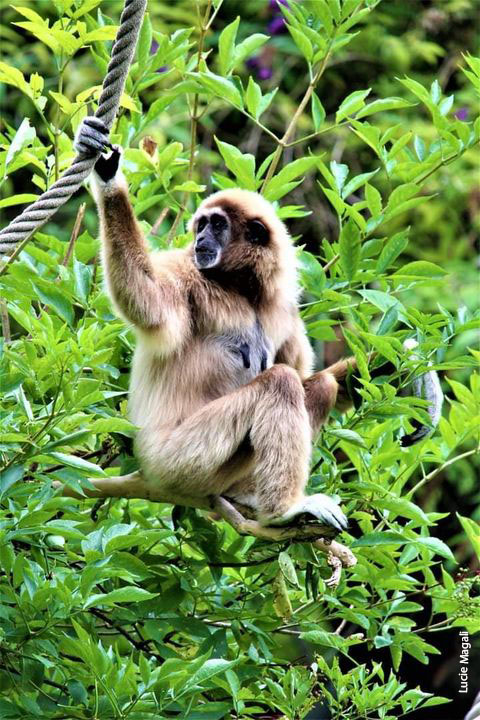 This accredited zoo is the home of around 300 animals from 90 different species originating right across the globe.
Echoing as closely as possible their natural habitats, the zoo population includes two Indian elephants, an island given over to free-roaming gibbons, and a penguin enclosure with underwater viewing windows.
There is also an aviary with a number of tropical bird species, and a petting zoo for small children.
Website: https://www.zoo-amiens.fr/
11. Hortillonnages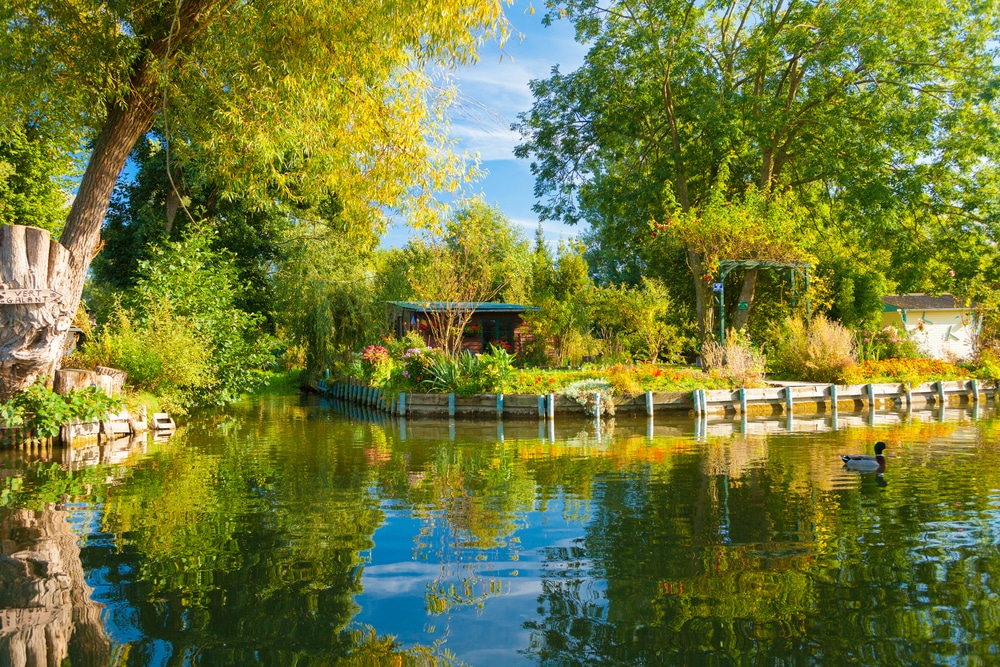 Translating from the Picard language as 'market gardens', the hortillonnages are small islands in the Somme and its tributary the Avre divided by canals.
Covering 300 hectares, today these small individual gardens are a mix of allotment-style fruit and vegetable plots and planted flower beds.
The best way of exploring the narrow channels between them is by a traditional boat known as a barque à cornet, though the main canal towpath also offers a route via dry land.
Though just one kilometre from the cathedral, if you can't make it out to them head to the market in Place Parmentier on a Saturday morning, when many of the growers are present and sell the result of their hard work.
Website: http://www.hortillonnages-amiens.fr/
12. Hôtel de Berny Museum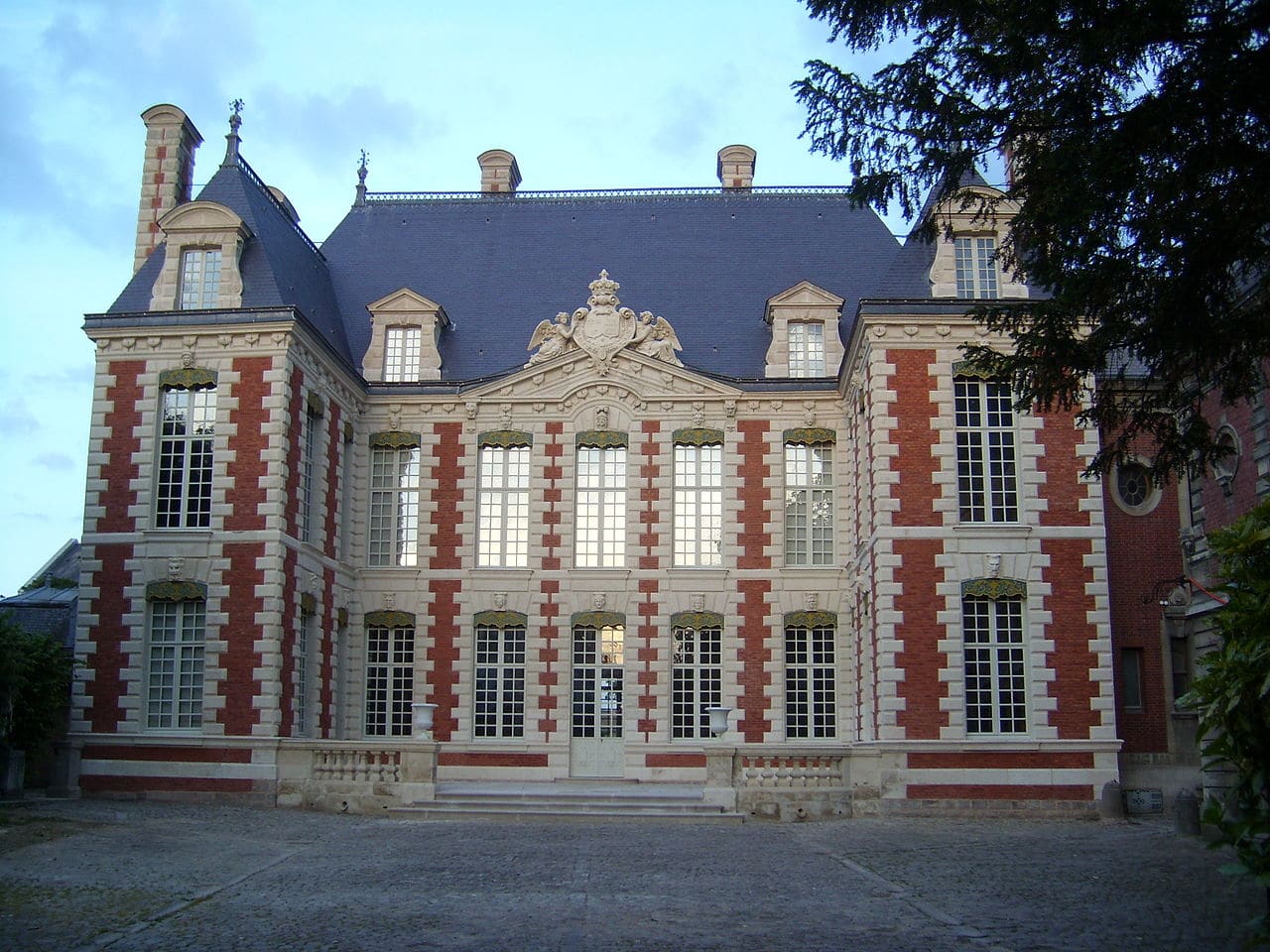 This 'hotel' is also known as the Museum of Local Art and Regional History, which gives a good indication of its contents.
It is set within a grand red brick and limestone hôtel particulier mansion gifted to the city by politician Gérard de Berny along with its authentic Louis XV and Louis XVI furniture.
The eclectic collection of items ranges from a seventeenth-century harpsichord to art deco ceramics and historic clocks.
It is surrounded by landscaped grounds that are occupied for the most part by a traditional French garden, but also incorporates a Japanese and Moorish garden too.
13. Bay of the Somme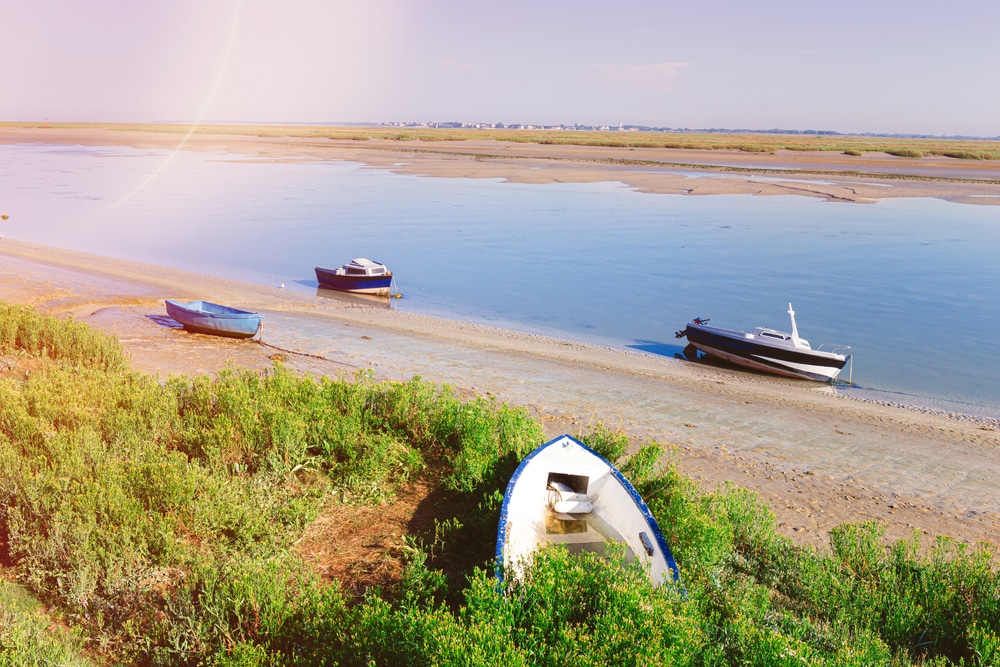 Defining the area where the River Somme makes its exit into the English Channel, the Bay of the Somme (Baie de Somme) is a large estuary of untouched landscapes popular with tourists and birdlife alike.
Vastly difference in appearance between low and high tides, the estuary continually changes between marshland and channels deep enough for tourist boats to pass through.
Gateway to the bay is the town of Saint-Valery-sur-Somme, roughly an hour northwest of Amiens. From here a heritage steam railway called the Chemin de Fer de la Baie de Somme connects with Le Crotoy, Cayeux-sur-Mer, and Noyelles-sur-Mer, each an attractive destination in its own right.
Website: https://www.chemindefer-baiedesomme.fr/
14. Saint-Acheul Archaeological Garden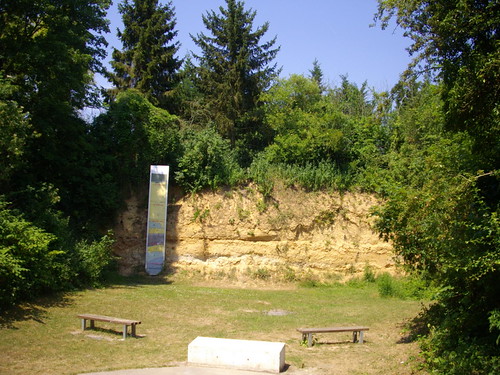 An important site for the study of prehistoric man, a good quantity of carved and shaped flints were discovered here around 100 years ago.
Today it takes the form of an outdoor museum, and this green space in the Saint-Acheul district leads visitors back in time to around 500,000 years before the present day.
A series of informative boards help explain this huge passage of time, while a cross-section of the earth demonstrates its main periods through the different soil layers. A visitor centre helps to fill in the gaps.
15. Logis du Roy & Maison du Sagittaire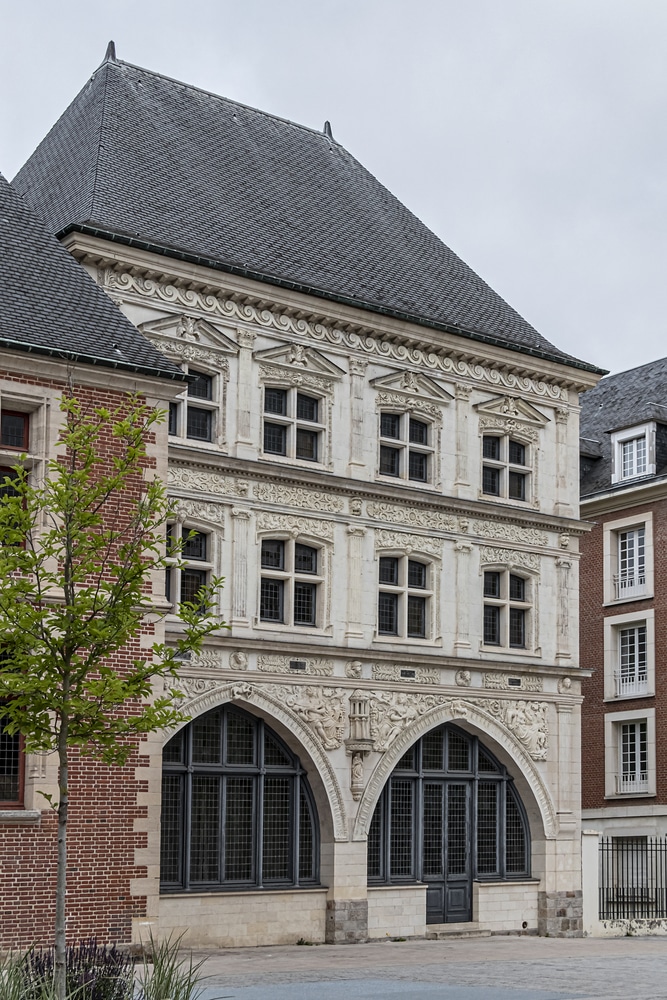 Another survivor of Amiens' twentieth-century battles is the Logis du Roy and the neighbouring Maison du Sagittaire.
Built from 1520 to 1525, the Logis has a slightly religious appearance which may hint at its largely unknown origins. What is known is that statesman Cardinal Richelieu stayed in 1636, and avoided not one but two assassination attempts.
King Louis XIII would stay here four years later in 1640, which is from where it gets its modern name, which translates to 'king's lodgings'.
It connects to the Maison du Sagittaire, which was moved from its original location after the Second World War.