Dating back to at least the ancient Greek and Roman period, Marseille is the oldest city in France, with a history reaching back more than 2,500 years.
A port city from the very beginning, it sits on a fine stretch of France's Mediterranean coastline, with the Côte d'Azur beckoning to the east and Calanques National Park to the south.
A stronghold for communities from France's former North African possessions, it is a city that mixes the style of Paris with the down to earth realism of Algiers and Tunis or even Mali, and where a shopping trip can involve a purchase of both high-end soap and inexpensive freshly-ground harissa paste.
While Marseille lost some of its grandeur during the post-war period, its nomination as European capital of culture in 2013, plus a realisation of just how glorious this city actually is, has led to a renaissance.
These are the best things to do in Marseille.
1. The Old Port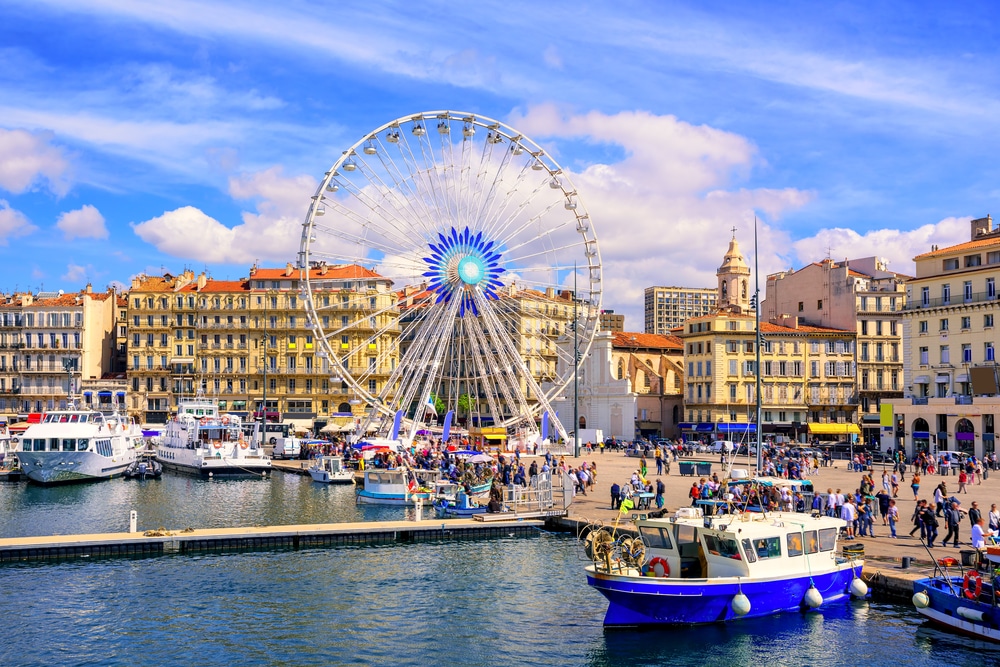 Ringing with the sound of ropes dancing around metal yacht masts and the well-to-do chatting amiably over a glass of rosé, the Vieux Port, or Old Port, is just that.
While its sheltered dark blue waters are packed bow to stern with yachts bobbing slowly on the gentle swell, a number of good-quality restaurants offer set menus of traditional Provençal cuisine that rival the scene, but without the price tag or either nearby Nice or Antibes.
Just how far back the Old Port dates can be discovered in the Museum of the Roman Docks, constructed above part of the even older Roman port structure, and with 4,000 exhibits including the remains of Roman-era galleons.
Website: http://www.musee-histoire-marseille-voie-historique.fr/en/
2. Cathédrale de la Major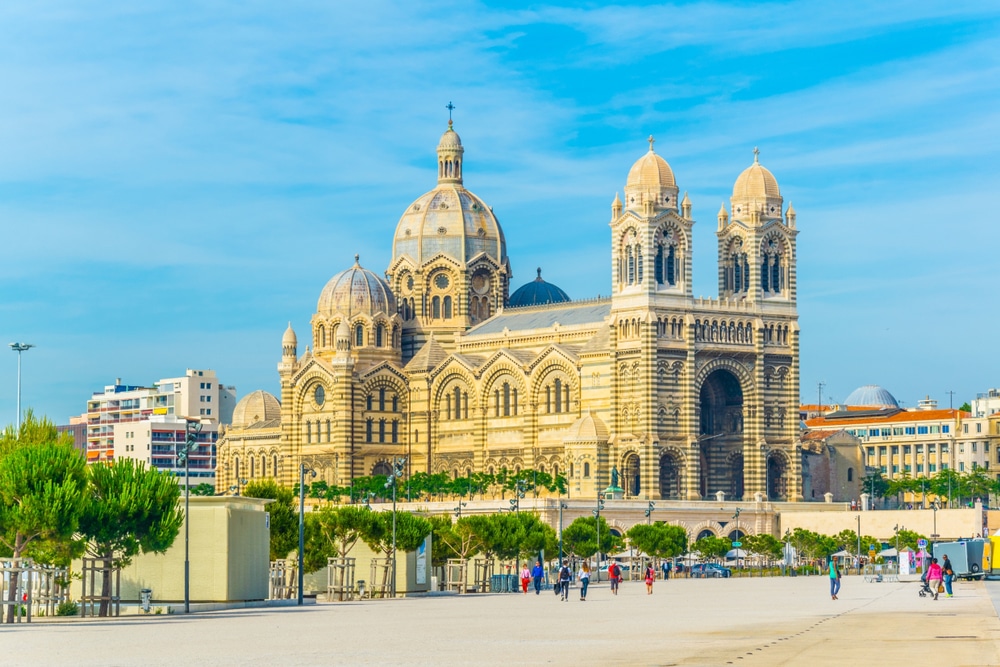 The green and white striped exterior of Marseille's dockside Roman Catholic basilica has been the impressive first sight of the city for anyone coming by sea since it was built in the 1850s in Byzantine revivalist style.
One of the largest cathedrals in France, its multitude of domes sit 70 metres above the incorporated remains of a much early structure built in the twelfth century.
The square around the cathedral has become an important public space, with shops, bars, and even basketball courts. For a sense of everyday Marseille, it shouldn't be missed.
3. Marius Fabre Soap Factory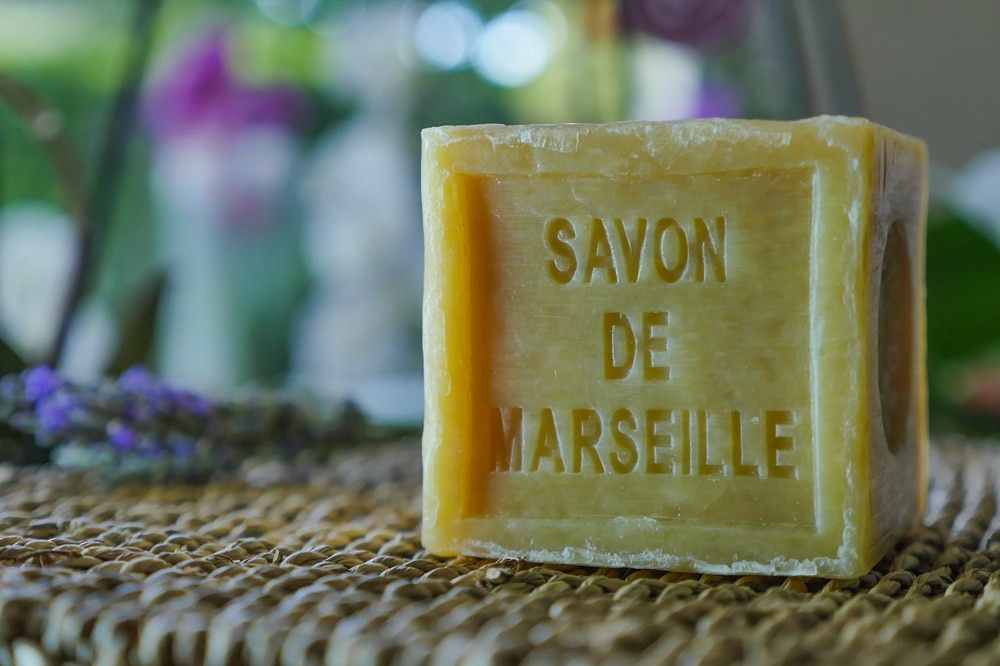 Marseille is known for its soap, an industry that began in 1370 since the city had all the raw ingredients it required: olive oil, seawater, and ash made from seaweed.
While there were once more than a hundred produces of this traditional natural soap in the area, today there are just a handful, with the Marius Fabre Soap Factory being one of them.
It began producing soaps in 1900. Four generations later, the factory is in the hands of Marius' great granddaughters, Juliet and Marie, who ensure their soaps remain of the highest quality.
You can pre-book a tour of the factory, or visit the small on-site museum and shop. You'll find the factory approximately 40 minutes northwest of Marseille in Salon-de-Provence.
Website: https://www.marius-fabre.com/en/content/17-visit-of-the-marius-fabre-soap-factory
4. Castle d'If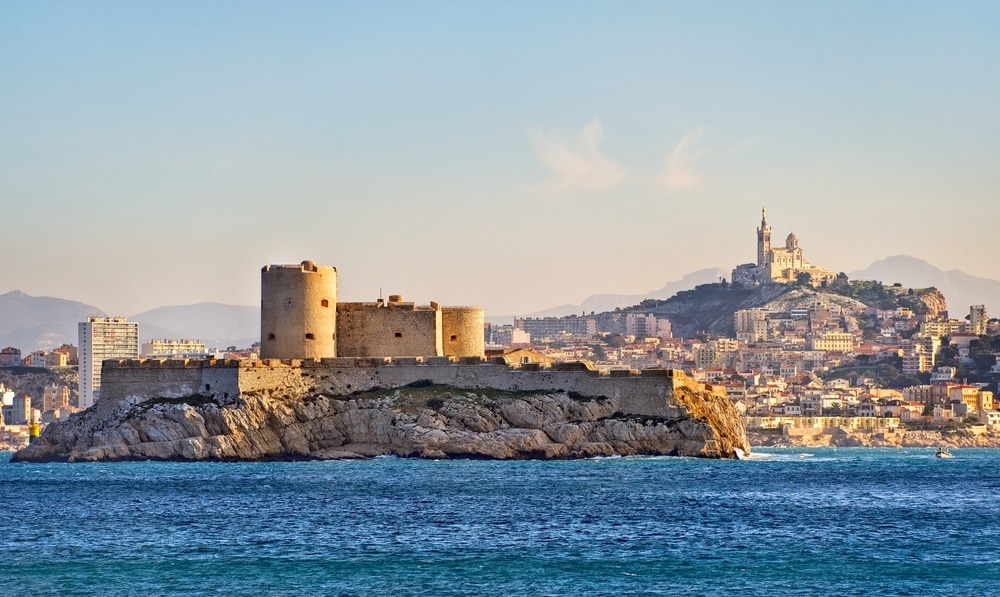 The inspiration for Alexandre Dumas' The Count of Monte Cristo, Castle d'If lies on a small island in Marseille's Bay.
Constructed as a defensive fortress on the orders of King Francis I in the 1500s, it then became an infamous high-security prison for anyone causing trouble for the government, before being opened as a tourist attraction in 1890.
Regular boats depart from the Vieux Port, with visitors able to explore the castle's dungeons, upper cells, and gun emplacements knowing that the once-inescapable island prison won't be the end of any visit to Marseille.
Website: http://www.chateau-if.fr/en/
5. Les Museé des beaux-art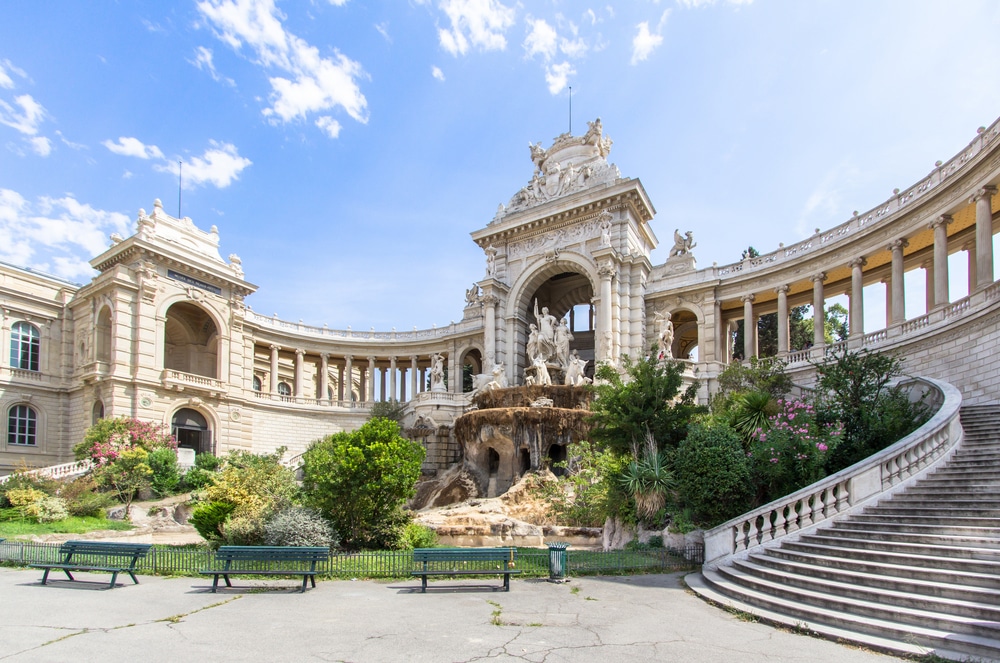 The Museum of Fine Arts is worth a visit for its location within a wing of the elegant Palais Longchamp and its gardens, some of the finest in France, alone.
But within its hallowed walls is an internationally-important collection of over 5,000 paintings, drawings and sculptures dating from between the sixteenth and nineteenth centuries.
Works by Puget, David, Millet, Canaletto, Rubens, and Brueghel the Younger are all in evidence.
While in the fourth arrondissement, you might also like to check out Marseille's Museum of Natural History, located in the opposite wing of the palace.
Website: https://musees.marseille.fr/
6. Le Panier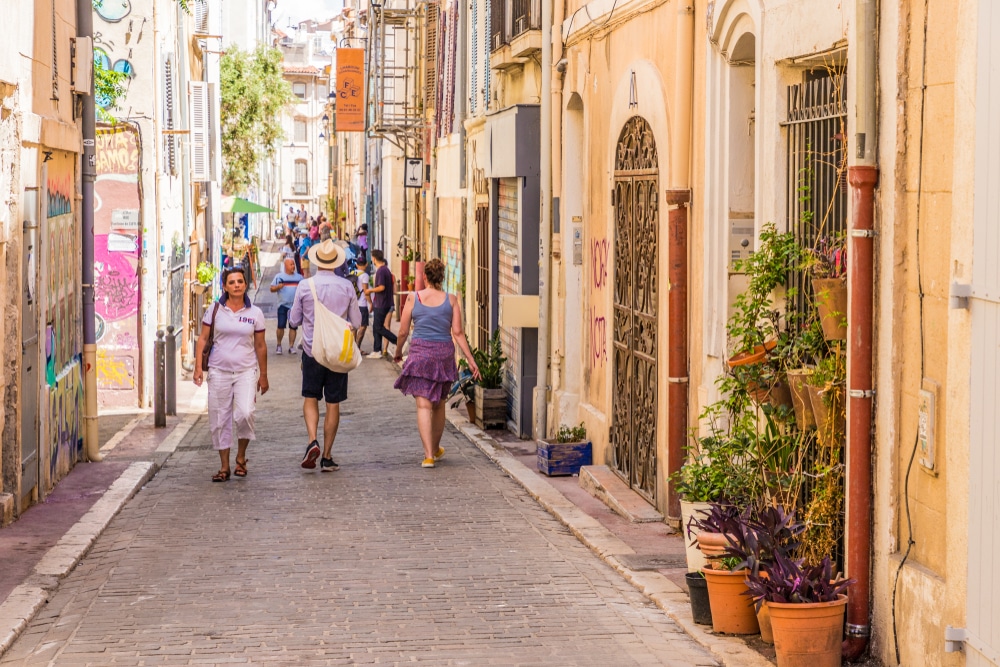 Situated on the hill separating the old and new ports behind the Cathédrale de la Major, Le Panier is the oldest of Marseille's districts. It manages to maintain a sense of its roots as a small village in Province while just a few minutes' walk from the hustle and bustle of France's second-biggest city.
Among its warren of alleyways, hidden squares dotted with old fountainheads, gallerias, and covered walkways, it's still easy to spot original regional façades, not least that of the sixteenth century Vielle Charité.
Founded as an alms house to offer shelter to the poor, today it is a museum space and cultural hub that homes to a significant collection of contemporary artworks.
Website: https://vieille-charite-marseille.com/
7. Notre-Dame de la Garde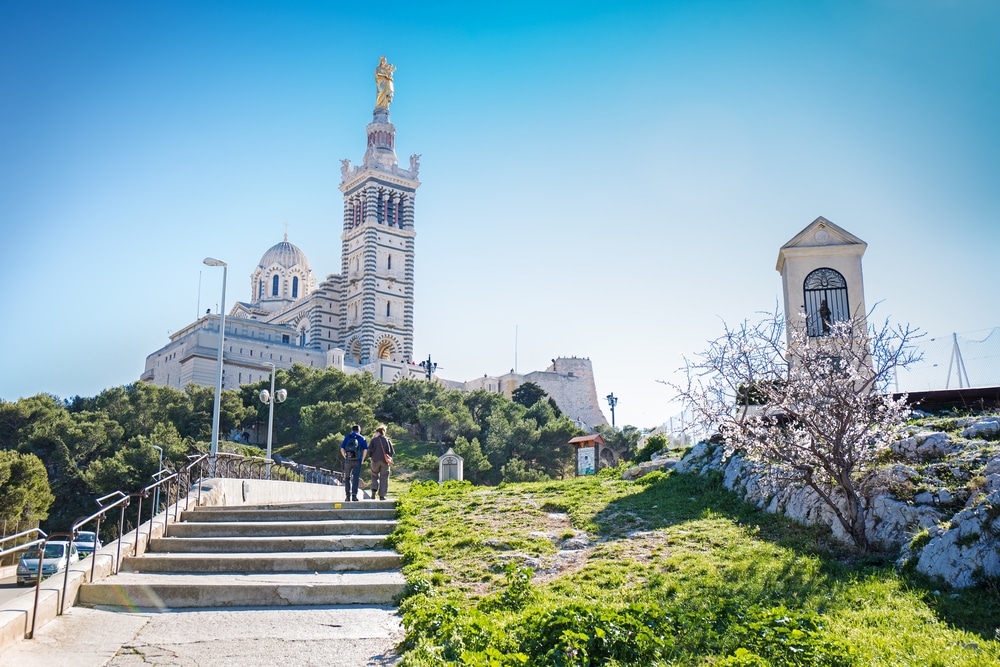 High on a hill overlooking the city, the Basilica of Notre-Dame de la Garde, or Our Lady of the Guard, sits at Marseille's highest point.
Visible for kilometres around, its gilt statue of the Virgin Mary glistens from its vantagepoint on top of the square bell tower, beckoning visitors like a lighthouse calling boats back to shore.
Only consecrated in 1864, its fine stucco and mosaic interiors are well-worth the uphill trek.
Website: http://www.notredamedelagarde.com/
8. Porte d'Aix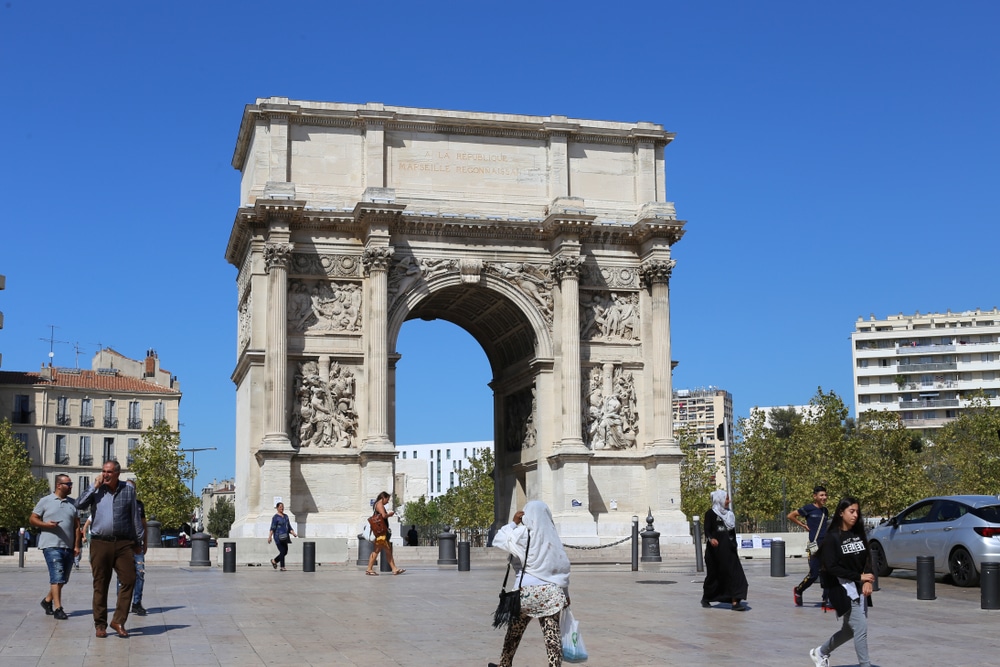 This elaborate triumphal archway marks the historic northern entrance into Marseille from nearby Aix-en-Provence.
Taking its lead from the arches of ancient Rome, it was begun in the early 1800s to celebrate French military victories over Spain. However, on completion in 1839, Napoleon Bonaparte's expansionist dream had turned on its head and the arch took on a more general theme.
You'll find it a short walk south of Saint Charles railway station on route to the Vieux Port.
9. Calanques National Park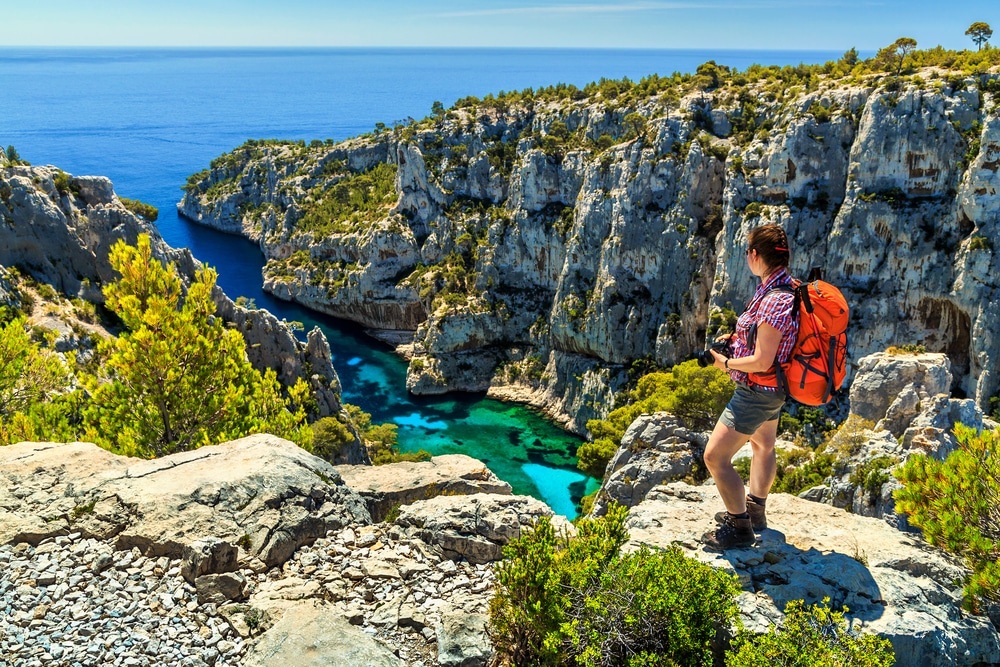 France's tenth national park, the Calanques are an exquisite area of coastline to the south of Marseille.
Typified by steep-sided rocky inlets leading to often secluded beaches comparable to Norway's fjords in miniature, the national park is a magnet for sunbathers, climbers, and hikers alike.
Footpaths crisscross the area, largely following the ups and downs of the coast to Cassis and even back to Marseille, while those looking for a little rest and relaxation will find each calanque has its own individual charm that's worth exploring.
Though its possible to travel the 15 kilometres to the national park by road, jumping aboard a sailing boat or catamaran in Marseille for a half or full day tour of some of the harder to reach inlets is without doubt the best way to do the region justice.
Website: http://www.calanques13.com/
10. FRAC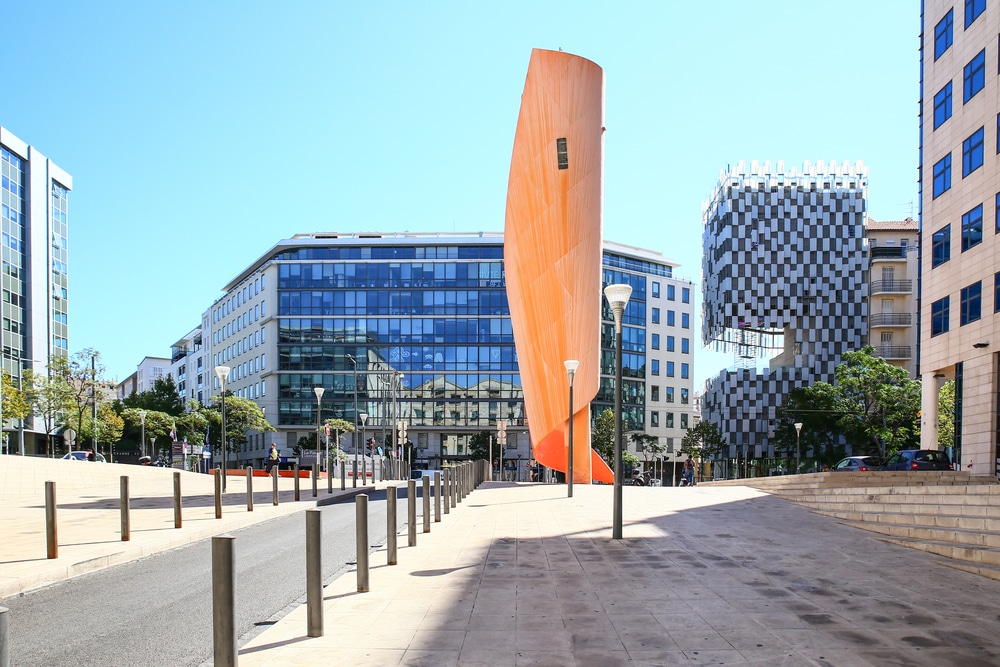 The Fonds Régional d'Art Contemporain may be slightly lacking in the naming department, but it certainly packs a punch when it comes to art and architecture.
This contemporary structure of glass and flag-like steel sheeting was created in 2013 to act as a permanent home for some of the Provence-Alpes-Côte d'Azur region's most important works of modern art.
In addition, regularly changing temporary exhibitions showcase the rising talent of local artists working in the genre.
Website: https://www.fracpaca.org/
11. MuCEM, the Museum of Civilizations of Europe and the Mediterranean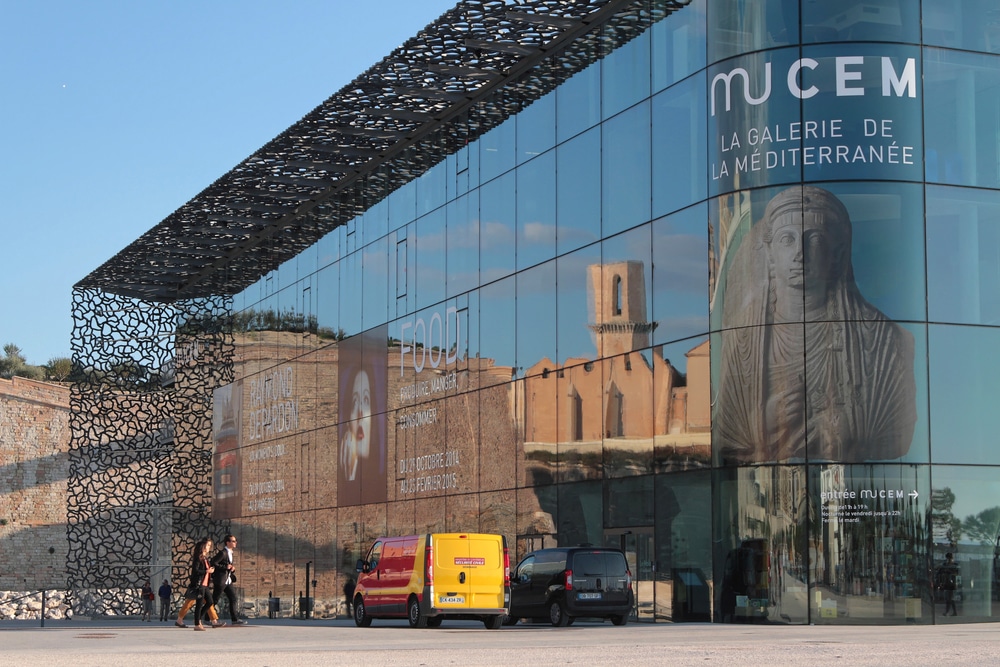 The award-winning displays at MuCEM were first opened in 2013 to coincide with Marseille's designation as European Capital of Culture.
Located in a simple box-like building with textured exterior walls next to Fort Saint-Jean, the museum's remit is to explain how Mediterranean culture became what it is today.
Taking a multidisciplinary approach, its collection of more than half a million objects of all ages and origins demonstrate how vital trade between cultures over millennia was to the region.
The restaurant terrace on the upper floor also offers excellent views across the Bay of Marseille towards Castle d'If.
Website: https://www.mucem.org/
12. Opéra municipal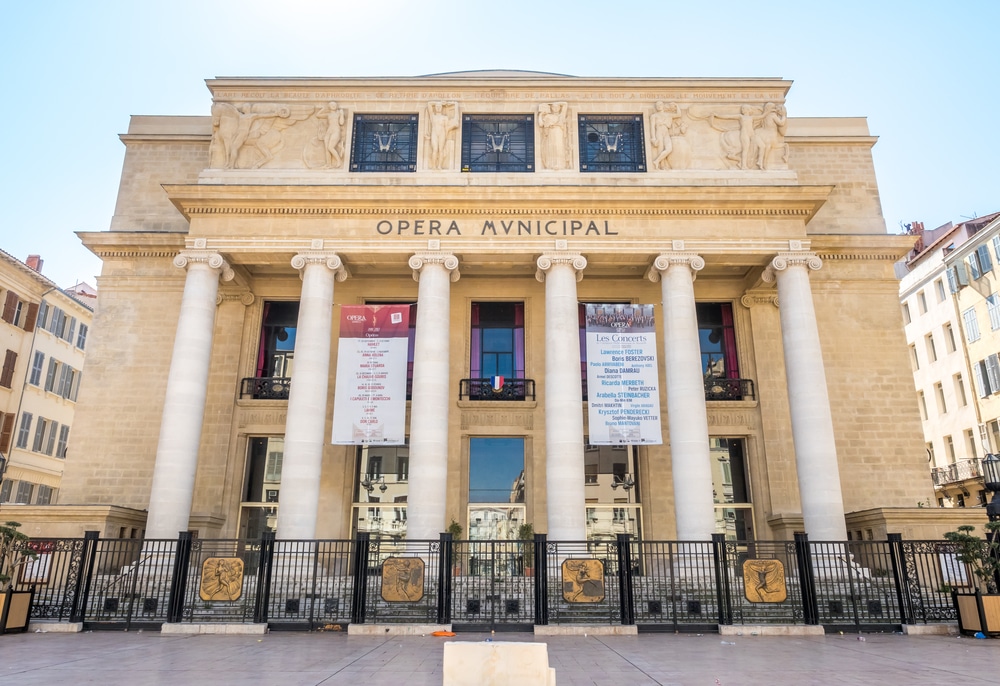 Known as one of the most decerning opera houses after Paris, Marseille's Opéra Municipal has a long and prestigious history that has included the French premiers of Verdi's Aida among other notable works.
Attracting the world's top talent, from Dame Nellie Melba to Plácido Domingo, there's still nothing that can quite rival a night at the opera, absorbing the buzz of 1,800 ticket-holders waiting in anticipation for the conductor to bring their orchestra to order.
But if that all sounds a bit too much for you, there are plenty of karaoke bars in the neighbourhood instead.
Website: http://opera.marseille.fr/
13. La Cité Radieuse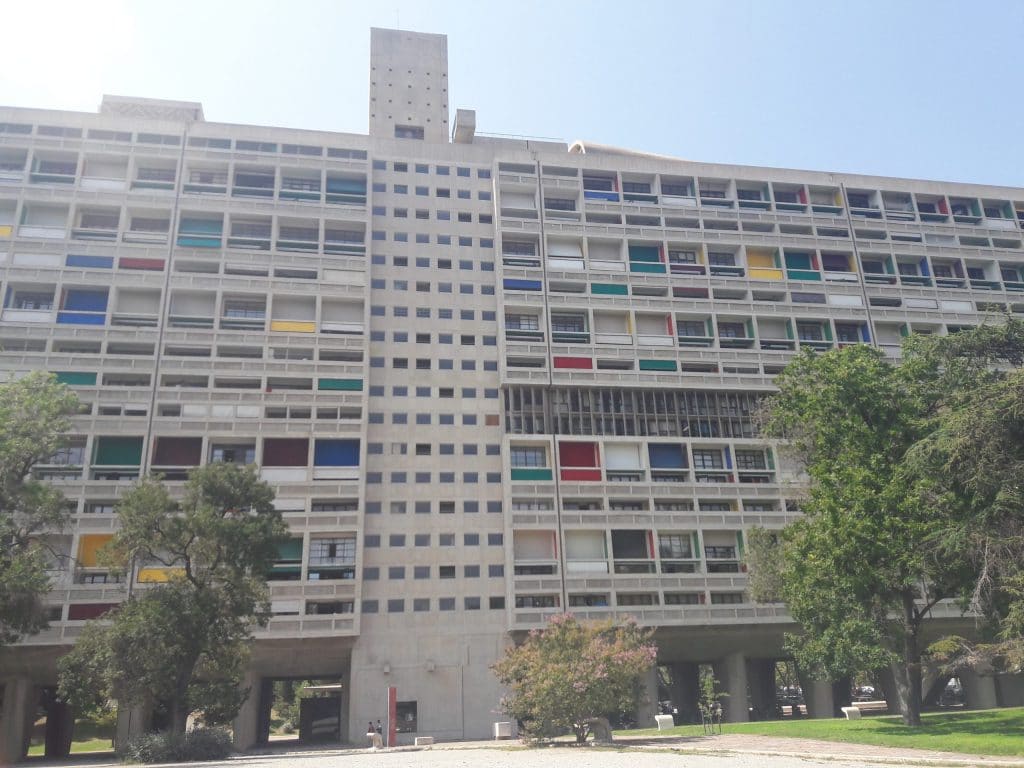 Looking like the future was supposed to be according to the forward-thinking architects of the 1920s, the UNESCO World Heritage Site of La Cité Radieuse (also known as Unité d'habitation, and 'the madman's house') rises 18 stories over the Saint-Anne district south of the city centre.
Designed by Le Corbusier, the Swiss-French architect known for the UN headquarters in New York, 'the radiant city' is a brutalist residential tower block designed down to the smallest detail by Le Corbusier and his team.
Today it stands as an impressive monument to the destruction of slums and the desire for better social cohesion after the Second World War.
As well as nearly 350 apartments, the block also includes shops, a hotel, and a rooftop gallery open to non-residents who join a guided tour.
Website: https://citeradieuse-marseille.com/
14. Plage Escale Borely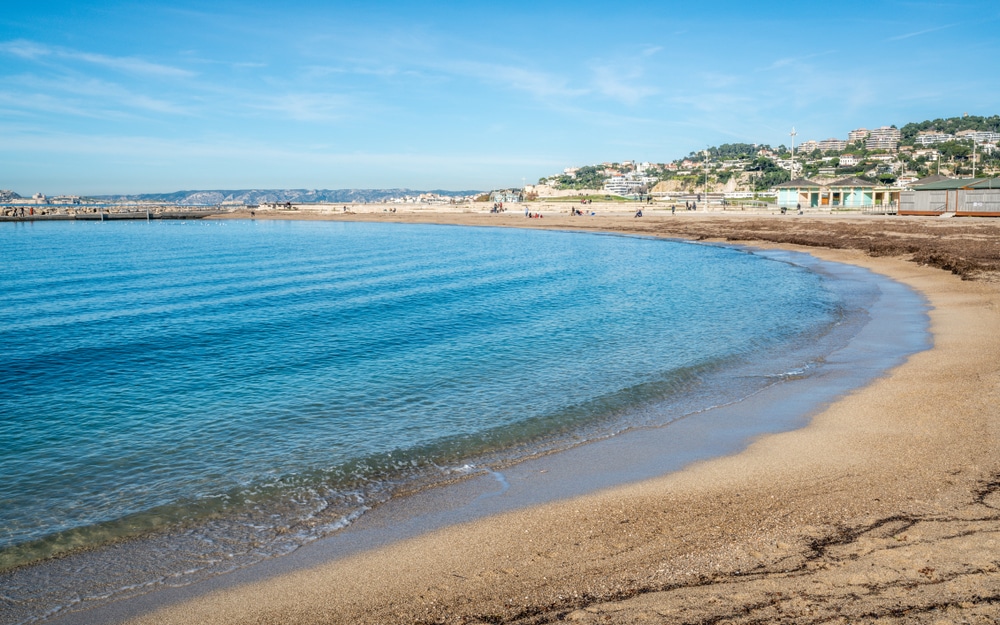 Follow the coastline south from the Vieux Port for around three kilometres and you'll reach Plage Escale Borely, a beach with a family-friendly vibe and good number of amenities.
On the beach itself there are places to rent water sports equipment for anyone eyeing time either sailing or windsurfing.
Just a stroll away, visitors to Escale Borely will also find a good choice of shops, selling everything from souvenirs of Marseille to high-end swimwear. There are also plenty of cafes, bars, and restaurants with outdoor seating from which to enjoy this spot on the Mediterranean.
15. Cours Julien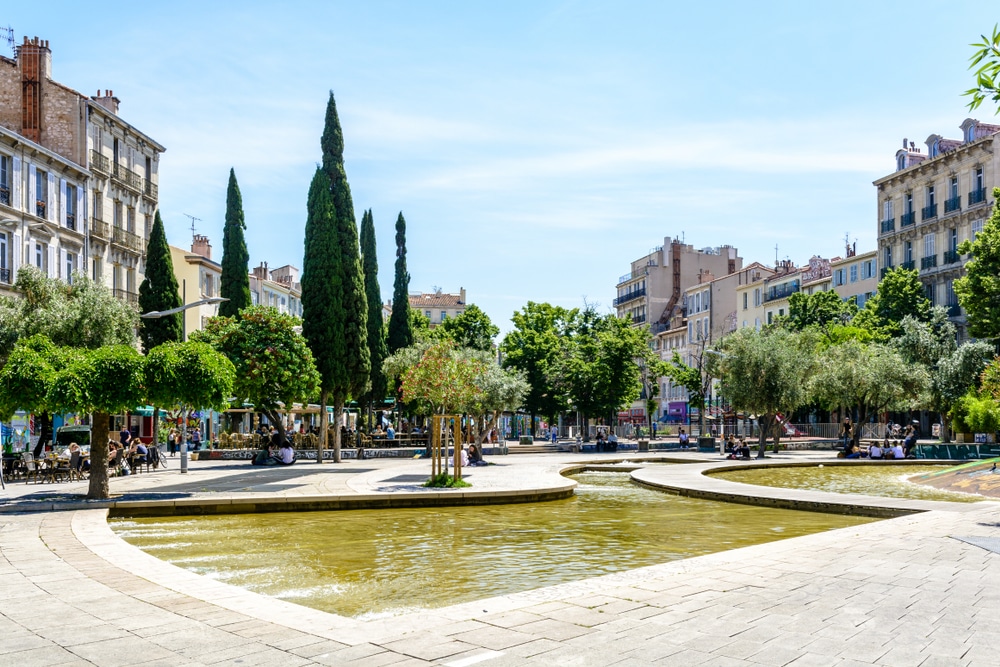 Marseille has turned its sometimes-rugged reputation to its advantage on bohemian Cours Julien, with some of the finest street artists in Europe coming here to tag its walls with their most recent inspiration.
With imagery that's painted over and redraw on a regular basis there's always a reason to return, though some works, such as the large mustard yellow cat called Monsieur Chat by Thoma Vuille is sure to stay a while due to the artist's international reputation.